Today's Political Headlines – 15 January 2018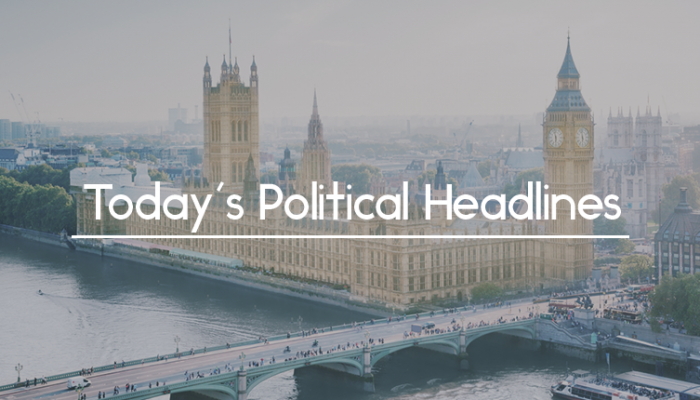 A round-up of the latest political headlines, including questions over Carillion's liquidation, on-the-spot fines for hiring fly-tippers, scrapping the immigration target and Penny Mordaunt addressing 'public concerns' about aid spending.   
Carillion enters liquidation as ministers face questions
Construction firm and public sector contractor Carillion collapsed into liquidation this morning, following talks with its lenders and the Government. The Times says that ministers, including Transport Secretary Chris Grayling, are facing questions over their decision to continue to award the firm contracts while it issued a series of profit warnings. The Government is the firm's biggest client, paying it around £1.7bn a year.
£400 on-the-spot fines for householders who fail to stop fly-tipping
The Daily Telegraph reports that the Government is considering giving councils the power to issue £400 on-the-spot fines to householders who do not check if a business is licensed to transport waste, if it ends up being fly-tipped. The paper says, 'the move is likely to spark fears that the fines could be abused and used as a way of generating income for cash-strapped councils.'
Immigration target should be scrapped, select committee says
An article in the Financial Times says the Home Affairs Select Committee has released a report calling on the Government to scrap its immigration target, replacing it with a three-year plan set out and overseen by the independent Migration Advisory Committee
Mordaunt pledges to address public concerns about aid spending
Writing in The Daily Telegraph, International Development Secretary Penny Mordaunt makes five pledges which will ensure that money spent on foreign aid cannot be 'better spent', including to 'not invest when others should be putting their hands in their pockets' and that 'our focus will increasingly be on helping developing countries stand on their own feet'.
Sexual harassment – Guardian
The House of Commons Women and Equalities Select Committee is to launch a formal inquiry into the laws around sexual harassment, The Guardian claims. The committee's chair, Maria Miller, told the newspaper, 'I think it's clear that the current system is broken', while Frances O'Grady, TUC General Secretary, said, 'The government has removed protections from women and they have made it harder for women to get justice.'
Andrea Leadsom describes John McDonnell as 'truly evil'
Andrea Leadsom, Leader of the House of Commons, has described Shadow Chancellor John McDonnell as 'truly evil', The Daily Telegraph says. The remarks come in the context of a dispute over comments he made in 2014 and 2015 about the new Work and Pensions Secretary, Esther McVey. Asked about the remarks, Labour leader Jeremy Corbyn said, 'I would rather stick to where I disagree with somebody on their policies.'
UK and France in danger of drifting apart
Lord Ricketts, UK ambassador to France from 2012 to 2016, has warned that the two countries are in danger of drifting further apart. The Guardian reports that the claim is contained in a report for the Royal United Services Institute. Ricketts says that co-operation has 'become even closer in response to recent terrorist attacks. It is crucial that Brexit does not adversely affect this.'
British favour 'European-style market economy', Hammond says
The Times has details of an interview with Philip Hammond by the German newspaper Welt Am Sonntag. He said the British, 'have a strong attachment to a European-style market economy', that the UK wanted certainty on the transition period before the European Council summit on March 22, and there would be no deal that did not include services.
Want more political insight? Get Vuelio political services
https://www.vuelio.com/uk/wp-content/uploads/2017/11/Todays-Political-Headlines.png
430
760
Thomas Stevenson
https://www.vuelio.com/uk/wp-content/uploads/2019/09/vuelio-logo.png
Thomas Stevenson
2018-01-15 09:30:58
2018-01-15 09:30:58
Today's Political Headlines - 15 January 2018