Today's Political Headlines – 2 March 2018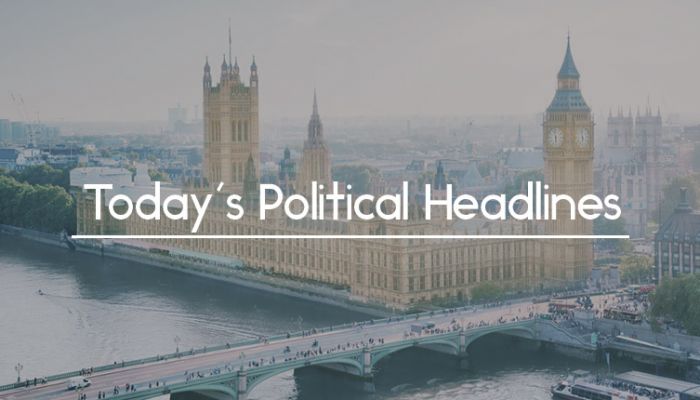 Today's Political Headlines include May's five tests, the end of Leveson II, Gove's warning and MI5 agents committing crimes. 
May to set out 'five tests' for Brexit deal in speech
Theresa May will give a speech today, in which she will set out five 'tests' for a deal between the UK and the EU, as the BBC reports. The Times adds that the Prime Minister has been forced to drop a pledge to make a 'binding commitment' to mirror EU rules in some sectors and will instead offer 'strong commitments'. The pledge had been supported by Greg Clark and Philip Hammond, but opposed by David Davis, Boris Johnson and Michael Gove.
Government cancels Leveson II
The Leveson inquiry was formally closed yesterday, after ministers decided not to proceed with the second part – read more here. The Government will also seek to repeal Section 40 of the Crime and Courts Act, which would have imposed 'draconian fines' on publishers who didn't join a state-recognised press regulator. Campaigners for reform of the press criticised the decision, saying that victims of phone-hacking had been let down.
Gove warns water industry over high pay and dividends
The Financial Times says that the Environment, Food and Rural Affairs Secretary Michael Gove has continued his criticism of the water industry. In a speech to industry executives, he attacked high pay, dividends and tax avoidance and warned that unless companies take action, pressure for renationalisation would grow.
MI5 agents can commit crimes, May admits
According to the Daily Mail, Theresa May admitted for the first time that MI5 agents could commit crimes in the UK, saying that the Investigatory Powers Commissioner oversees 'security service agents' participation in criminality'. The commissioner, Lord Justice Fulford, welcomed the decision to 'make public my oversight of this sensitive area of work.'
GDPR hotline faces criticism
A Government hotline set up to advise small businesses on GDPR, the new data protection rules coming into effect in May, is criticised in The Sun. Callers are having to wait for up to half an hour, and officials have urged businesses not to use the line. Instead, they have been advised to use the Information Commissioner's Office's website or speak to industry groups.
Conservative Vice-Chair for Women calls for debate on lowering abortion limit
Maria Caulfield, the Conservative Party's Vice-Chair for Women, has called for a national debate on lowering the 24-week abortion limit according to The Daily Telegraph. She highlighted studies that show that 50% of babies born at 22 weeks survive and said 'The 24-week limit was introduced at a time when babies were really not viable at 24 weeks. Now babies who are born premature grow up to live long, healthy lives like the rest of us.'
Just one conviction for 'double voting' in 2017
The BBC reports that despite there being hundreds of complaints about 'double voting' in the 2017 general election, just one conviction has resulted. The Electoral Commission received over 1,000 e-mails about 'double voting' and 60 letters from 47 MPs, but just five investigations took place.
Livingstone suspended from Labour and Lansman runs for General Secretary
The Daily Mirror reports that outgoing Labour General Secretary Iain McNicol has made use of a rare power to indefinitely suspend the former Mayor of London Ken Livingstone from the Labour party for alleged anti-semitism. The paper also reports that Jon Lansman, the founder of Momentum, has confirmed that he will be running to succeed McNicol.
Find out how Vuelio Political services can help you.
https://www.vuelio.com/uk/wp-content/uploads/2018/01/Vuelio-Political-News.jpg
430
760
Thomas Stevenson
https://www.vuelio.com/uk/wp-content/uploads/2019/09/vuelio-logo.png
Thomas Stevenson
2018-03-02 09:24:02
2018-03-02 09:31:45
Today's Political Headlines - 2 March 2018