Today's Political Headlines – 23 November 2017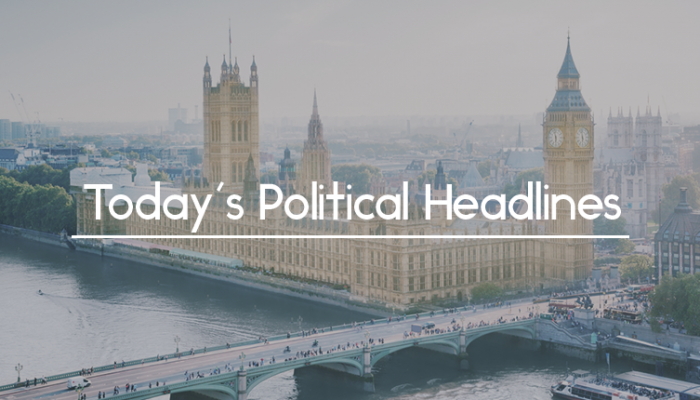 A round-up of the latest political headlines, including Hammond eases off austerity, a Budget that tries to fix the housing market and gloomy fiscal outlook.
Budget: 'Hammond eases off austerity'
According to The Times, Philip Hammond used yesterday's Budget as a '£25 billion giveaway'. The paper points out that the sums, including spending on housing, Brexit, and the NHS, only add up because of 'accounting changes, stealth business taxes, optimistic estimates on tackling tax evasion and new sales of state-owned Royal Bank of Scotland shares'.
Budget: Hammond tries to fix the housing market
The Financial Times choses to focus on Hammond's efforts to fix the housing market. He unveiled a £44bn package of investment, loans and guarantees, and aims to reach 300,000 homes being built in each year by the middle of the next decade. Other measures include cuts to stamp duty for first-time buyers. According to the paper, allies of Theresa May described Hammond as having done a 'good job in difficult circumstances'.
Budget: Gloomy fiscal outlook
The Guardian alleges that Hammond's new measures are an attempt to 'mask Britain's gloomy fiscal outlook'. The paper choses to highlight forecasts by the Office for Budget Responsibility which cut the UK's growth rates in the years up to 2022 by a quarter, with unemployment growing. Shadow Chancellor John McDonnell said it was 'a nothing-has-changed budget from an out-of-touch government with no idea of the reality of people's lives and no plan to improve them'.
Budget: Tory Eurosceptics urge Hammond to spend Brexit cash
The Daily Telegraph reports that Conservative Eurosceptics are urging Philip Hammond to spend some of the £3 billion he set aside for Brexit preparations in the Budget immediately. Half the money is not planned to be spent until next year, whilst the rest will only be released in 2019-20 (after the UK has left the EU). David Jones MP argued that 'We need to show the EU that preparations are being made and also need to give reassurance to business.'
Poll shows Tories four points ahead
The Daily Mail carries news of a new poll which shows that the Conservatives are four points ahead of Labour. The poll, carried out before the Budget, puts the Tories on 42% and labour on 38%. The paper places this in the context of the sex harassment scandal and the loss of two Cabinet ministers, suggesting that 'Brits not stuck in the Westminster bubble have not paid much attention to these Tory travails.'
Remove abortion jail risk, medical professionals say
The Times has details of a campaign by the Faculty of Sexual and Reproductive Health, whose council is expected to vote in favour of decriminalising abortion following a survey of the group's members. It warns that the country is 'reaching a crisis point in abortion provision', with legal restrictions putting trainees off and inhibiting care.
Damian Green inquiry to finish 'within days'
The Cabinet Office's inquiry into allegations against First Secretary of State Damian Green is to finish 'within days', The Guardian says. This comes after a series of interviews over the claims that Green harassed a young Conservative activist and downloaded pornography to a work computer. Green denies both allegations
New rules on broadband advertisingMirror
The Daily Mail announces new rules on broadband advertising, drawn up by the Committee on Advertising Practice. Under current rules, firms can advertise speeds that only 10% of households can achieve. Under the new rules, advertised speeds must be attainable by 50% of customers at peak times. Digital Minister Matt Hancock said 'We have been fighting for this for some time now, and it's a great victory for consumers.'
Find out more about Vuelio political services?
https://www.vuelio.com/uk/wp-content/uploads/2017/11/Todays-Political-Headlines.png
430
760
Jake O'Neill
https://www.vuelio.com/uk/wp-content/uploads/2019/09/vuelio-logo.png
Jake O'Neill
2017-11-23 09:47:55
2017-11-23 09:54:23
Today's Political Headlines - 23 November 2017