Today's Political Headlines – 26 January 2018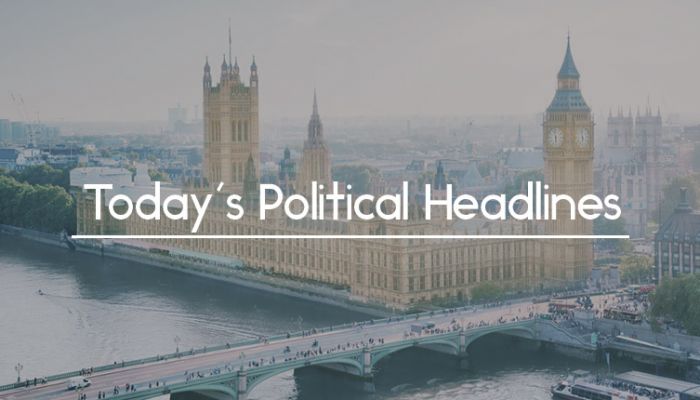 Today's Political Headlines include Brexit news, with May, Hammond and Davis; Lord Mendelsohn who has been 'effectively sacked' for attending the Presidents Club dinner; Gavin Williamson warning of a Russian attack; and Donald Trump visiting the UK. 
May rebukes Hammond for Brexit claims and tones down Davis speech
Theresa May rebuked the Chancellor last night, The Times claims, after he predicted 'very modest' changes in the UK's relationship with the EU after Brexit in a speech to the CBI at the World Economic Forum. The Daily Telegraph adds that Downing Street has toned down a major speech by David Davis today so that it focuses on negotiating trade deals during a transition period, rather than on managing expectations and selling the transition period as the price to pay for Brexit. The paper also reports that Jacob Rees-Mogg, chair of the European Research Group, has said that the Government's tone on Brexit needs to 'fundamentally change'. The Sun suggests that Downing Street 'fears a vote of no confidence' after at least three more Tory MPs said that they planned to call for May to go.
Lord Mendelsohn 'effectively sacked' for attending controversial dinner
Lord Mendelsohn has been 'effectively sacked' from his role as a Labour party spokesperson on business and international trade for attending the controversial Presidents Club dinner, The Times reports. The Financial Times adds that the Attorney-General has said that it is possible that criminal offences were committed at the event and that the Bank of England is investigating the regifting of tea with its Governor, Mark Carney, to the event's auction.
Gavin Williamson warns of Russian attack, admits affair
Defence Secretary Gavin Williamson has warned that Russia could kill 'thousands and thousands and thousands' of people in the UK, with an attack on infrastructure and energy supply, in an interview with The Daily Telegraph. He has also been speaking to the Daily Mail, admitting to an affair that happened before he became an MP.
Donald Trump will visit the UK, apologises for Britain First tweets
The Times reports that President Trump is to make a working visit to the UK in the summer, which is likely to include meeting the Queen. The visit's outline was agreed when Trump met with Theresa May at Davos yesterday. The news comes as Trump tells Piers Morgan, in an interview for ITV, that he 'would certainly apologise' for retweeting Britain First.
Tessa Jowell calls for global cancer co-operation
The Guardian reports that Baroness Jowell received a standing ovation in the House of Lords yesterday. Jowell, who has a high-grade brain tumour, used her speech to promote the Eliminate Cancer Initiative, which links patients and doctors globally through a clinical trials network, and which is building a global database.
Companies prepare for no-deal Brexit
According to the Financial Times, a majority of UK companies are preparing for a no-deal Brexit, as time runs out for clarity on the transition period. A survey by the CBI has found that over 60% of companies have implemented contingency plans, or intend to do so.
Minister boycotts John Humphry's interview
In an exclusive, The Guardian reports that minister Tracey Crouch refused to be interviewed on BBC Radio 4's Today programme after presenter John Humphrys was recorded joking about his colleague Carrie Gracie's fight for equal pay. The paper claims that other female MPs 'are using informal parliamentary networks to encourage a potential boycott.'
Sadiq Khan launches legal action over Worboys release
The Mayor of London, Sadiq Khan, has applied for judicial review of the Parole Board's decision to release the rapist John Worboys, The Guardian says. In a statement, Khan described it as 'an astonishing and deeply concerning decision'.
Learn how you can get our dedicated political services, including exclusive content directly to your inbox. 
https://www.vuelio.com/uk/wp-content/uploads/2018/01/Vuelio-Political-News.jpg
430
760
Jake O'Neill
https://www.vuelio.com/uk/wp-content/uploads/2019/09/vuelio-logo.png
Jake O'Neill
2018-01-26 09:41:56
2018-01-26 09:41:56
Today's Political Headlines - 26 January 2018