Today's Political Headlines – 25 January 2018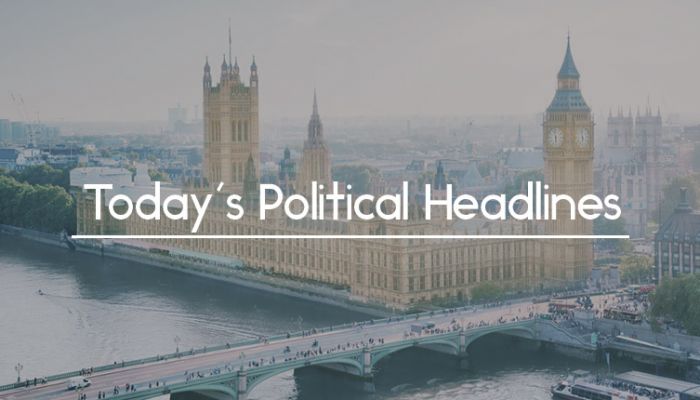 Today's Political Headlines include the Presidents Club debacle, Theresa May addressing Davos, the 1922 Committee Chair begging MPs not to trigger a challenge against the PM and Ministerial turnover putting projects at risk. 
Presidents Club closes down, as minister faces calls to quit
The fallout from the Financial Times's exposé of sexual harassment at the Presidents Club dinner has continued. The club is to be wound up and charities have returned donations. David Meller, a chair of the club, has resigned from the board of the Department for Education, while Theresa May has come under pressure to sack Nadhim Zahawi, the minister for children and families, who attended the event. Mark Carney and Boris Johnson have said that they did not authorise meetings with them being auctioned at the event.
May to tell investors to put pressure on social media firms over content
When she addresses the World Economic Forum in Davos today, the Prime Minister will call on investment companies to put pressure on social media providers to remove terrorist and extremist content, The Times reports. She will tell attendees that 'No one wants to be known as the terrorists' platform or the first-choice app for paedophiles'.
1922 Committee Chair begs MPs not to trigger challenge against May
An exclusive in The Sun reveals that Sir Graham Brady, the Chair of the 1922 Committee of backbench Tory MPs, has begged MPs not to trigger a challenge against Theresa May. A no confidence vote would be automatically triggered if he receives 48 letters. He apparently declined to comment on the claim.
Ministerial turnover putting projects at risk
The unusually high turnover of ministers – more than two-thirds have been appointed since June – is putting Government projects at risk, according to the Institute for Government. The thinktank's findings are reported by the Financial Times. Sir Richard Mottram, former Cabinet Office Permanent Secretary said that 'The system incentivises short-termism and eye-catching initiatives.'
Sara Khan appointed to head Commission for Countering Extremism
Sara Khan has been appointed to head the new Commission for Countering Extremism, the BBC reports. The campaigner promised that the commission will challenge 'extremism in the name of our shared values, fundamental freedoms and human rights'. However, Baroness Warsi has accused Khan of being a Home Office 'mouthpiece'.
Theresa May's relationship with Donald Trump under the microscope
Two different accounts of Theresa May's relationship with Donald Trump are being reported today, ahead of their meeting at the World Economic Forum in Davos. The Daily Telegraph says that Trump compared May to Winston Churchill during a phone call in December, with a source saying that the pair 'have a surprisingly warm relationship'. However, Bloomberg News claims 'May finds it almost impossible to make headway and get her points across'.
Department for International Trade criticised
The Guardian says that the Department for International Trade has been criticised by the National Audit Office. The department is apparently struggling to meet deadlines, to recruit specialist staff, and to retrain its workforce. A departmental spokesperson said that 'Overall, our plans are on track and we have met every EU exit delivery milestone to date.'
Prisons minister says that he will 'get back to basics'
The Daily Mail reports on evidence given to the Justice Select Committee by the new justice minister, Rory Stewart. Following reports about poor conditions in prisons, Stewart said 'My instinct is we need to get back to basics. We need to absolutely insist that we are going to run clean, decent prisons.'
Learn how you can get our dedicated political services, including exclusive content directly to your inbox. 
https://www.vuelio.com/uk/wp-content/uploads/2018/01/Vuelio-Political-News.jpg
430
760
Thomas Stevenson
https://www.vuelio.com/uk/wp-content/uploads/2019/09/vuelio-logo.png
Thomas Stevenson
2018-01-25 09:43:30
2018-01-25 11:04:59
Today's Political Headlines - 25 January 2018