Today's Political Headlines – 9 February 2018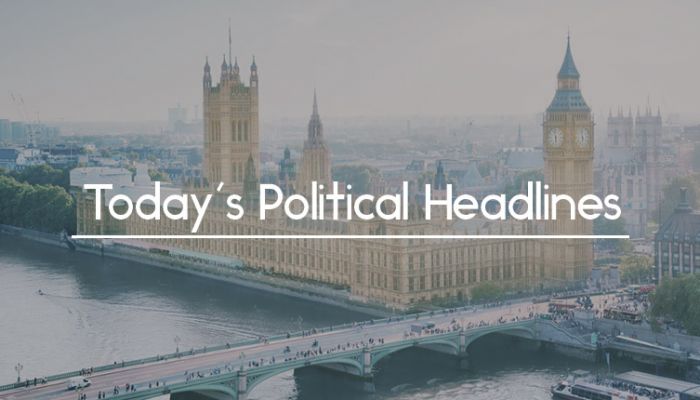 Today's Political Headlines include the crackdown on unpaid internships, Barnier's Labour memo, a riled David Davis and donors paying to meet ministers at the Conservative Black and White Ball.   
Crackdown on unpaid internships launched
In an exclusive, The Guardian reveals that the Government has launched a crackdown on unpaid internships. Companies have been sent more than 550 warning letters, and enforcement teams have been created to tackle repeat offenders. HMRC is expected to target sectors with a track record of using unpaid interns, including the media, performing arts, law and accountancy.
Barnier memo raises questions about Labour's Brexit policy
The Daily Telegraph reports that a memo circulated by EU chief negotiator Michel Barnier after meeting Jeremy Corbyn raises questions about Labour's Brexit policy. According to the memo, Corbyn said that he was open to remaining in the customs union and said that he would run negotiations 'very differently'. Labour, however, claim Corbyn instead said 'a customs union was a viable end point'. Separately, The Guardian says that 30 pro-EU MPs and campaigners have written to the party's national executive committee calling for a membership consultation on the party's Brexit policy.
EU being 'discourteous' says David Davis
The Times says that Brexit Secretary David Davis has criticised the EU for being 'discourteous', with a source close to him telling the paper that the draft legal text of the transition period published by the EU was 'deliberately inflammatory and designed to provoke a reaction'. The source also described this week's talks as frustrating. The Sun claims that the UK is to reject the EU's demand that Brussels sets fishing quotas during the transition period.
Donors pay to meet ministers at Conservative Black and White Ball
The Mirror reports on the Conservative Party's Black and White Ball, which was held on Tuesday. It says that the Prime Minister told guests that she wanted to 'defeat socialism'. For the last two years there has been a ban on auctioning access to cabinet ministers, but that was lifted this year and The Times reveals that a donor paid £55,000 to spend a day with Theresa May.
Gina Miller accuses group she founded of being 'undemocratic'
The Daily Telegraph has spoken to the founder of the pro-EU campaign group Best for Britain, Gina Miller, who accuses it of being 'undemocratic'. Miller said the public had the 'right to know' who was backing the organisation and that it should not aim to bring down the Government.
Draft EU agreement would see Northern Ireland effectively stay in single market and customs union
According to The Guardian, EU negotiators have warned that the draft withdrawal agreement will see Northern Ireland effectively remain in the single market and customs union, in order to avoid a hard border. The paper suggests that this is likely to cause a 'major row'.
Committee report proposes housing strategy for the elderly
A report by the House of Commons Communities and Local Government Committee recommends that the Government develops a strategy to deal with older people's housing needs. The BBC says that proposals include a handyman service, age-proofing new-build homes and a national helpline.
Tech firms questioned about fake news
As the Financial Times reports, MPs on the House of Commons Digital, Culture, Media and Sport Committee visited Washington yesterday to hear from firms including Google, Facebook and Twitter. The committee's chair, Damian Collins, said that the firms had a level of 'disconnect' about their responsibility for combating fake news and disinformation.
Do you need Vuelio Political services? It's easy to get bespoke political information on a daily basis. 
https://www.vuelio.com/uk/wp-content/uploads/2018/01/Vuelio-Political-News.jpg
430
760
Thomas Stevenson
https://www.vuelio.com/uk/wp-content/uploads/2019/09/vuelio-logo.png
Thomas Stevenson
2018-02-09 09:39:02
2018-02-09 09:39:02
Today's Political Headlines - 9 February 2018