Today's Political Headlines – 12 February 2018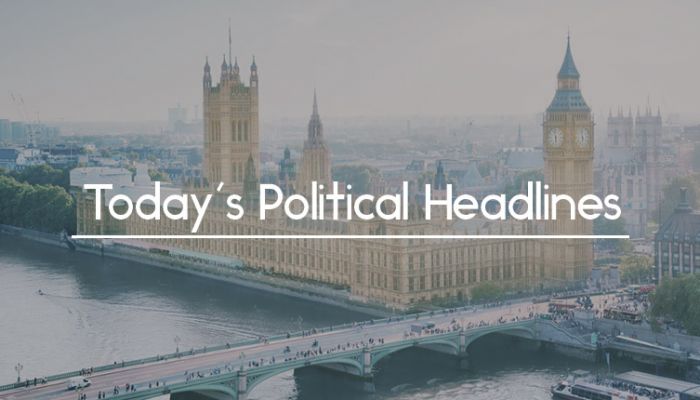 Today's Political Headlines include the immigration systems post-Brexit, allegations against Oxfam, Boris' Brexit speech outgunned and George Soros pledging a further £100,000 to anti-Brexit campaign. 
Home Office may not have new systems ready for Brexit and whistleblowers reveal the asylum 'lottery'
According to The Times, Theresa May has overruled the Home Office to insist that EU citizens who arrive during the Brexit transition period will not have the automatic right to remain in the UK, despite warnings from senior officials that they would struggle to create separate systems to register existing EU citizens and new arrivals in time. Separately, Home Office whistleblowers have told The Guardian that the asylum process is a 'lottery', with interviews 'rushed, biased and resolved by "cut and paste" decisions by overworked Home Office staff'.
Oxfam to meet International Development Secretary over abuse allegations
The BBC reports that senior managers at Oxfam are to meet International Development Secretary Penny Mordaunt later today to tell her more about allegations that the charity's staff used prostitutes in Haiti in 2011. Mordaunt's predecessor, Priti Patel, tells The Sun that officials 'at the highest levels' knew about abuse claims but tried to keep them hushed up.
Cabinet ministers to 'outgun' Boris Johnson's Brexit speech
The Times says that Boris Johnson's Cabinet colleagues are planning to 'outgun' his speech on Brexit this week, by following it up with five further speeches. These include two from the Prime Minister on security and the future partnership, one from David Davis on business, one from Liam Fox on global deals, and one from David Lidington on the devolved nations. May will say that the UK wishes to keep the European arrest warrant and stay in Europol.
George Soros pledges extra £100,000 to anti-Brexit campaign
George Soros' Open Society Foundation is to pledge an extra £100,000 to the pro-EU group Best for Britain, The Guardian says. He linked the increased donation to the campaign against him in the right-wing press, saying 'I am happy to take the fight to those who have tried to use a smear campaign, not arguments, to prop up their failing case'.
Theresa May flies to Northern Ireland amid hopes of power-sharing deal
The Guardian reports that Theresa May is to fly to Belfast today, amid hopes that Northern Ireland's main political parties are close to reaching a deal to restore power-sharing in the executive. She will be joined by Leo Varadkar, the Taoiseach, who has cancelled a meeting with the Welsh First Minister.
Diesel trains to be scrapped by 2040
Rail Minister Jo Johnson, is to announce today that every diesel train in the country should be scrapped by 2040, The Daily Telegraph says. This forms part of plans to cut pollution on the rail network, but the Government has not specified how this will be paid for.
DWP spends over £100m on disability benefit appeals over two years
According to The Guardian, the Department for Work and Pensions spent over £100m on administering reviews and appeals against disability benefits in just over two years. The Ministry of Justice also spends tens of millions on the reviews. Neil Heslop, chief executive of Leonard Cheshire, described the amounts as 'staggering'.
Transport for London's operational deficit expected to reach £1bn
The Financial Times reports that Transport for London is expecting an operational deficit of nearly £1bn next year. This has been caused by the Government removing a revenue grant, Sadiq Khan's decision to freeze fares, and falling passenger numbers, attributed to increased working from home, use of ride-hailing apps, and safety concerns.
Do you want Vuelio Political services? They can help you stay ahead. 
https://www.vuelio.com/uk/wp-content/uploads/2018/01/Vuelio-Political-News.jpg
430
760
Thomas Stevenson
https://www.vuelio.com/uk/wp-content/uploads/2019/09/vuelio-logo.png
Thomas Stevenson
2018-02-12 10:02:05
2018-02-12 10:02:05
Today's Political Headlines - 12 February 2018