Top 5 PR rules for LinkedIn Video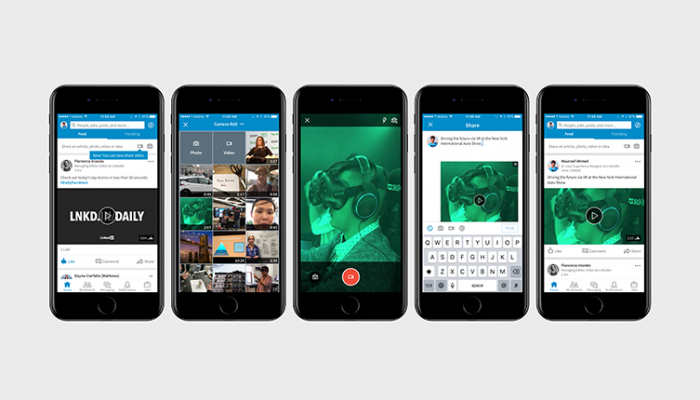 Following beta trials with its high-profile influencers, LinkedIn has just rolled out video on its mobile platform to all of its users. Video on the professional network offers a whole heap of possibilities – some of them positive, some of them not so positive. It may be time to re-write your social media guidelines.
LinkedIn is the social network where HR feels at home. It's the place where jobs are posted, candidates vetted and positions are filled. It is also a place where businesses carefully build a corporate presence away from of all the spam and frivolity of Facebook, Instagram, Twitter and Snapchat (in the perfect world).
Be warned: LinkedIn users will call anything out which they do not think belongs on the network, usually with the comment: 'This is NOT Facebook!'
Video is both good and bad. It is quick and easy to make, consume and share. Video has the very real potential to go viral – this is great when it's good, not so good when it's terrible.
In short, LinkedIn is a place where reputation is important and while video can provide an excellent platform to enhance that reputation, it can also very easily tear reputations down – and quickly.
Of course, in this social age, the rules of 'corporate' video have changed. Authenticity is often valued over slick production values – meaning it is perfectly acceptable to film a video on a smartphone on the fly – but that doesn't mean videos shouldn't be carefully planned and though about before being published to the web.
Think about how many images Instagram 'celebrities' go through before deciding which ones to publish. There has to be a certain degree of quality control.
With this in mind, we've compiled five rules for video on LinkedIn which PR should put in place:
Think about what's in the background


A white wall might make your business appear less grand than it is. A car park full of supercars might appear more than a little fake and boastful. Create a branded environment that can act as a backdrop to all of your videos and provide a consistent experience for your viewers.

Take your time


Shoot more than you need and edit out the bad bits. Yes 'good enough' is good enough – when it really is good enough. Never settle for 'it'll do' just because you are busy or are getting frustrated with the process.

Find your video star


Some people are better in front of the camera than others. The person you are looking for should be confident (but not too shouty), humble (nobody likes a show-off) and above all likeable (people buy into ideas and concepts when they are presented to them by people they like).

Share don't sell


This isn't an infomercial on late night television. Share insight and thought leadership about your industry and organisation and the commercial opportunities will present themselves almost as a happy by-product of your content.

Don't force it


If you've nothing to say, it is probably best not to commit it to video.
As a PR pro, how will you help HR take better advantage of the video opportunity on LinkedIn?
https://www.vuelio.com/uk/wp-content/uploads/2017/08/LinkedIn-Native-Video-1.png
430
760
Jake O'Neill
https://www.vuelio.com/uk/wp-content/uploads/2019/09/vuelio-logo.png
Jake O'Neill
2017-08-29 08:34:59
2017-08-29 08:36:29
Top 5 PR rules for LinkedIn Video