UK PR industry ready to embrace hybrid working model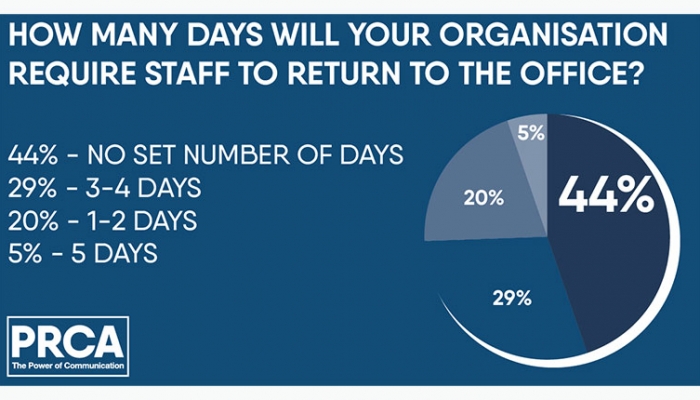 Research from the Public Relations and Communications Association (PRCA) has found that a majority of the PR industry in the UK is prepared to move away from a traditional five-day office-based week in favour of a hybrid working model.
The PRCA's Office Return Study of agency and in-house leaders found that 44% of senior professionals will not specify the number of days that employees will be required to work in-office, with only one in twenty industry leaders expecting employees to be office-based five days a week.
On masks, COVID-19 testing and vaccination policies, 23% have plans for weekly or fortnightly testing, while 56% have no plans as yet. Others plan to follow advice from the Government.
While 22% of those polled for the study said they have asked staff about vaccination, the majority – 86% – have no plans to implement vaccine policies.
Over half of respondents – 58% – will not require staff to wear masks, 35% will require masks to be worn in all areas except for desks, and one in twenty will require employees to wear masks throughout the working day while in the office.
'The data from the PRCA Office Return Study are conclusive – our industry overwhelmingly stands ready to embrace a new hybrid working model,' said PRCA director general Francis Ingham.
'PR and communications professionals have delivered exceptional work while operating remotely. But ours is a social industry; one in which teams are built and creativity is sparked through face-to-face relationships. There are elements of our practice which simply cannot be replaced by Zoom calls. That is why our future will be built around a hybrid model that fuses the best of both worlds. But let's be clear – for the great majority of us, our working lives have changed fundamentally and forever.'
Concerned about an eventual return to in-office working? Here are 11 ways to mentally prepare for heading back to the office with advice from mental health professionals and fellow PRs.
https://www.vuelio.com/uk/wp-content/uploads/2021/06/PRCA-Office-Return-Study.jpg
430
760
Phoebe-Jane Boyd
https://www.vuelio.com/uk/wp-content/uploads/2019/09/vuelio-logo.png
Phoebe-Jane Boyd
2021-06-01 11:41:49
2021-06-01 11:41:49
UK PR industry ready to embrace hybrid working model