'PRs: know your audience' – accessmatters with freelance journalist Faima Bakar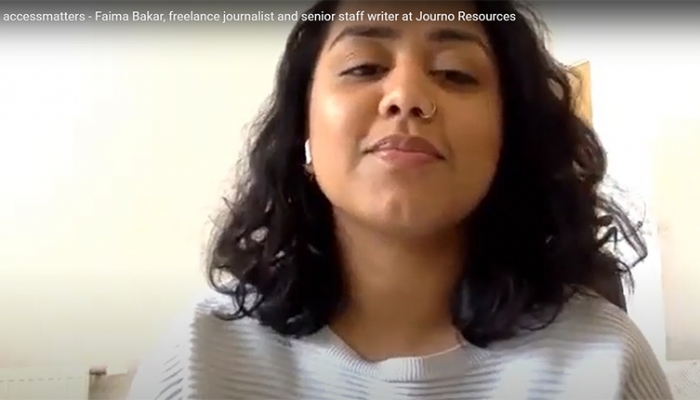 Our latest accessmatters session for knowledge sharing among the media, comms and PR community was with freelance journalist and Journo Resources senior staff writer Faima Bakar. Sharing her experiences as a lifestyle writer on the Metro desk, and some of the lessons she's learned since going freelance, Faima had plenty of advice for PRs hoping to get in touch with useful pitches.
Watch our accessmatters session with Faima Bakar here.
While the relationship between PR and journalism can get contentious when either side isn't fully cognizant or respectful of the other's duties and deadlines…
'When I first started at Metro, I wanted to get lots of emails,' shared Faima. 'My colleagues were like: 'Be careful what you wish for.'
…relevant content is useful – provided it's delivered in the right way. Faima had advice for PRs who want to build relationships with the media and get results:
'Before selling-in, I would divvy up among your team who's contacting who. Have a chat across your team and decide who's doing what first. As a writer, I might be excited to pitch a story based on a press release you've sent over – it's not good when I see another colleague is working on it already.
'Know your audience, too. For example, the Metro lifestyle desk is very body positive, so there's no weight loss stories unless they have an interesting angle. Every Christmas we'd get articles about all the calories in Christmas dinners, and we'd never cover those stories because we don't want to make people feel crap. Get to know the publications you're targeting; read what you're interested in.'
And is what you're pitching interesting to you? If not, there's a good chance it won't be of interest to the journalist either, or their readership.
'If you're sending a story you're not interested in, what's the point?' believes Faima.
'For my work as a freelancer, I pitch things I talk about with my friends. There's always a way to make a story more interesting.
'For example, a PR friend of mine had a low-calorie ice cream client and needed a way to publicise them. She decided to take a bunch of journalists to a big park full of trapeze artists because the ice cream was "lighter than air". It was a good way to be creative – thinking outside of the box – and it was fun.'
While Faima's work as a freelancer now means less interaction with PRs – publications will have their own staffers writing up quick-turnaround pieces from releases they receive – she has developed good relationships over the years. Building connections and proving yourself to be a useful source for journalists in your field takes time as a PR, but there are a few short cuts. Number one: getting the journalist's name right.
'I get called the wrong name about once a week. And I get it – it's easy to miss a letter. But if you're emailing because you want coverage, it helps to show attention to detail. If you call me the wrong name, it gets you on the wrong foot. That's not to say I won't use your email if you get the name wrong, but it's not the best way to start.
'As a freelancer, I'm sending pitches out to people, and I get it wrong sometimes – it's so easy to do. But have a quick check through of your email before you send it.
'Being a lifestyle reporter and now a freelancer, my interests were and are quite wide. I developed a good relationship with quite a few PRs – there are some I've never actually met, but we've been emailing back and forth for years.'
'If there are journalists you want to work with, find out what works for them.'
Watch the full accessmatters session with Faima Bakar here and check out our previous sessions on the accessmatters hub.
https://www.vuelio.com/uk/wp-content/uploads/2021/06/Faima-Bakar-accessmatters.jpg
430
760
Phoebe-Jane Boyd
https://www.vuelio.com/uk/wp-content/uploads/2019/09/vuelio-logo.png
Phoebe-Jane Boyd
2021-06-02 10:34:09
2021-06-16 15:45:24
'PRs: know your audience' – accessmatters with freelance journalist Faima Bakar