How to pitch to freelancers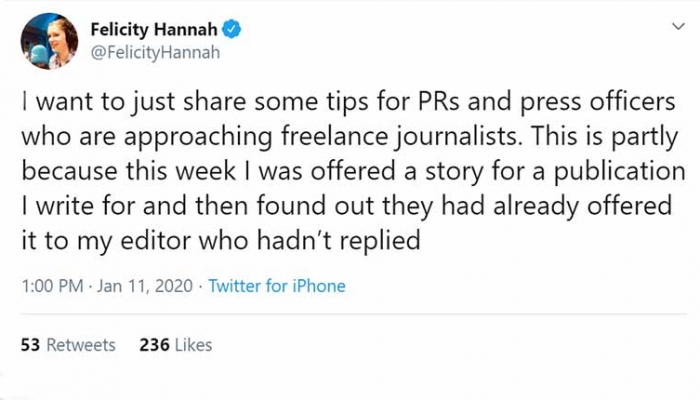 Able to switch up topics, formats and focus quickly, freelancers are useful people to know when you're a PR with stories you'd like to be translated and told. No editorial calendar, but also no time for calls, freelancers pitch and write, pitch and write. As journalist Felicity Hannah pointed out in her Twitter thread covering tips for PRs, freelancers require a very different approach to staffers.
We've gathered more tips from the freelance journalist community on how they work and – very importantly – how you can become a contact they like to see in their inbox.
1. Give freelancers time to get a commission
'Now I'm freelance, I much prefer being approached with story ideas and interview opportunities, rather than straight news stories that I'm very unlikely to get commissioned on such short notice! Also, I know it's been said before, but please get in touch by email – I've seen it, and if I don't reply immediately, it's because I'm busy. Plus, it can be awkward to speak on the phone when I'm working down the pub…'
Carly Page covers the technology sector and can be found tweeting @CarlyPage_. Check out her work at clippings.me/carlypage.
2. Personalise your approach for each freelancer and know what they write about before you get in touch
'When PRs get in touch, it's always more effective if they have looked at the kinds of publications I'm writing for and pitch something appropriate (it sounds obvious but I get so many press releases completely unrelated to any publication I've ever written for). I also really appreciate – and find most useful – press releases that are tailored to individual writers (rather than a general mailout). And, unless there is something new/timely about the story, I won't be able to cover it. If a story is truly interesting, pull out what makes it timely to cover and let me know about it – I won't necessarily have time to search it out myself (and as the thread points out, freelancers only get paid for words they write!).'
Mandi Keighran writes for travel, design and lifestyle publications. Find her on Instagram @mandikeighran and more about her work is on her website mandikeighran.com.
3. Face-to-face meetups are still a thing
'I always like putting a face to a name and meeting up with PRs to gain a deeper insight into their brand, discussing key products and ways of working together too. I've always found this helps me build fruitful relationships with PRs. Also, email is always the quickest way to catch me over phone calls!'
Lauren Carbran is an award-winning journalist who writes about fragrance, beauty, lifestyle, kids and parenting, health and wellness. She can be found on Instagram @laurencarbranportfolio and @laurendaniellequinn and on Twitter @LaurenCarbran. For more about her work and to get in touch, visit her website laurencarbran.com.
4. Get in touch early if you're pitching to a freelancer who writes for print
'Understand how far in advance print works. I often get press releases for events taking place in a few weeks pitching for the inflight print titles I write for – most of which will have already gone to print! Get in touch earlier rather than later for the best chance of a story finding a home in print.'
Mandi Keighran
5. No one has time to chat about a press release
'I do agree with Felicity Hannah's point that there is no need for PRs to follow up on press releases if they haven't heard back – personally, it's either of no interest or I have filed it for future use. Although, I know a lot of people don't even read their emails!
'For me though, email is the way forward and was the way I worked on House Beautiful, too. When I was at Hearst, I rarely logged into my phone, and not many staffers do – no one has time to chat about a press release. It used to annoy me when PRs contacted me on my personal mobile at work too, especially when you are in an open plan office, although that has changed now that I am freelance. It does sound mean, but unfortunately, it's really all down to lack of time.'
Alison Davidson is a freelance interiors and lifestyle editor, stylist, content creator, copywriter and blogger. More about her and her work can be found on her website alisonaddingstyle.com.
6. Make freelancing easier
'I'd say it's definitely better to email freelancers, rather than call. There's nothing worse than fielding calls from PRs that start with a vague, 'I was wondering if you'd had the chance to have a look at the press release I sent over?' when your inbox in full of releases. The big difference is that freelancers aren't being paid a salary to take the time out to answer the call. If your email goes unanswered, absolutely follow up a couple of times or even use Twitter. We definitely need stories and ideas as much as staff writers, and good PRs can make our jobs so much easier.'
Rosie focuses on health and wellness, food and travel, celebrity profiles and real-life stories. She can be found tweeting @RosieHopegood and more about her work is on her website rosiehopegood.com.
Find the right freelancer for your very timely, very focused, very email pitches with the Vuelio Media Contact Database.
https://www.vuelio.com/uk/wp-content/uploads/2020/01/Felicity-Hannah-Twitter-thread.jpg
430
760
Phoebe-Jane Boyd
https://www.vuelio.com/uk/wp-content/uploads/2023/09/vuelio-logo-200px.png
Phoebe-Jane Boyd
2020-01-27 11:59:32
2020-05-28 13:19:41
How to pitch to freelancers