Vuelio meets Hand Luggage Only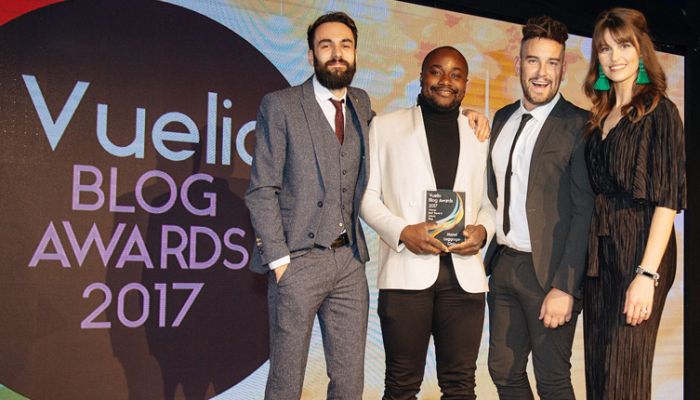 Hand Luggage Only was recently awarded the prestigious Best Travel Blog at the Vuelio Blog Awards 2017. We caught up with the authors, Yaya and Lloyd, to talk all things blogging and put them on the spot with some quick-fire questions [VIDEO BELOW].
Yaya and Lloyd started Hand Luggage Only back in 2014, first as a hobby before eventually going full time. The blog is now their lives – and both bloggers are bemused by the fact they get to work on their hobby.
'People say: "What hobbies do you have?" but travelling was and still is our hobby', Lloyd says, before adding, 'I really need to get some new hobbies!'
The pair never seem to stop; straight after their Vuelio Blog Awards victory they went home to pack before heading off to Saint Kitts and Nevis. Packing after celebrating, says Yaya, was 'tricky'. The night before Vuelio meets them, both were awake until the early hours working on the website – it's a full time job in every sense.
They have to fit in the website development around a huge amount of travelling – they're pitched four (that's four!) trips a day. We sit down just three weeks after the Awards and they've already had three separate journeys in that time.
Do they ever get time off, just to have a break?
Yaya laughs: 'We try to book ourselves time off from travelling, to work on the site, but then we get an exciting opportunity that we can squeeze in and we're off again'.
And what about holidays? If you travel for work do you ever get a holiday?
'We definitely take personal holidays', Lloyd says, 'where we spend time just enjoying the location but it's harder to switch off when your hobby is also a job. A holiday for us is going home – being with the family and doing nothing'.
The strong work ethic extends to when they're travelling, with packed itineraries often out of their control.
'The tourism boards and companies we travel with fit a lot in, so our experience probably isn't the same as a normal traveller', Yaya says. 'We're doing 15 or 18-hour days and we have to film and photograph everything too. It's not the same as a journalist, because we're also running the blog, whereas they have colleagues and publishers back home'.
If you could set your own travel agenda…
'We'd build in a block of time for us to work on the blog and the blog posts. We have deliverables with the PRs and brands and it's good to get a few hours each day to meet them. PRs are a lot better now; before it seemed like they didn't really understand this need', Lloyd says.
That's the one thing they both want more of: time to work. It's this tireless mentality that helped them win the Award. The judges were also impressed with the beautiful photography and personal tone.
'Winning was amazing', says Lloyd, 'the event feels like the Oscars of Blogging and the win was just so unexpected'.
Yaya adds: 'When you're working on the site so much it can be in isolation, so to get recognition and to come together with other bloggers was brilliant'.
What's next for the pair of influencers?
'Not influencers, we hate that word! We're bloggers, we don't feel comfortable calling ourselves influencers', Lloyd explains.
So, what's next for the bloggers?
'We've booked some time off until the third week of January so we'll be implementing new functions on the site in that time and catching up with some trips we're writing up', Yaya says.
But if they get offers to go travelling in that time?
'We'll see', Lloyd says,
laughing.
As we leave, we take the opportunity to hit them with some quickfire questions. The full video is below, and we can only beg forgiveness from Yaya for missing one of his answers – the Vuelio team were dodging traffic at the time.
Yaya, Lloyd and Hand Luggage Only are all featured on the Vuelio Media Database along with thousands of other bloggers, journalists (even influencers!).
https://www.vuelio.com/uk/wp-content/uploads/2017/12/Hand-Luggage-Only.jpg
430
760
Jake O'Neill
https://www.vuelio.com/uk/wp-content/uploads/2019/09/vuelio-logo.png
Jake O'Neill
2017-12-21 10:09:13
2017-12-27 12:49:20
Vuelio meets Hand Luggage Only