Blogger Spotlight: Kate Williams, Crafts on Sea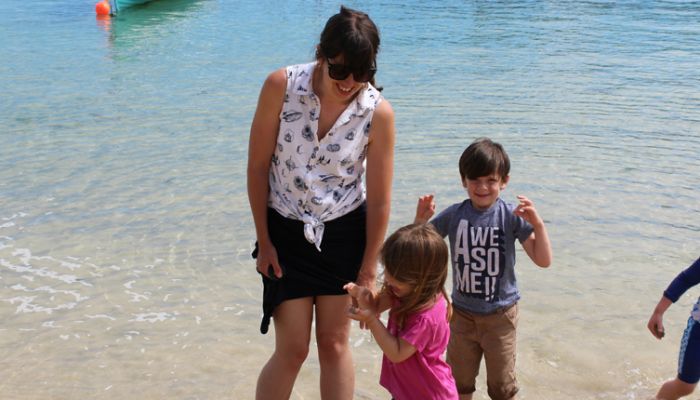 Kate Williams writes Crafts on Sea, which was recently ranked as one of the Top 10 UK Craft Blogs. Covering achievable crafts for kids and adults, Crafts on Sea demonstrates makes and shares fun family activities. We spoke to Kate about trends in crafts, not being paid in craft supplies and working on excellent campaigns.
How would you describe your blog?
Achievable crafts for kids and adults. There's stuff to keep the kids busy but also things for the grown ups too – I've got a lot of colouring pages! I like to hope there's something that would interest or inspire everyone on there; my own kids love things like Star Wars, Marvel and Paw Patrol so that inspires the kind of making that we do as well as season interests like Christmas or Halloween.
Why did you start your blog?
Well my husband was starting a blog and I didn't want to be left out! He ended up not doing one but over the years mine has grown. I've always written but I don't have the patience to sit and write 10,000 words! A blog post is the right kind of length for me.
What's your favourite craft?
Well it's a really simple one but I love these paper plate emojis. They're just a proper stress-free craft that kids of all ages can do. More importantly, though, I know my kids loved this one as they both took their versions into school and nursery the next day for Show and Tell – that's when you really know something has gone well!
What do you think the place of physical crafts is in a 'digital' world?
I think more people will look on Pinterest for kids crafts than will buy a book telling them how to make things – absolutely. I know I'll look on YouTube to find out how to crochet because I need to see how it's actually done and as a parent I can't always get out to a class. Physical books and classes still have a role (I've written a book of crafts too) but the internet is a huge part of people's lives now.
How much do trends in crafts affect your blog?
Well it's December and I'm thinking about my Valentine's Day crafts so quite a lot! I try to plan quite far in advance for season crafts and there's also been big trends that crafts are affected by. Colouring has been really big, rock painting was a trend that's still ongoing and even DIY fidget spinners were really popular this year. I try to listen to what my kids and their friends are talking about and plan around that too.
What will the 2018 trend be?
I think nature crafts are becoming more of a thing, especially as 'forest schooling' becomes more influential. Who knows for the rest of it though, some trends just seem to come out of nowhere – who would have thought that bottle flipping would be a big thing?!
How do you like to work with PRs?
I like them to be honest, tell me what they want to achieve and then I can see if it's something I can help with. I've worked on a really great campaign recently for Marks & Spencer (through iCrossing) that was just so well thought out and had such a detailed brief. It was great as I knew exactly what they wanted so I could make sure I had it all planned properly. The campaign has done really well in terms of pageviews for me too, so it's been a total pleasure to work on all round. I do want to be able to properly promote the clients I work with!
What one thing should PRs know about you?
Not just myself but most bloggers are incredibly professional and come from a professional background, I laugh with my friends about how my job is making stuff out of paper plates (much more fun than my old office job) but my background is in marketing, research and fundraising. In order to pay the mortgage each month you need to know everything about the latest changes in social media algorithm, what hosting companies are the best and be able to code; it's not just a job about making pretty stuff. Failing that, I would love people to stop asking to pay me in craft materials – at risk of sounding rude, I have more paints and paper than the average craft store!
What's your favourite craft company?
My friend Gude runs The Paperdashery and she has the most amazing washi tapes as well as a fantastic subscription box service.
What other blogs do you read?
For kids crafts Red Ted Art, Arty Crafty Kids, Rainy Day Mum and Play and Learn Every Day are brilliant. Lulastic and The Hippyshake is my grown up read for activism and lifestyle stuff.
Kate Williams and her blog Crafts on Sea are both listed on the Vuelio Influencer Database, the UK's leading influencer database available to the PR and communications industries.
https://www.vuelio.com/uk/wp-content/uploads/2017/12/Kate-Williams-Crafts-on-Sea.jpg
430
760
Holly Hodges
https://www.vuelio.com/uk/wp-content/uploads/2019/09/vuelio-logo.png
Holly Hodges
2017-12-21 10:26:16
2019-09-10 15:27:51
Blogger Spotlight: Kate Williams, Crafts on Sea