Waste Not, Want Not – How brands can help combat food waste with effective PR and social media campaigns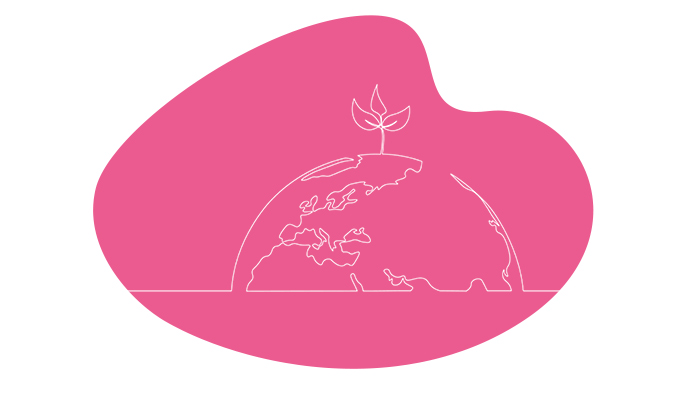 This is a guest post from Alex Halls, account director at Hatch.
Food waste is a huge issue in the UK, with an estimated 10.2 million tonnes of food ending up in the bin every single year. That's enough food to feed the entire population of London for a whole year. Of this, it is estimated that 7.3 million tonnes are 'avoidable', meaning it could have been consumed had it been managed better and let's be honest, we're all guilty of it.
It's not just a waste of perfectly good food, it is also a drain on resources and terrible for the environment. It is estimated that the carbon footprint of food waste in the UK is equivalent to that of 18 million cars on the road. According to the United Nations, if food waste were a country, it would be the third largest emitter of greenhouse gases after China and the United States.
With an increasing number of environmentally-conscious consumers and an ever-worsening food waste problem, it is important that brands use their platforms to step in and help combat the issue. One of the most effective ways to do this is through PR and social media campaigns. These campaigns can be used to raise awareness about the issue, share information about the impact of food waste on the environment, educate and encourage consumers to make changes in their own lives.
Education
The key to any change is through education and it is no different in the fight against food waste. According to a report by WRAP, households are responsible for 60% of the UK's food waste, so it is clear there is an issue that starts at home.
An effective way to combat food waste is by utilising recipes that incorporate leftovers and help people make the most of food they have in the fridge by providing inspiration and techniques to use up and preserve food.
The rise of subscription services like Hello Fresh and Mindful Chef have meant that people are only getting the amount of food they need in, and menu planning is a great way to reduce food waste. But we've all been in the shop when we're hungry and bought far too much.
In a cost-of-living crisis, it is even more important that we plan meals, and brands have a real opportunity to create inspirational content that can help give people the tools and techniques they need to fix the issue at home.
We've seen over the last few years the sheer amount of food-related content on social media and that's growing even more with the rise of TikTok – so my number one tip, if you're a brand in this sector and you want to do something to combat food waste, is to get your apron on and start inspiring your consumers with tasty, easy-to-follow and engaging recipe content. If you wanted to take this on the road, you could look at doing a zero-waste street food van or pop up café to get your tasty dishes in the hands of potential customers and engage directly with your target audience. There are loads of ways you can expand on it, but at the heart it is about education and inspiration.
At Hatch, we work with the British Growers Association on the Yes Peas! Campaign to promote the benefits of frozen peas and shine a light on the industry. It's tempting to just whack peas on the side of your plate and have done with it, but what Yes Peas! does so brilliantly is hero the ingredient and make it the star of the show through recipes. It's needed as well, as the average person eats around 9,000 peas every year.
Yes Peas! also educates consumers on the wider environmental benefits. Peas are by far the most environmentally-friendly veg in the UK; we're 90% self-sufficient as a nation, there's little to no waste as the pods are utilised in different ways and any that don't fit the grade are used in animal feed. Peas go from field to frozen in around 150-minutes, meaning little supply chain wastage.
But it's not just recipes that help to educate the consumer. Research, white papers and other helpful content e.g. downloadable meal planners and weekly menus can also play a huge role. Simple tactics like this can be an incredibly cost-effective way to make a difference.
Shock Tactics
A tried and tested strategy when it comes to affecting real change through marketing strategies is the implementation of shock tactics. By highlighting the staggering statistics of food waste and the impact it has on the environment and global food security, brands can create a sense of urgency and use it to motivate consumers to take action.
Images of overflowing landfills and the devastating effects on the planet can be a powerful way to get people talking about the issue.
You may remember a campaign a few years ago when WRAP showed how much food a household wastes in a year: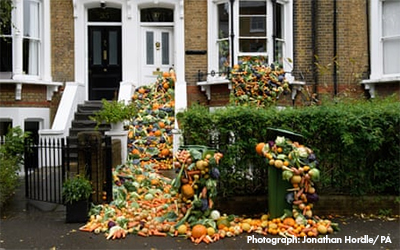 This has worked in the past for other environmental causes like littering, plastic waste, ocean pollution and so on. People find it hard to visualise numbers and figures in their head, so showing them in a simple way can make a big impression and make for a great impactful stunt (the only issue is make sure all the food doesn't go to waste just for the sake of your own stunt, or you're just adding to the problem).
Partnerships
Another way brands can look to target food waste through their PR and social media activity is by partnering with like-minded charities, organisations and people. This not only helps to support a good cause but builds a positive reputation for the brand. Food waste charities redistribute nearly 50,000 tonnes of food each year, making them a crucial ingredient in the fight against food waste, and well-known chefs and food writers have been campaigning for years on the issue.
A fantastic example of this in the UK is the food waste reduction campaign 'Too Good To Go', which is supported by major supermarkets, restaurant chains and independents. This campaign focuses on reducing food waste by making surplus food available to consumers at reduced prices through an app, and has helped to divert tonnes of food that would have otherwise been heading to landfill.
Partnering with influencers and celebrities who have a vested interest can also help elevate your PR and social campaigns. However, it is important that you remain authentic and seek out partners who genuinely care. At Hatch we often say consumers have the best bulls**t detectors around and with growing skepticism around influencers, you don't want to get it wrong.
People like Hugh Fearnley-Whittingstall, who has been a prominent campaigner against food waste for many years, would be the perfect face of a food waste campaign for a brand looking to gain additional cut through, utilising his name, expertise and genuine passion for the cause would prove a beneficial strategy.
Sustainable Practices
That said, it is not just about raising awareness and educating consumers, it's also about encouraging them to take action themselves. One way brands can do this is by using their own supply chain to reduce food waste. According to a report by the Carbon Trust, food waste in the supply chain accounts for 33% of all food waste in the UK.
By implementing sustainable practices such as composting, reducing packaging, and using more efficient production methods, brands can help to combat food waste at the source and set an example for others in the industry to follow.
Setting sustainability targets and committing to achievable goals is a great way to lead by example and can form the basis of any key messages and strategy when launching a marketing campaign to combat food waste. A strong proactive and reactive press office function, which shares these key messages and utilises expert stakeholders to comment on these issues, is a brilliant way of raising awareness of your brand and its commitment to combating food waste.
After all, you have to get your own house in order and practice what you preach to be taken seriously. We've seen so many people accused of greenwashing or offering empty promises, so with any activity of this nature, it's important it's authentic.
Conclusion
A successful PR and social media campaign can have a huge impact, helping to raise awareness about the issue, educate consumers on how to reduce food waste at home, and encourage people to make changes in their own lives. By utilising data and insight, brands can make changes in their own supply chain that can reduce food waste and improve sustainability. There are loads more tactics brands could use as part of their strategy, but hopefully this sparks some inspiration and helps you in the fight against food waste.
Alex has over six years' experience in PR working across a range of B2B and B2C clients in FCMG, Food & Drink, Sport and Lifestyle sectors. 
https://www.vuelio.com/uk/wp-content/uploads/2023/02/Food-waste.jpg
396
700
Phoebe-Jane Boyd
https://www.vuelio.com/uk/wp-content/uploads/2023/09/vuelio-logo-200px.png
Phoebe-Jane Boyd
2023-02-09 14:51:20
2023-02-09 15:16:49
Waste Not, Want Not - How brands can help combat food waste with effective PR and social media campaigns