Wedding Blogger Spotlight: Claire Gould, The English Wedding Blog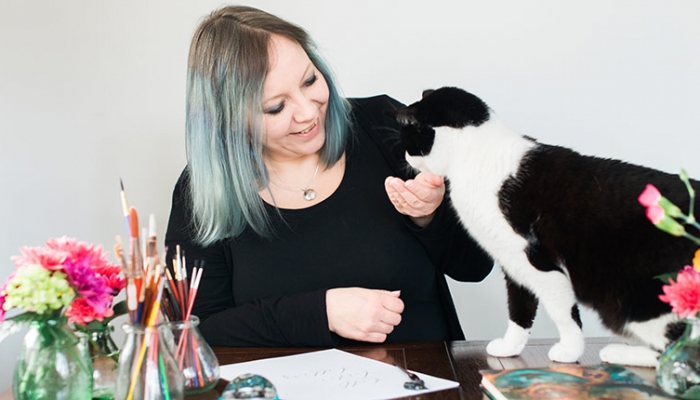 Since the fateful November morning when wedding calligrapher Claire Gould found herself with some free time and decided to buy a domain name, The English Wedding Blog has found faithful readers and supportive photographers and vendors across the wedding scene.
In love with the happiness of the industry, Claire is devoted to helping couples plan their dream wedding. As big days were delayed by the pandemic this year, the blogger shares what advice she'd give to those who've had to rethink and reorganise their upcoming nuptials and whether she believes marriage will continue to be a constant in the future.
What keeps you passionate about wedding blogging?
There's a lot of love in weddings (obvs!) and it spills over into my life, I think! I love the happiness of it all, and I'm fiercely proud of the UK wedding industry. I love my role of matchmaking couples with their dream wedding suppliers, and that's the best thing about this job. Right now, with weddings being postponed and the industry suffering so badly, it's even more important to me to keep blogging and support everyone as much as I possibly can – and in a positive and uplifting way!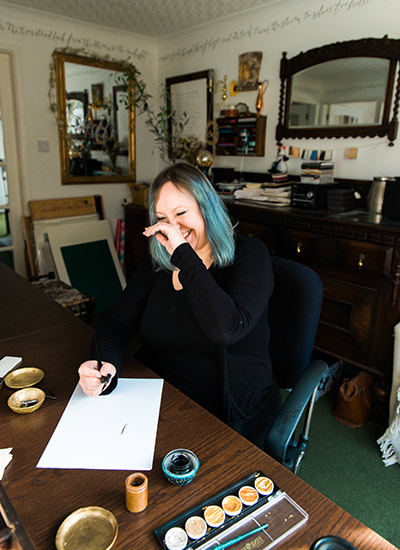 What originally got you into writing about it?
I have my own wedding business: I write calligraphy when I'm not blogging. So, one November morning when I had no wedding orders to write with my dippy ink pens, I decided to buy a domain name. Things snowballed from there! The support I've had from the very beginning from photographers and other vendors has been amazing. My blog has a life of its own now!
How have you had to change your approach to blogging, or your content, during the COVID-19 crisis?
I've had to plan way in advance, with the knowledge that there won't be many weddings this year, so finding content isn't going to be easy. I've been filling my editorial calendar like a demon (we've daily posts scheduled now until October, already!) and I now consider my main job role to be 'emailer'.
What are the main pieces of advice you'd give to couples whose big day has been delayed by lockdown?
I'd just give them a hug. It must be the worst thing, to have such a big, happy (and expensive) event postponed. But that's the key: postpone, don't cancel. Think what's important to you: getting married as soon as you can, or having everyone there to see you get married. A wedding is a party: it's perfectly fine to get married quietly with a couple of witnesses, and celebrate with a massive wedding (if that's your thing) months later.
Weirdest/coolest/most unusual wedding theme you've seen?
Surprise weddings are my favourite. I've featured a few which started out as christenings, then the bride nipped out for a moment and came back into the church with a bunch of flowers and a new dress. The reactions are AMAZING. One time the groom stayed in jeans, and he still looked cool as anything. I love intimate weddings, with close family – the atmosphere just has a zing you don't see in massive celebrations. Having said that – the Asian weddings we've featured, and the Jewish weddings, have the most incredible party atmosphere every single time. It's all about the joy, and no matter what 'theme' you choose, ultimately it comes down to off-the-scale happiness, captured beautifully by brilliant photographers!
What's the most you've seen someone spend on their wedding day, and the least?
I don't like to ask for specifics when it comes to wedding budgets. We've featured village hall celebrations, and massive country estate weddings. One had a helicopter – I remember, because a photographer who's a friend was so excited he got to ride in it with the bride and groom! Creativity is more important than budget for me – and being yourselves. We've featured some super stylish registry office and pub weddings which are easily as perfect as the big country hotel ones!
Have you noticed interest in getting married waning or becoming more popular with couples again since you started blogging?
It's a constant. People will always want to get married – it's the hows and wheres that change. We see more elopements now (which I love!) and lots of barn weddings. Styles change but folks will always fall in love and want to share it with the world. And weddings are super happy occasions full of fun and love and laughter – they look brilliant and make for amazing blog content!
How do you collaborate with brands and which kind of brands do you really like working with?
I work with UK wedding photographers, planners and stylists, florists, venues, cake designers and stationers… all wedding brands and small businesses. It's those little independent business owners I love working with most: they're absolutely passionate about what they do, and it's really exciting to work together. They're also really lovely humans and creative souls. I'd rather work with small brands for a smaller advertising fee than with corporates for big money – my heart and soul is with the little guys!
For PRs looking to work with you and your blog/website, how would you prefer they approach you and with what kind of content?
Our content has to be unique, inspiring and visually powerful. Wedding blogs are driven by beautiful imagery: that's key to any feature we publish. And rather than focusing on products, we have a lifestyle focus: so, collaborations with a bunch of wedding businesses (photoshoots for example) are a great way to start! I'm easily swayed by gorgeous photography, though – send me photos of amazing bouquets or modern wedding cake designs and I'm all yours!
What other blogs do you check out regularly (whether wedding-related or not)?
I have quite eclectic taste! So – I've been a blogger for a LONG time and I've always loved reading Wonky Words – Scarlet's posts are genius. I love the Calligraphy Masters vlog as well. Oh, and Master of Malt (I'm a whisky girl). Rebel Recipes is another fave. Most of the people I follow are wedding photographers, and I read too many of their blogs to name! The best are sprinkled with personal stories as well as work stuff – my favourite thing is finding out people's weird habits and guilty pleasures. Oh, and seeing photos of their cats!
https://www.vuelio.com/uk/wp-content/uploads/2020/10/Claire-Gould-and-cat.jpg
430
760
Holly Hodges
https://www.vuelio.com/uk/wp-content/uploads/2019/09/vuelio-logo.png
Holly Hodges
2020-10-08 14:10:34
2020-10-08 14:10:34
Wedding Blogger Spotlight: Claire Gould, The English Wedding Blog