What PR did on its holidays – 6 inspirational campaigns from the summer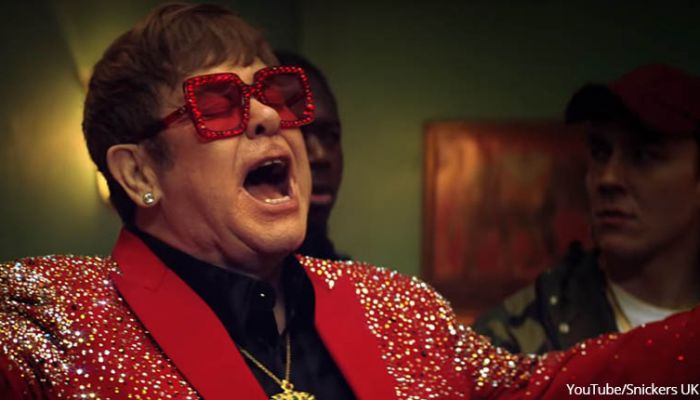 Summer is over, the Hogwarts Express has departed Platform 93/4 and it's time to go back to school. But getting back into the swing of things can be daunting after the holidays, and it is often difficult to find the inspiration for an excellent end to the year.
Not everyone was on holiday this summer and many PRs have been truly outstanding while creating brilliant campaigns. We've rounded up 6 of the best to give you the inspiration you need to have a killer year.
1. The celebrity campaign – Snickers and Elton John
Snickers has bagged one of the biggest names in pop (ever) as part of its 'You're not you when you're hungry' campaign. The video features Elton John in a rap battle, singing his own song, until he eats a Snickers and turns back into the rapper he actually is. It's simple, it's consistent with the existing campaign and it's quite funny. The agency is AMV BBDO – check out the video below:
2. The reactive campaign – Kit Kat's proposal
Back in June, Kit Kat inadvertently became the subject of a viral tweet:
"I don't think I've ever had a Kit Kat before," my boyfriend remarks before doing THIS pic.twitter.com/UQbuD3Etpg

— Haley Byrd (@byrdinator) 1 June 2018
Kit Kat – and its agencies Ketchum and Anomoly – got in touch with the boyfriend and together they planned a Kit Kat-themed marriage proposal using a custom-made Kit Kat ring box. Thankfully, #SheSaidYes, and the campaign was completed less than a month after the original tweet:
Wondering how @EvanWilt_ popped the question to @byrdinator in a Kit Kat? From 3D printing to a lil Kit Kat magic, we were happy to give him a break and help with his proposal! Congrats again you two ❤️?? pic.twitter.com/qzOxvHGZm8

— Kit Kat (@KitKat_US) 4 July 2018
3. The undercover campaign – Will Smith, JUST water and Boots
Will Smith working in Boots. No, really. Will Smith dressed as a Boots employee and promoted his son's JUST water brand in the Westfield branch. The campaign generated a heap of public attention within the shopping centre and an amazing video.
Boots has partnered with the eco-friendly water brand for its UK rollout and benefitted hugely from the celebrity connection. Obviously, this campaign is easier if your dad is one of the most famous actors on the planet.
4. The stunt – NOW TV's #JurassicJeff
This campaign was fairly basic in its creation and execution but, as is always the way with communications, simple is best. NOW TV placed a giant statue of seductive Jeff Goldblum next to Tower Bridge to celebrate 25 years of Jurassic Park. The oversized model hit social media during a quiet news spell and managed to generate lots of coverage in the mainstream press. Not bad considering NOW TV were just promoting the fact they stream the film:
25 years ago, Jurassic Park (and one of the best moments in movie history) was born ??

A quarter of a century later, we introduce you to #JurassicJeff ??#JurassicPark pic.twitter.com/8yFZY5AtCU

— NOW TV (@NOWTV) 18 July 2018
5. The print campaign – Stabilo's highlighters
Print campaigns sometimes trend on social media for all the wrong reasons, but Stabilo's 'Highlight the remarkable' campaign went viral for all the right ones. The simple campaign displayed historical photos with a yellow highlighter picking out a significant woman from a massive human achievement. The campaign hit all the right buttons, championing amazing women from history who are so often overlooked, while showing the simplicity of its product. The agency was DDB Germany, and the ads can be seen on PR Examples.
Highlight the Remarkable.
Brand ad of the week has to go to Stabilo.
Beautiful work from our sisters @DDB_Worldwide, honouring women who changed the world. pic.twitter.com/vsDuL2SSNe

— Rebecca Robins (@robins_rebecca) 6 July 2018
6. The political statement campaign – Trump balloon
The campaign from 13 July already has its own Wikipedia page. The 'Donald Trump baby balloon' was flown above Parliament Square to protest the visit of the American president in the UK. Paid for through crowd-funding (raising £16,000) the six-metre tall Trump blimp (Trimp?) drew a massive amount of attention online and in print, extended by the fact it followed the President to Scotland as he took a rare break to play golf.
The balloon upset many who believed it was disrespectful. A group crowd funded £58,182 to create a Sadiq Khan in a bikini copycat campaign, possibly expecting it not to be approved.  It was and Sadiq Khan even joked about it, so that campaign fell rather flat.
Whether this is now the new 'floating something down the Thames', remains to be seen.
The Crooked Rigged System threw everything it could at Me. But I am the most successful baby at everything I do (unparalleled) – I told you I would fly and here I am! !! pic.twitter.com/1CydN5B0RQ

— Trump Baby (@TrumpBabyUK) 13 July 2018
How are you planning your campaigns? How are you informing the press, measuring your coverage and results, and presenting this to the board? Whether it's a PR stunt, political campaign or reactive tweet, Vuelio has everything you need on one platform.  
https://www.vuelio.com/uk/wp-content/uploads/2018/09/Elton-John-Snickers.jpg
430
760
Jake O'Neill
https://www.vuelio.com/uk/wp-content/uploads/2019/09/vuelio-logo.png
Jake O'Neill
2018-09-03 11:17:21
2018-09-03 11:25:47
What PR did on its holidays – 6 inspirational campaigns from the summer