Why digital matters for everyone – a panel discussion by Bell Pottinger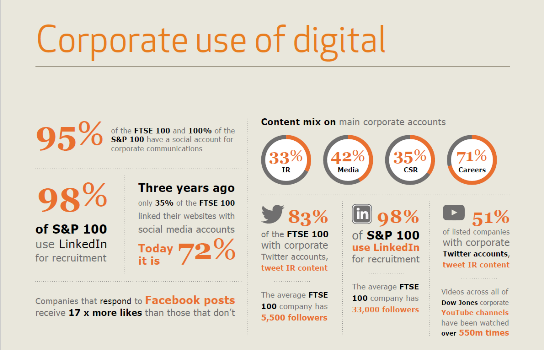 Corporate social media uptake varies enormously according to the various sectors organisations belong to, and the various purposes to which social media can be put. But going by last night's panel session, Reputation and Beyond; the increasingly central role of digital in B2B comms, hosted by Bell Pottinger – and which Vuelio (formerly Cision UK) was privileged to join – it's clear that even the most unlikely industries are at least recognising the need for involvement.
As Bell Pottinger's partner and managing director, Claire Southeard, pointed out, this ' need for involvement' is reflected in the rising number of digital and integrated comms requests made by the PR giant's client base. And well might corporates seek expert guidance, as there have been some tough lessons along the way – none tougher than those learnt by BP during the Gulf of Mexico oil spill in 2010. But those lessons have been learnt: as Claire pointed out, BP is now the UK's most socially engaged corporate.
Richard Carnell, head of digital at Anglo American delivered a keynote address on 'Efficiency and effectiveness; a roadmap to digital success,' discussing how his company had gone about this – a crawl, walk, run strategy, that was currently, he felt, at the walk stage. "Recognise the risk of social engagement, but don't be paralysed by it," he said – and indeed, Anglo American seems far from paralysed, using social channels to engage with some of their most potentially difficult stakeholders, including local environmental protesters, as well as less unexpected audiences such as potential recruits.
For the final Q&A, Claire and Richard were joined by Greg Wood, partner at Bell Pottinger, and our very own head of digital, Paul Miller.
There was a great deal of consensus across the panel on many issues, such as the need for planning, even when digital objectives must include responsiveness and spontaneity, and the importance of constantly monitoring and evaluating the environment in order to inform your approach. And while Greg's remark that social was making tradition more, rather than less important was also agreed with, Paul offered some words of caution – in more consumer driven areas, the landscape has changed fast and digital influencers have begun to assume long-promised levels of influence in the last few years; no matter what the situation right now, all sectors need to keep an eye on the rear-view mirror.
https://www.vuelio.com/uk/wp-content/uploads/2015/07/Corporate-use-of-digital1.png
350
544
Priyanka Dayal
https://www.vuelio.com/uk/wp-content/uploads/2023/09/vuelio-logo-200px.png
Priyanka Dayal
2015-07-01 13:38:54
2015-07-28 15:06:00
Why digital matters for everyone - a panel discussion by Bell Pottinger