Wikipedia threatens PR firm with legal action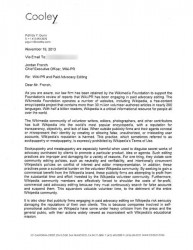 Wikipedia's parent company, the Wikimedia Foundation (WMF), has threatened Wiki-PR with legal action for 'engaging in paid-advocacy editing' of articles on the online-encyclopedia, and demanded that this practice immediately 'cease and desist.' 
Wiki-PR positions itself as a Wikipedia consulting firm, but has come under media scrutiny for its alleged 300-strong team of sockpuppet accounts that write and edit articles on Wikipedia on behalf of clients that get billed between $500- $1,000 per piece and $50 per month for 'page management.'
WMF's law firm Cooley LLP today issued a letter to Jordan French, the chief executive of Wiki-PR, demanding that 'Wiki-PR cease and desist from further editing the Wikipedia website unless and until [they] have fully complied with the terms and conditions outlined by the Wikimedia Community.'
The letter, which was published on the WMF's website also threatened other publicity firms that engage in editing content on Wikipedia of running the risk of seriously damaging the reputation of their clients.  
The letter read: 'Sockpuppetry and meatpuppetry are especially harmful when used to disguise secret works of advocacy purchased by clients to promote a particular product, idea or agenda.'
However, even as Wiki-PR denies violating Wikipedia's regulations, it acknowledged that some 'bad calls' have been made by editors.
French was quoted in The Washington Times saying:
'The 'PR' in Wiki-PR is a misnomer — we're a research and writing firm.
 We counsel our clients on how to adhere to Wikipedia's rules. We research the subject and write in an accurate and properly referenced way about it. What we do is get Wikipedia to enforce the rules so our clients are presented accurately.'
Priyanka Dayal
https://www.vuelio.com/uk/wp-content/uploads/2019/09/vuelio-logo.png
Priyanka Dayal
2013-11-20 16:26:48
2013-11-20 16:26:48
Wikipedia threatens PR firm with legal action