Your Guide to the Vuelio Blog Awards 2017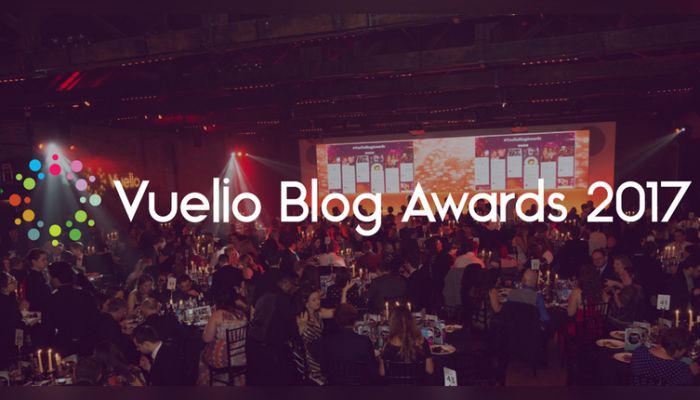 The Vuelio Blog Awards are this Friday! Are you ready?
Here's our handy guide to make sure you have everything you need to have the best night of your life*.
1. Confirm EVERYTHING
The blogger ballot has been announced with successful bloggers already confirmed in their hundreds. Have you confirmed your place? Have you confirmed your dietary requirements? If not, get in touch with Jake O'Neill who will be able to help (in between his screaming with excitement about how soon the Awards are).
2. Double check the time and location (and date!)
No one wants to turn up to the venue a week late). The event starts at 19.00, on 24 November, with a sparkling drinks reception – aim to be there when the doors open to maximise drinking time the excellent time you'll have. And it's at the Bloomsbury Big Top – you can see where that is right here. You get there by entering Coram's Fields park, on Guilford Street opposite Guilford Place.
3. Find your fancy outfit
The dress code is black-tie and fancy – this is your chance to dress up to the nines and feel fabulous all night long**. What's most important is that you're comfortable and happy – we already know you'll look great.
4. Get ready to make A LOT of friends
The UK blogging community is awesome and the bloggers are lovely but there are too few opportunities for bloggers to meet up in real life. The Vuelio Blog Awards is your chance to meet the face behind the name and mingle with the greats. Did we mention HUNDREDS of bloggers have confirmed their place to attend? Plus excellent sponsors to present the awards (it's going to be huge!).
5. Bring some cash
Every guest will join us for a glass of something nice in the reception and then sit down for a three-course sumptuous meal including wine. That's all yours and all included. But we know some of you have exotic tastes, so a fully stocked bar will be available for those that want a 'sip' of something extra.
ALSO
We don't want anyone struggling to get home at the end of the night – while Bloomsbury is lovely, it's a cold place to be stranded in the early hours of late November. Whether it's a taxi, uber, tube, bus, Segway, pogo stick or hovercraft, make sure you have the means to get home and have planned your exit (with appropriate mic drop).
6. Use the hashtag
Tweeters at the ready – the hashtag is #VuelioBlogAwards and it's the best way to get involved before, during and after the night.
7. Get in touch
If you need anything or have any questions about the night, get in touch. We're a friendly bunch at Vuelio and want to do whatever we can to ensure you have a fantastic time!
Before you go, check out the video from last year and get ready for 2017 – which will be even bigger, better and blogging brilliant!
See you soon!
*Obviously this depends on the other nights you've had
** We cannot guarantee fabulousness after you've left the venue, or when you wake up the next day!!
NB: This post was updated on 22 November to reflect how close the event now is!
https://www.vuelio.com/uk/wp-content/uploads/2017/08/Vuelio-Blog-Awards-for-web.jpg
430
760
Jake O'Neill
https://www.vuelio.com/uk/wp-content/uploads/2019/09/vuelio-logo.png
Jake O'Neill
2017-11-22 12:05:51
2017-11-22 12:29:27
Your Guide to the Vuelio Blog Awards 2017