Zoe Ball takes on Radio 2 breakfast show as first female presenter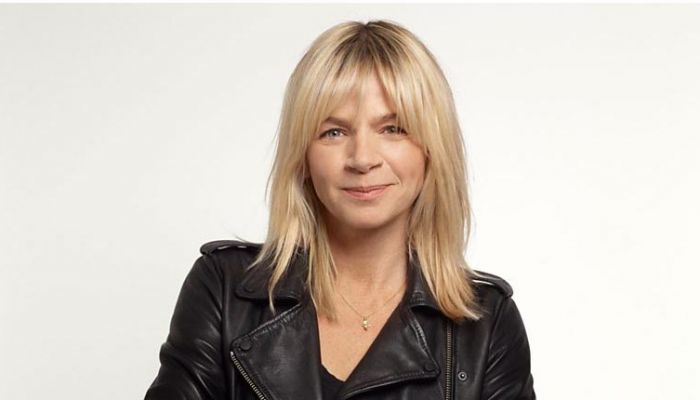 Yesterday, Zoe Ball presented her first Radio 2 breakfast show after taking over from Chris Evans. From next week, Ball will be up against Evans – presenter of the show for nine years – when he starts presenting a rival show on Virgin Radio.
Ball said: 'It's going to be interesting times, I'm going to be up against Chris, I'm up against Jamie Theakston [on Heart], my old telly husband. But I feel generally it's a really exciting time for radio, and I hope we can make a success of it.'
Ball isn't the only new presenter for the channel, as Sara Cox launches her drivetime show, Jo Whiley begins a new evening solo slot, and Trevor Nelson brings his Rhythm Nation to late nights.
Ball told BBC news: 'The thing we really wanna do is bring lots of music, lots of energy, not too much chat – but enough, and we want people to have learned something by the end of the show.'
The Telegraph said that Ball and the team began the show 'fast-talking and jumpy, clearly excited to be there, if wary of the reaction'.
It continued: 'The programme that unfurled after the first hour or so was warm and bright.
'The really good news is that Ball was sparky and friendly, and not at all cheesy, braggy or shouty.'
The Guardian's Mark Lawson gave the show four stars and said the first show was helped by celebrity guest John Cleese: 'Cleese has helped start a dawn format that feels built to last'.
Ex-BBC boss Roger Mosey, writing for the Mail, was less impressed with the 'underwhelming' guests but is generally positive about the new breakfast show. He said: 'This is an amiable programme with decent music, and Ball is warm and lively as a breakfast companion. I predict most of the audience will stay with Radio 2, and she'll beat Evans' digital-only offering by many multiples.
'Whether it will be as compelling a listen as Evans at his best, I doubt, but the reduction in egotism is refreshing. I think the BBC can be optimistic that Radio 2 will at least stay afloat in these choppy waters.'
The Times's Clive Lewis only gave the show two stars, as it was 'too frantic'. He said: 'At its best, Radio 2 manages to hold together an enormous, disparate audience by making the various shifts in tone seem unforced and perfectly natural. Ball, on the other hand, sounds as if she is still working her way through a recipe on how to bake a new personality.'
BBC director-general Tony Hall, who was at Radio 2, told the Press Association that Ball was 'brilliant, absolutely brilliant'.
On Twitter, the reaction was generally positive:
Chris who? Well done @ZoeTheBall amazing first show with amazing music and you even have @TinaDaheley yaaasss! Gutted I have to get out my car and stop listening but work calls! #ZoeBall

— Rachel Reilly (@RachelReilly91) January 14, 2019
Great start to Zoe Ball's debut Radio 2 Breakfast Show I think she's much better than Chris Evans by miles and more sensible and calmer then Mr Evans expect audience figures rise for the Radio 2 Breakfast Show since the days of Terry Wogan.#ZoeBallBreakfastShow #MorningDelight

— Alex Dowling (@WellSpokenBloke) January 14, 2019
#zoeball first track brought tears to my eye. Woman doing breakfast on radio 2 and euretha playing! #Womenonradio #radio2

— Liz Laing (@lizthestitch) January 14, 2019
Was nice not being shouted at by Chris Evans on my way to the station at 6.30am this morning #zoeball

— Chris D ?☃️❄️ (@CD_Cycles) January 14, 2019
However, some listeners were still wary about Ball presenting the show:
I hope that Zoe Ball is only talking so fast because she's excited at her new radio show, I can't keep up ?

— Barbara Kennedy (@BarbaraKPiano) January 14, 2019
I've had @BBCRadio2 Breakfast on for five minutes and Zoe Ball has used the word "gorgeous" five times. I can't cope.

— Liz Canavan (@Liz_Broughton) January 14, 2019
Ok so I've given Zoe Ball on Radio 2 30 minutes and I miss Chris Evans…..Can't wait for Monday 21st to hear him back on the radio….@achrisevans

— Linda Davies-Carr (@lindadaviescarr) January 14, 2019
On The Radio urged listeners to give the show some time: 'It isn't fair to make a judgement on the first day. Any new breakfast show takes time to sound right to listeners as they get used to a new routine first thing in the morning, but Zoe and her team got off to a flying start. They've probably put in a lot of time doing "dry-runs" for the show and it certainly paid off.'
Zoe Ball and BBC Radio 2 are both listed on the Vuelio Media Database, along with thousands of other presenters, journalists, programmes and PR opportunities.
https://www.vuelio.com/uk/wp-content/uploads/2019/01/Zoe-Ball.jpg
430
760
Jake O'Neill
https://www.vuelio.com/uk/wp-content/uploads/2019/09/vuelio-logo.png
Jake O'Neill
2019-01-15 11:28:32
2019-01-15 11:28:32
Zoe Ball takes on Radio 2 breakfast show as first female presenter