Personal Finance Blogs UK Top 10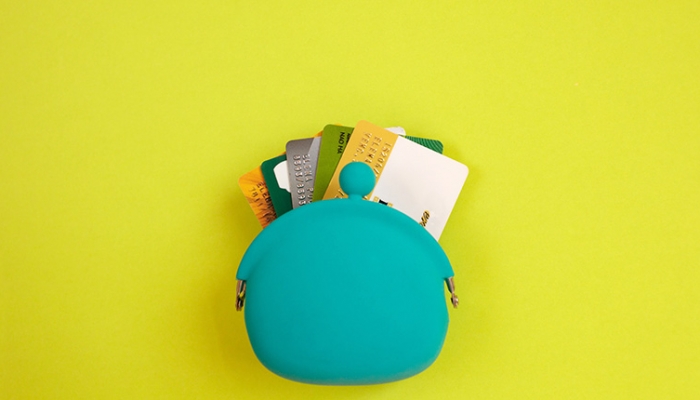 This ranking was last updated 30/06/2021.
Vuelio uses a proprietary algorithm to create these rankings, based on topic-related content in blogs on its system – you can read more about the process here. Our research team actively seeks out new blogs and bloggers for inclusion, but if you think we've missed someone, please get in touch to let us know.   
1. Monevator
We're still fully invested in Monevator, where Mark Donald (known on the blog as 'The Investor') works with his co-blogger (known as 'The Accumulator') to inspire 'armchair investors' with 'monevation' (AKA motivation when it comes to making, saving and sometimes spending money). Content is helpfully split into sections including Earning, Investing, Monevation, Property, and for a quick start, there are selections for Essential Reading, Better Investing and more on the right-hand side of the home page. All well-worth the investment of reading from the comfort of your armchair, indeed.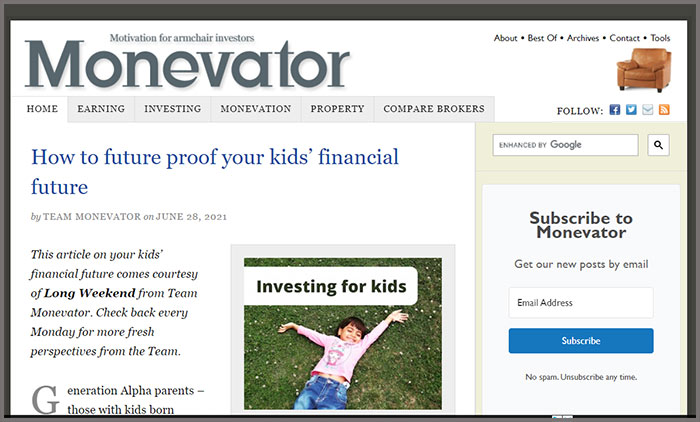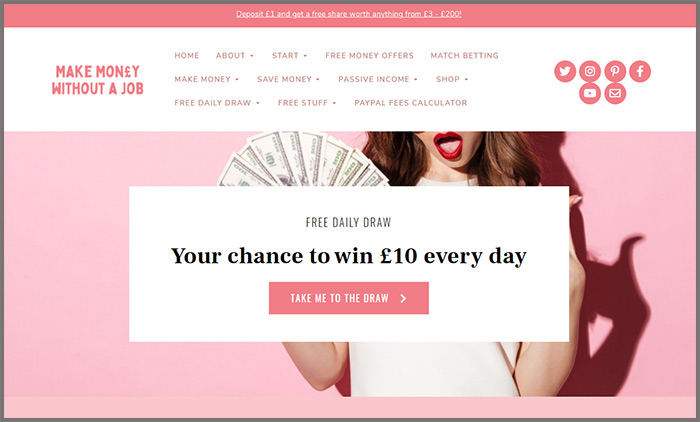 Is this the title of a dream – no, it's the name of the second blog in our top ten personal finance ranking. Blogger Emma shares ways to make the dream of making money without a 9-to-5 a reality with the sections Make Money (featuring posts on Matched Betting, Making Money Blogging, Mystery Shopping, Surveys, Reselling and Income Reports), Save Money (Budgeting, Food, Travel, Weddings) and even a 'Which Side Hustle Is Perfect For You?' post to get you started. 'I believe that anyone can make extra money online, whether you need to pay off a bill or you want to quit your day job entirely,' says Emma – go make the most of her advice.
As filled with useful things as an IRL shed, Jon Gutteridge's blog The Money Shed is packed with ways to 'Make Money, Save Money, Share Ideas'. 'I, like many home-workers, started my online money-making journey filling out simple surveys, & over the years, my desire to earn extra cash allowed me to discover more & more opportunities,' says Jon of his interest in all things personal finance. 'There are plenty of ways to earn – you just have to know where to look'. If your own finances have been hit particularly hard by the pandemic, you know where to look – check out Jon's advice in the dedicated coronavirus section at the top of the home page.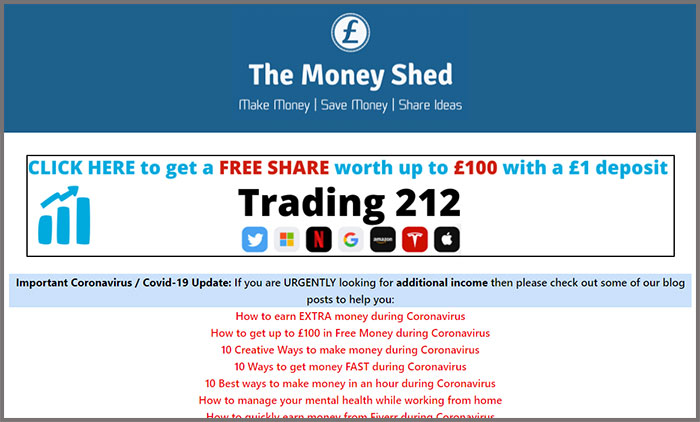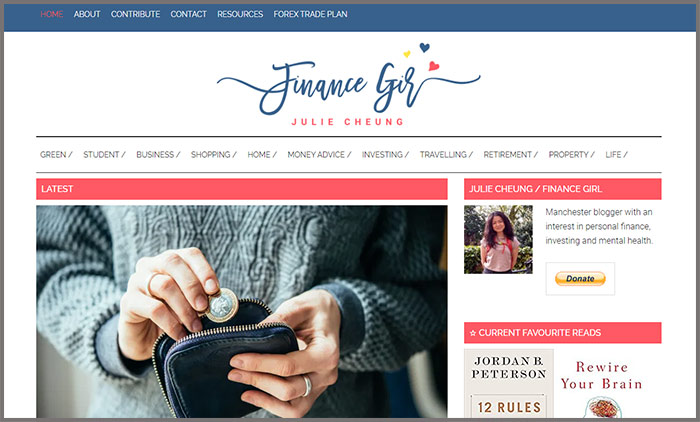 4. Finance Girl
Moving up a spot in this year's personal finance blog ranking is the amazing Finance Girl. The blogger behind the Marvel-esque moniker is Julie Cheung, who is here to aid her audience in their battles against financial burdens. Content is split into the channels Green, Student, Business, Shopping, Home, Money Advice, Investing, Travelling, Retirement, Property and Life, which is… pretty much everything you may have money-related questions about. Most recently posted on the blog – Julie's tips for your budget in a post-lockdown world to keep in your back pocket.
This blog's founder Ken Okoroafor has no need to be humble, having moved from number seven in last year's ranking to the top five. Having become financially independent at the age of 34 following hardships as a student and immigrant, Ken now shares his wisdom on reaching and maintaining financial security. Find his tips for the best resources and posts on making money, investing, side hustles, financial independence, money saving, budgeting, managing debt, food and wellbeing, careers, family, relationships, product reviews and life hacks. A few hacks you might like: 'Reasons why self-care is a necessity and not a luxury' and 'Decluttering your mind for peace and progress'.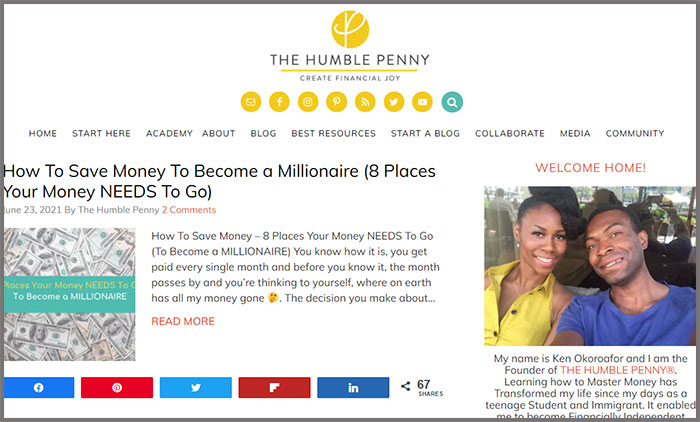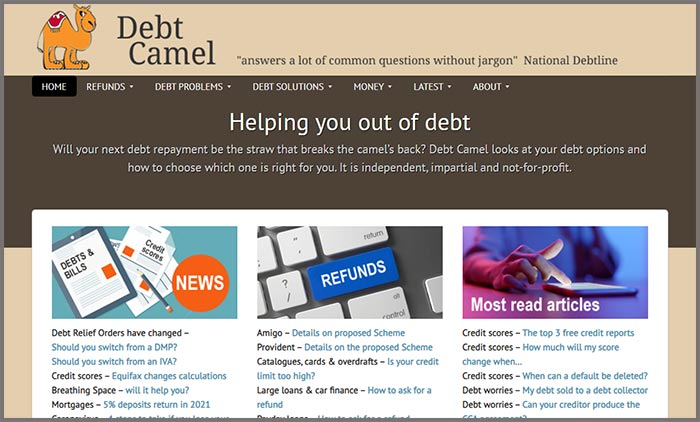 6. Debt Camel
If you're interested in the capacity to retain money the way a camel can retain water ('naturally' we mean, not 'on your back'), it's time to check out not-for-profit independent blog Debt Camel from Sara Williams. Originally launched back in 2013, the blog has since been dubbed by National Debtline as a place for answers 'without jargon' making it a reliable resource for those who want simple and straight-up personal finance advice and pointers. Read up on all the resources available here on Refunds, Debt Problems, Debt Solutions and, naturally, Money.
Here is where Maria Nedeva shares all the principles of making money, controlling your spending, getting out of debt and investing for the future as part of her dedication to 'teaching people in financial trouble how to build sustainable wealth'. If you aren't already one of Maria's dedicated readers, go join the community to 'share the money adventure' or dive right into the 'best of TMP' section which has ways to spot opportunities, a retirement calculator to help you figure out how much you'll need when you stop working as well as the ten steps between an idea and definite success.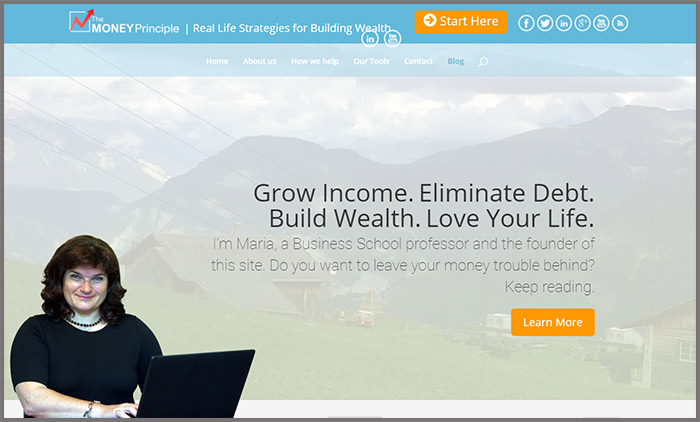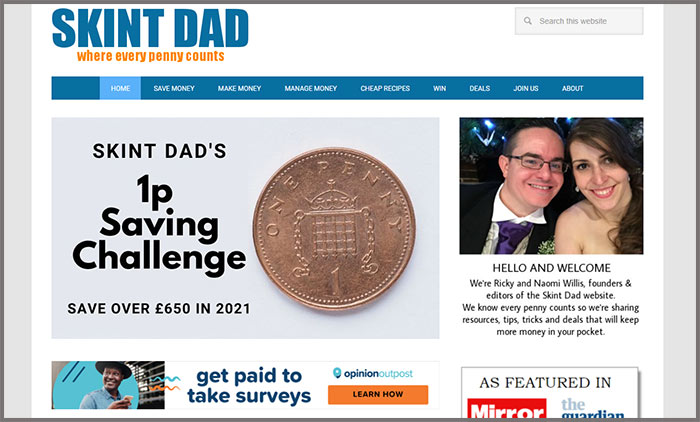 8. Skint Dad
Making 'every penny count' and helping their readers to do the same are Ricky and Naomi Willis, the bloggers behind Skint Dad. Sharing 'resources, tips, tricks and deals that will keep more money in your pocket,' these bloggers have ideas for finding savings in ways you might not have thought of – take part in the '1p Saving Challenge' to save over £650 during 2021, get free theatre tickets for your kids, take money off your food shop and fake fancy takeaways with the Cheap Recipes section (the Lamb Rogan Josh and the Katsu Chicken Curry 'Fakeaways' look particularly good).
9. Young Money
Young Money's Iona Bain is likely to be a familiar name to you if you're interested in personal finance for young people, being a regular contributor on the subject across television, radio, national press titles including the Financial Times and consumer outlets including Vogue and Refinery 29. Latest on the blog are features on when to start saving for retirement (asap – now – quickly), using a credit card responsibly, decluttering and selling old clothes and even a deconstruction of Dogecoin with Myron Jobson (that one is useful for both young and old people).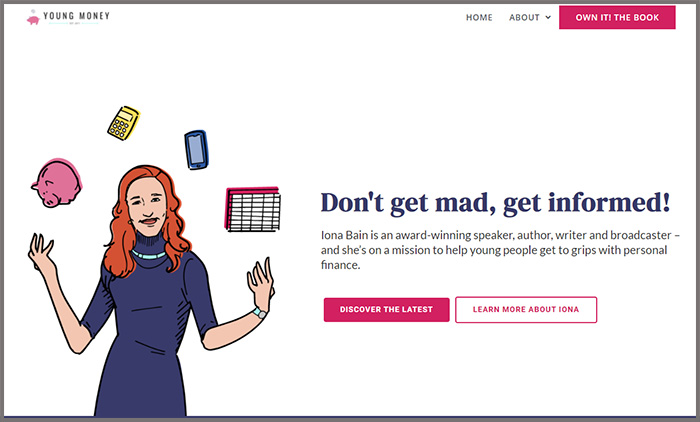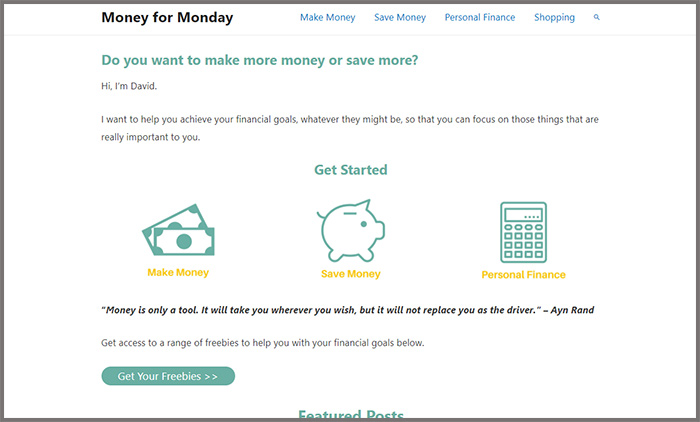 10. Money for Monday
We round up our ranking of UK personal finance blogs for another year with Money for Monday, which stays in the top ten. Blogger David wants to help you achieve your financial goals 'whatever they might be, so that you can focus on those things that are really important to you'. Grab freebies for tracking your money moods, your expenses, planning your meals, taking part in the No Spend Challenge and much more and read recent features on whether Premium Bonds are still worth buying and ways to increase your savings, every month.
Collaborating with bloggers requires mutual respect and understanding: respect their schedules; take time to read their content to learn their interests; and only contact them if/when they want to be contacted. You can see more advice in our blogger spotlights. 
Profiles of these  blogs and their authors can be found in the Vuelio  Media Database.
https://www.vuelio.com/uk/wp-content/uploads/2021/06/Personal-finance-blogs-UK.jpg
430
760
Holly Hodges
https://www.vuelio.com/uk/wp-content/uploads/2019/09/vuelio-logo.png
Holly Hodges
2021-06-30 09:45:41
2021-06-30 09:37:36
Personal Finance Blogs UK Top 10