Updated 12/07/2017.
1. Guido Fawkes
Paul Staines, otherwise known as Guido Fawkes, maintains his place as the top UK blog. Launched in 2004, the blog was created to provide a 'fun, gossipy and acerbic "anti-politics" form of news reporting' which Guy Fawkes himself would approve of. Staines started, not as a journalist or politico but as an international gaming champion and acid-house night organiser; he isn't your typical political blogger. His aim – to uncover the hypocrisy which he believes is endemic in Westminster – has made him one of the most feared men in politics.
2. Car Throttle
Founded in 2009 by car enthusiast Adnan Ebrahim and maintained by a team of car enthusiasts based in London and New York, Car Throttle has been dubbed 'Buzzfeed for cars' due to its ability to create engaging content for millennial motor heads. Presenting humorous and informative videos, motoring news, test drives and auto-show footage, as well as 'how to' and review articles for followers. The aim of the blog is to keep fans updated with the latest (and at times most absurd) motoring content.
3. F1 Fanatic
Created in 2005 by Keith Collantine, F1 Fanatic is an independent motor sport blog which provides live updates during F1 sessions. Acting as a hub for the Formula One community, F1 Fanatic provides an active forum, pictures, predictions on championships, race reviews, and the latest low-down on all the top F1 drivers and teams. Through their own free account, users can follow the racing calendar, join forums and complete quizzes and the F1 Fanatic Predictions Championship.
.
Describing themselves as the product of the cult classic 'Ghostbusters', the editorial team responsible for Flickering Myth keep its loyal fan-base up to date with the latest happenings across 'geek' culture, as well as independent and blockbuster movie releases. Bringing its audience a collection of the latest film reviews, interviews, TV and film news, and trailers – Flickering Myth is a haven for all film lovers (and even counts Tarantino among its fans).
ConservativeHome was founded by Tim Montgomerie in 2005 as a space to 'champion the interests of grassroots Tory members, and to argue for a broad conservatism that is as serious about social justice as it is about economic competitiveness.' Now edited by Paul Goodman, with Tim continuing to contribute to the blog, ConservativeHome has a team of dedicated political writers who highlight current new stories, engage in comment pieces, and analyse the latest developments in Parliament.
A Luxury Travel Blog was created by Dr Paul Johnson after a career in the travel industry which spanned over 30 years. Honed as a vital resource for the luxury travel industry, the blog provides everything you need to know about luxury destinations, including villas, cruises, hotels and resorts, places to eat and visit, and luxe day trips. With a team of over 500 writers and guest contributors, A Luxury Travel Blog is filled with intriguing content for those who love to enjoy the finer things in life.
Want to learn more about this blog? Read our blogger spotlight with A Luxury Travel Blog.
Rock My Wedding was launched by newlywed Charlotte O'Shea in 2009, when she decided to share her wedding planning experience with other soon-to-be brides. Now an online wedding platform and wedding planning business that provides wedding inspiration, the team offers daily guidance and features month-by-month wedding planning to make sure that you don't forget the little details.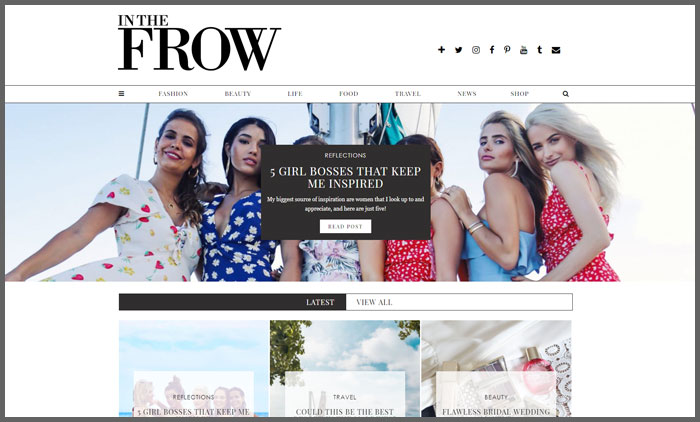 8. Inthefrow 
Established by Victoria Magrath in 2012 while studying for her Fashion PhD, Inthefrow is one of the UK's biggest fashion blogs. It provides insight into Victoria's favourite labels and personal style. Now in its fifth year, the blog, which has a glossy magazine style, offers readers the latest news and advice on fashion, lifestyle, beauty reviews and tutorials, luxury travel, blogging, and food.
9. LabourList
LabourList describes itself as the 'leading place for news, views and debate about the centre left'. Supportive of, but not aligned to, the Labour party, discussion ranges from the NHS to the EU, with contributors including MPs and activists. While taking a mostly centre-left position, LabourList encompasses a broad range of progressive views, aiming to be a forum for opinion rather than taking sides.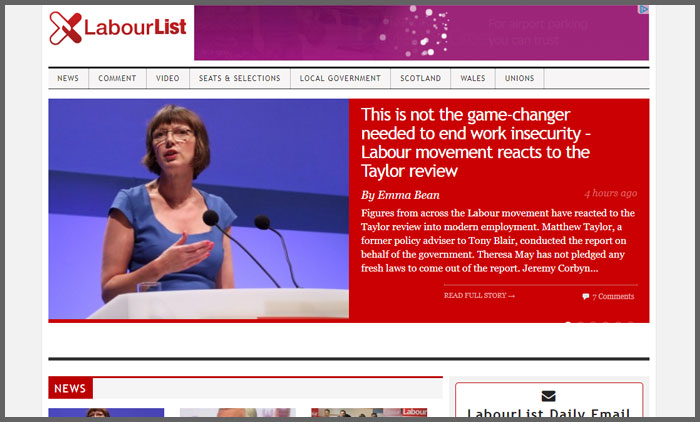 Husband and wife Jonathan and Kach Howe created Two Monkeys Travel in 2013 as a resource to store memories and experiences, after the couple met while travelling. Now an established travel company and resource, the pair post about their exploits and offer advice, itineraries, travel guides, and other useful information to travellers. Together, the pair have ventured to over 70 countries and all seven continents.
Want to learn more about this blog? Read our blogger spotlight with Two Monkeys Travel.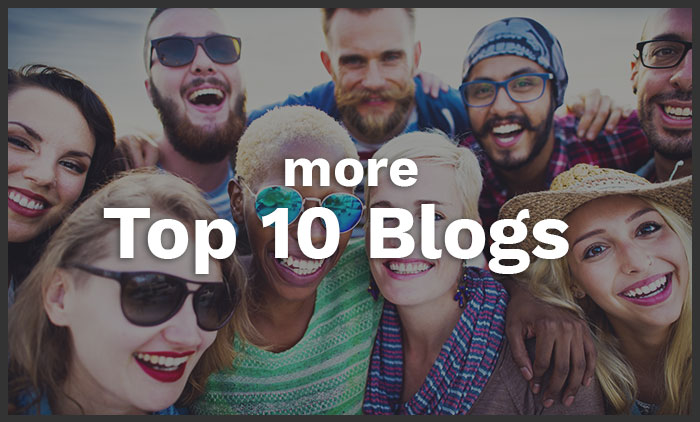 The fundamentals of working with bloggers are the same as with traditional journalists at traditional media outlets: respect their schedules; take time to read their material to learn their interests; and only contact them if/when they want to be contacted.
Vuelio's blog ranking methodology takes into consideration social sharing, topic-related content and post frequency. Profiles of these Top 50 blogs and their authors can be found in the Vuelio Media Database.
https://www.vuelio.com/uk/wp-content/uploads/2016/09/top-50-blogs-ranking-uk-featuredimage.jpg
435
760
Holly Hodges
https://www.vuelio.com/uk/wp-content/uploads/2015/10/vuelio-logo-transparent.png
Holly Hodges
2017-07-12 08:00:12
2018-01-30 15:38:58
Top 50 UK Blogs