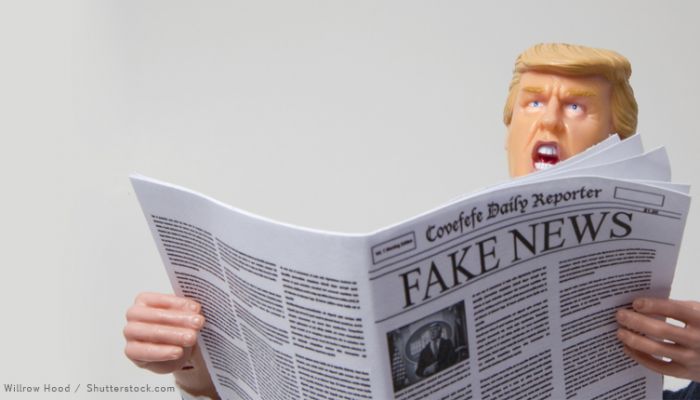 'Fake News' is the Collins Dictionary word of the year for 2017. Defined by Collins as 'false, often sensational, information disseminated under the guise of news reporting', Fake News has taken the political world by storm thanks to Donald Trump.
Trump's presidential campaign violently objected to the mainstream media, doing what it could to portray them as 'Fake News', while the culprits of fabricating stories have more often been among the fringe 'publishers', who lack journalistic integrity and standards.
More recently, 'Fake News' has turned against its creator and is being used to describe the nefarious influence of Russia during last year's presidential election – allegedly to help Trump win.
Now it has been named as Collins' word of the year (the second time word of the year has been two words, following 'binge-watch', which is at least hyphenated, in 2015), Fake News will be included in the dictionary from next year. This makes it a permanent part of Trump's legacy as President, one of the few certainties to come from his time in office so far.
Has one of your expressions made it into the dictionary? No? SAD.
As a mark of its power in the current zeitgeist, it is hard to pick out tweets mentioning 'Fake News' in relation to its word of the year status against the new Lion King being fake news, CNN being fake news, or Julian Assange's accusations that the BBC and ABC are fake news.
When you can find tweets that have noticed Fake News' new found glory, users are mostly upset that it is actually two words:
@CollinsDict "Fake News" How can this be word of the year… it's 2 words. #explain

— Rachel Brown (@RachelOnRoute) November 2, 2017
Fake News make it as the "word" of the year but that's not even a "word" it's a phrase! pic.twitter.com/zsk6q2vdfw

— Liliana H (@Liliholl) November 2, 2017
One user even went as far as to suggest the story was itself fake news because it is two words rather than one. Meta.
The other words monitored by Collins as having grown in usage over the last year were unicorn, gig economy, echo chamber, echo chamber and cuffing season. This mix is typical of previous word of the years, which flit between serious newsworthy terms (Brexit in 2016) and social trends (Photobomb in 2014).
With Brexit negotiations starting to ramp up, Trump's presidency continuing to surprise and technology evolving at a rapid pace, 2018's word of the year could come from literally anywhere.
https://www.vuelio.com/uk/wp-content/uploads/2017/11/Fake-News.jpg
430
760
Jake O'Neill
https://www.vuelio.com/uk/wp-content/uploads/2019/09/vuelio-logo.png
Jake O'Neill
2017-11-02 14:28:26
2017-11-02 14:28:26
2017 is FAKE NEWS