87 million Facebook users affected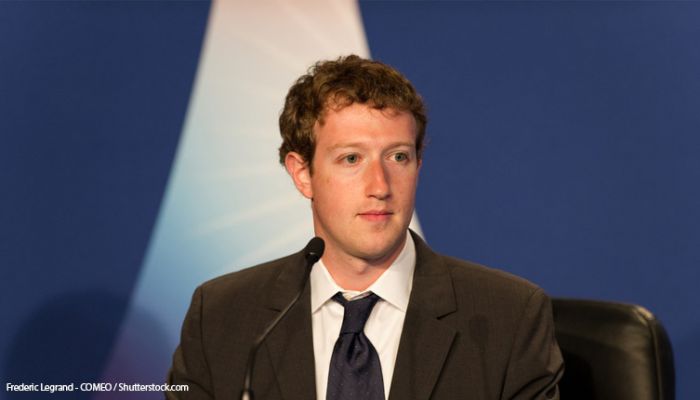 It seems like an almost daily occurrence at the moment, but Facebook is one again facing a wave of negative press. Following the Cambridge Analytica scandal, it was believed that 50m users had their data scrapped – which was then allegedly sold and used by political entities. Now, Facebook has revealed that the number is 87m, including 1.1m in the UK.
The figure was published in a blog post by Mike Schroepfer, chief technology officer, a post that largely focused on plans to 'restrict data access on Facebook'. Near the end of the post is the statement: 'In total, we believe the Facebook information of up to 87 million people — mostly in the US — may have been improperly shared with Cambridge Analytica', accompanied by the following graph: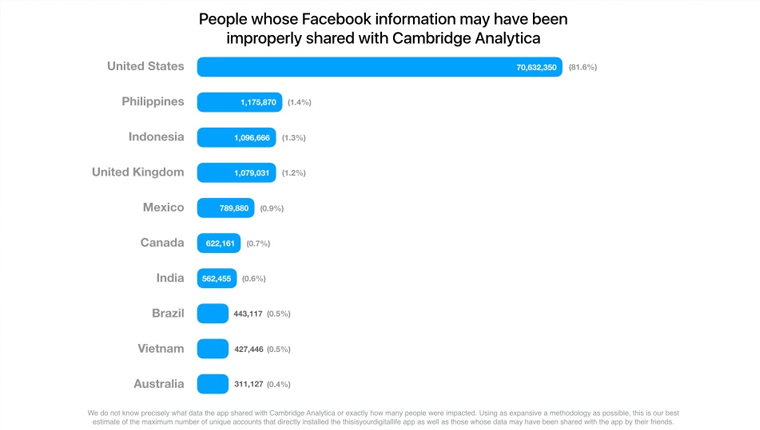 The small print at the bottom says: 'We do not know precisely what data the app shared with Cambridge Analytica or exactly how many people were impacted. Using as expansive a methodology as possible, this is our best estimate of the maximum number of unique accounts that directly installed the thisisyourdigitallife app as well as those whose data may have been shared with the app by their friends.'
Mark Zuckerberg, the chief who took days to respond to the initial crisis that wiped billions off the company's share price, is now everywhere, and, for the most part, apologising.
As reported by the BBC, he said in a press conference that he previously assumed that if Facebook gave people tools, it was largely their responsibility to decide how to use them. He then added it was 'wrong in retrospect' to have had such a limited view.
The lack of official regulation (forcing data control), and relative infancy of the company, is possibly the source of the naivety. The company is now making many moves to correct this position, which is particularly timely considering the upcoming GDPR. This week, Zuckerberg U-turned on an original decision to only comply with the GDPR in Europe, now saying Facebook will make GDPR-compliant changes worldwide. In regards to the GDPR, it's lucky Facebook is learning before 25 May, but all these lessons are coming at a personal cost for Zuckerberg, who is having to defend his position as the head of Facebook.
As Dave Lee says, the idea that Zuckerberg's leadership would be in question could not have been predicted even as recently as a month ago. But this latest snowballing issue led to him being asked if his position has been discussed – he replied: 'Not that I know of'.
One investor, Scott Stringer – New York City's comptroller, responsible for the city's pension fund – is calling for changes to the board (which Zuckerberg is also chair of). With close to $1bn investment in the company, the fund may be a relatively small investor but it's still a big voice demanding change.
The social giant is now in full crisis mode and is accepting responsibility, which is a development considering it previously threatened The Guardian over the original Cambridge Analytica story. The FT reports that Zuckerberg said: 'I'm not looking to throw anyone else under the bus for the mistakes we've made here'.
He has refused to appear before the UK's digital, culture, media and sport select committee, instead opting to send either Schroepfer or Chris Cox, Facebook's chief product officer. But Zuckerberg will appear before congress in the US, on 10 April and 11 April at two separate hearings.
Only time will tell if what we're seeing is a car crash in slow motion or a bump in the road. Zuckerberg believes it will take a 'multiyear effort' to resolve the issues – suggesting the end of this turmoil is not yet in sight.
https://www.vuelio.com/uk/wp-content/uploads/2018/04/Mark-Zuckerberg-pic.jpg
430
760
Jake O'Neill
https://www.vuelio.com/uk/wp-content/uploads/2019/09/vuelio-logo.png
Jake O'Neill
2018-04-05 14:09:30
2018-04-05 14:09:30
87 million Facebook users affected