A bad week for Kelvin MacKenzie
Kelvin MacKenzie, ex-editor of The Sun and current columnist for the Daily Mail, is having a bad week. On 4 April, his new column appeared on the Telegraph's website invariably insulting teachers, the government, Masterchef, the BBC, the Labour party and British Gas.
On 5 April, Henry Winter, football correspondent at the Telegraph, announced on Twitter that the Kelvin MacKenzie column was a one-off and won't be repeated. So what happened?
Using Vuelio Social Media we can see two peaks covering Kelvin MacKenzie on social media.


Using a Conversation Cloud, we can see the main discussion points from each peak.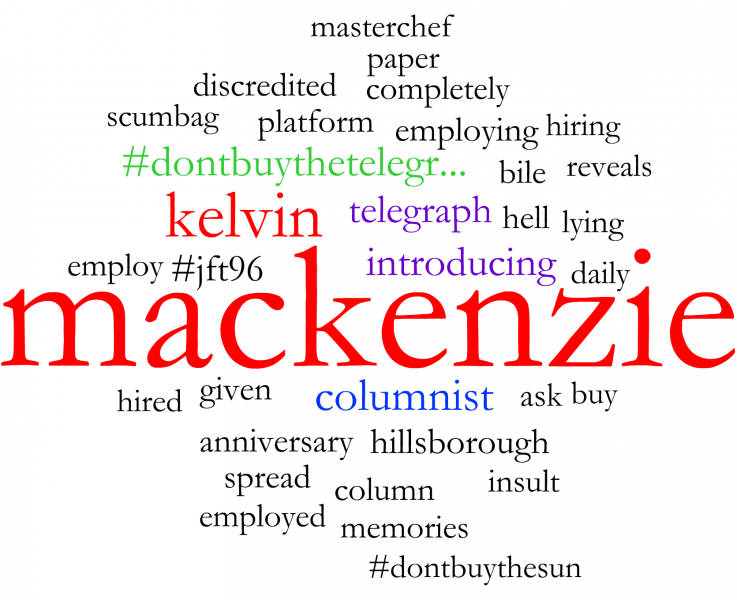 The first, on April 4, is in response to the column being published. The negative words associated with the conversation are clear for all to see and the hash tag #dontbuythetelegraph may have had something to do with the decision to drop the columnist. It is joined by #dontbuythesun, a paper Kelvin is still associated with, and #jft96 (Justice for the 96) referring to the Hillsborough disaster.
Other keywords – 'hillsborough', 'insult' and 'anniversary' – also link to Hillsborough disaster, the anniversary of which is next week.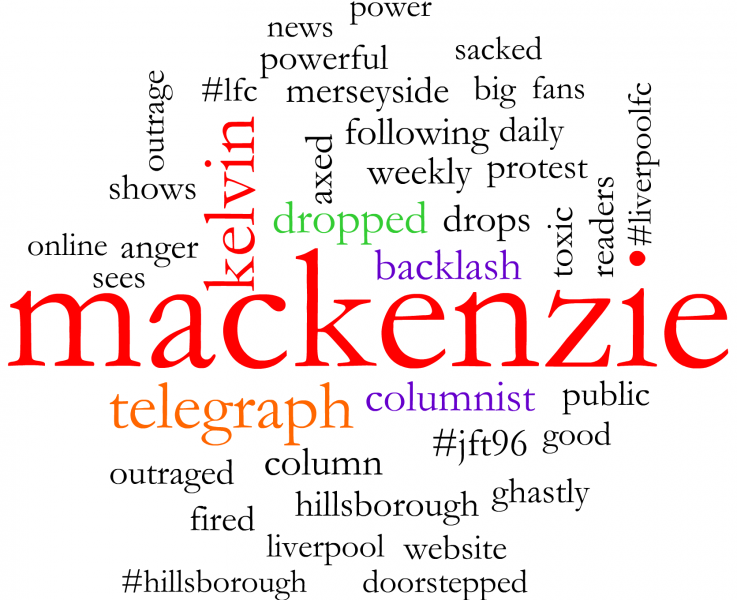 The second peak is largely in response to Kelvin being dropped. As the Conversation Cloud shows the words 'dropped', 'drops', 'fired' and 'axed' are joined by 'outrage', 'anger', 'powerful' and 'protest' showing many commentators' beliefs that he only lasted a day because of the public 'backlash'.
The Telegraph seems to be concerned about the preservation of its own brand image and has acted swiftly in order to distance itself from what many perceive to be an error in judgement.
Things seem to be getting worse for Kelvin MacKenzie with the Press Gazette's report that the Daily Mail is being sued over a column he wrote in April 2012. As this news gathers pace expect a third peak.
Graphs and Conversation Clouds were made with Vuelio Social Media.
https://www.vuelio.com/uk/wp-content/uploads/2019/09/vuelio-logo.png
0
0
Priyanka Dayal
https://www.vuelio.com/uk/wp-content/uploads/2019/09/vuelio-logo.png
Priyanka Dayal
2013-04-08 14:26:42
2020-03-10 17:40:23
A bad week for Kelvin MacKenzie