A guide to the benefits of Stakeholder Management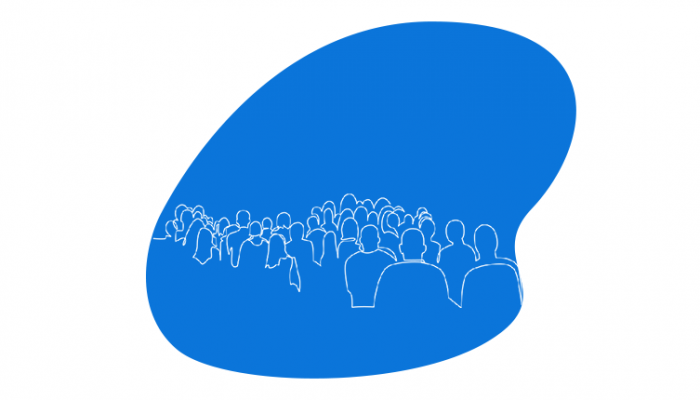 Every business and brand has stakeholder relationships that need to be tracked and nurtured. A centralised solution can provide teams with a press office, a central space to save and manage your messaging, a bank of key contacts, resources for issue and crisis management and readily available data for reporting back to your internal stakeholders.
This guide covers the principles and importance of stakeholder management and how SRM platforms can provide solutions for your current strategy and future approach, as well as help prevent any future comms disasters.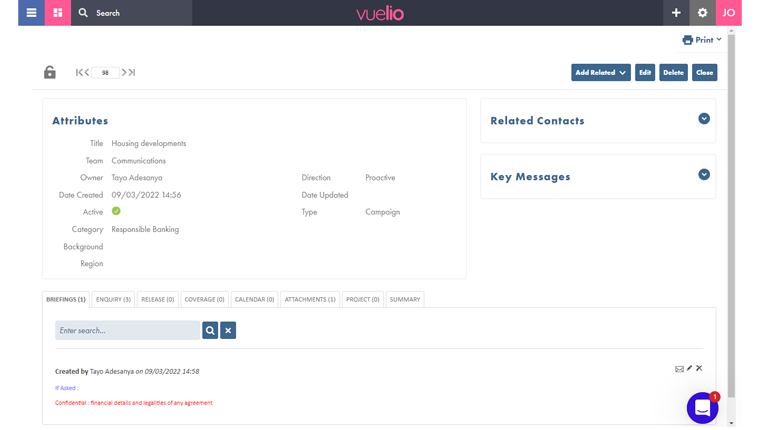 1. Managing your press office
Fielding calls and emails from journalists, the public, your community, your colleagues – press office management should be part of any stakeholder management solution. This function provides a place to log and manage every interaction your brand and business has across the team, skipping over the possibility of information silos or missed connections.
Search previous and current engagements to find every logged conversation happening across your brand and keep the interaction going to deepen both the burgeoning and ongoing relationships key to your business.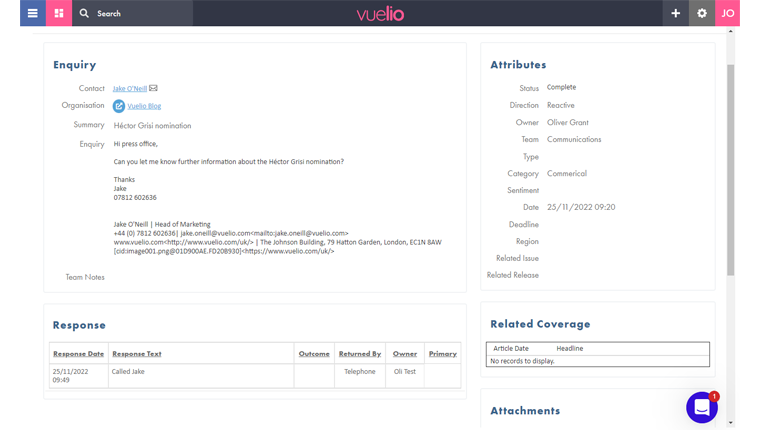 2. Managing your messaging
Even organisations with clear shared goals and firmly established brand personalities are at risk of incorrect messaging, outdated brand assets or tonally-wrong comms being shared by well-meaning team members without access to the latest documents. A stakeholder management platform provides a space for brand assets ready for sharing with co-workers and colleagues in company-wide internal communications as well as external media contacts and consumer bases.
To add to the press office function of contact and engagement management, a stakeholder management solution provides a convenient shared hub for building your bank of press releases, logos, images, email campaigns, relevant reporting and more. With easy access to these assets, those working on specific campaigns, or managing a crisis that needs a response, can share the relevant materials across the appropriate avenues.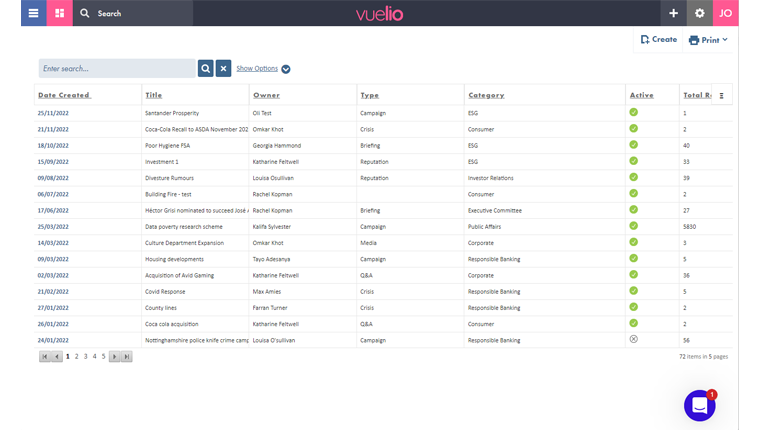 3. Shared banks of stakeholders
Gone are the days of relying on outdated and easily-broken Outlook and Excel spreadsheets filled with complicated data and formulas. Vuelio's Stakeholder Database provides a shared repository for your internal and external stakeholders and groups.
Find contact details you need with simple searches and filtering. For gaps in memory, refresh yourself on the last interaction you had with certain contacts. Whenever you logged your last conversation with a stakeholder, Vuelio's platform keeps a real-time overview of engagements and a detailed history of the interactions you save on each profile card.
Tracking engagement across your entire organisation can be made even easier with personalised customisations to your dashboard. By setting your dashboard to meet your needs and specific expectations, you can reduce the time spent searching for specific engagements and contacts… with no broken formulas or random reformatting to hold you back.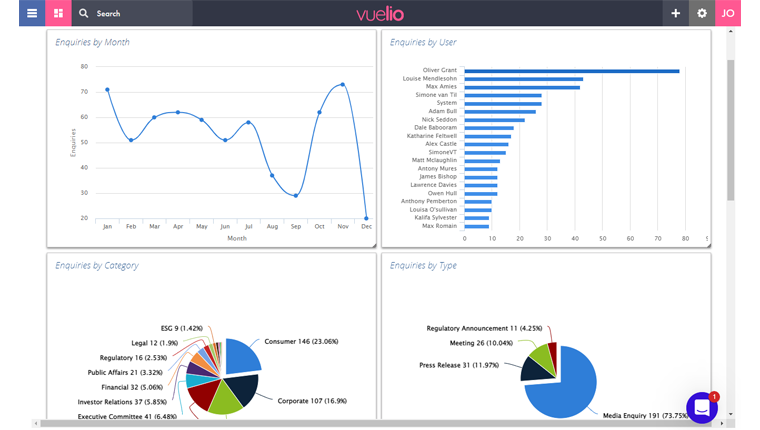 4. Crisis management
A centralised overview of all engagements and available resources is particularly useful for issue-based management in successful times. It is also vital for the more challenging times that may come for your business.
Where saving time, team effort and avoiding missteps is particularly important is crisis communications. While the hope, of course, is that crisis comms will not be needed any time soon, preparing for any eventuality is a must in the modern PR, public affairs, political and comms space.
To aid you in being ready for any issues that could crop up in the future, Vuelio's unique module for issue management provides a connected hub for communications, media activities and all assets currently in place for specific projects or, if they happen to arise, problems.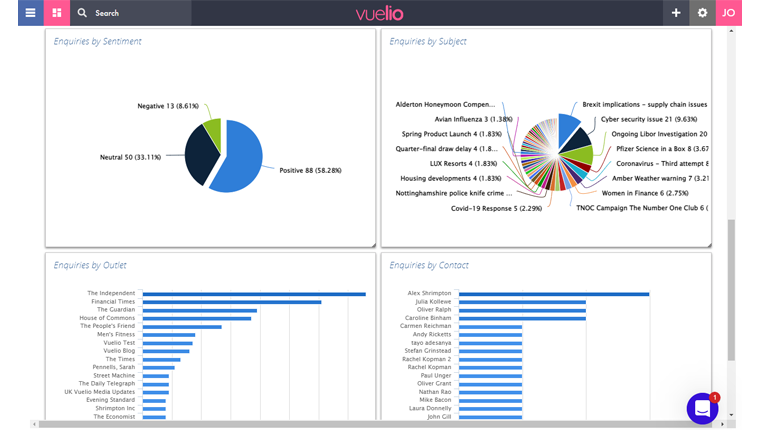 5. Reporting back
For when it is time to report back to your internal stakeholders on the success of your external stakeholder engagement comms, management tools like Vuelio have a range of fully-customisable reports to populate with proof of your good work.
In fact, Vuelio Stakeholder Management can be accessed anywhere you can log on, meaning that whether you are meeting with internal stakeholders, regulators, industry bodies, the media, Government agencies or communities important to your sector, you can find the information you need to develop these relationships.
Demonstrate the value of your efforts and the reach of your messaging to your stakeholders now, and get ready for the future of your organisation with the ability to analyse areas for improvement and opportunity in preparation for your next big campaign.
For more on Vuelio's solutions for public relations, comms, public affairs and politics, check out information on our products including Media Monitoring and the Vuelio Media Database.
https://www.vuelio.com/uk/wp-content/uploads/2022/10/Stakeholder-management.png
430
760
Phoebe-Jane Boyd
https://www.vuelio.com/uk/wp-content/uploads/2019/09/vuelio-logo.png
Phoebe-Jane Boyd
2022-10-21 09:08:42
2022-12-01 18:19:38
A guide to the benefits of Stakeholder Management