Blogger Spotlight: Ana Silva O'Reilly, Mrs. O Around the World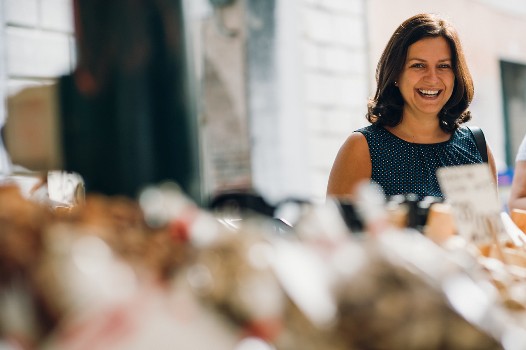 Luxury Travel and lifestyle blog Mrs. O Around the World ranks among the country's Top 50 Blogs, according to Vuelio. In this interview author Ana Silva O'Reilly spoke to us about brand collaborations, challenges of using social media, sponsorship disclosure and more. 
What's new on Mrs. O Around the World? To celebrate the blog's fourth birthday, it's had a little face lift – the branding, logo and website structure have all been updated, ensuring it has a brand new look and feel. Despite these changes, at the core the blog continues to cover my trips – I never write about places I have never visited – and my interests, including beauty and fashion.
Give us an example of a successful brand collaboration. What did you learn from it? Earlier this year, I embarked on a six-part brand campaign with Sovereign Luxury. Having been aware of the brand for a few years, I was delighted to get the opportunity to cement the relationship professionally. As they already knew me personally, Sovereign had a clear vision of what they wanted to achieve from the partnership. Before launching our first campaign, everyone from the PR, SEO, content and social divisions, including the Management teams, assembled for a meeting. They highlighted that they wanted a long-term partnership – it was clear they were not just looking for a one-off collaboration. This time enabled us to define our desired results and generate fresh ideas that would incite engagement. We are currently in the process of planning numerous exciting projects for the New Year. I have a true passion for Sovereign's brand and offering and am delighted to be associated with them. The best thing about this brand collaboration is that the enthusiasm is reciprocal!
How do you use social media to promote/share content? What are the challenges? I am particularly active on Facebook ,  Twitter and Instagram as these are my preferred channels – although I also have a strong presence on Pinterest and Google Plus  I don't create a set calendar of posts, however I am very consistent, as my ultimate goal is to establish a dialogue with my audience. I know people will listen and act on my travel advice, so I listen and act on my followers' advice too. Across my social media I have 45,000+ followers, and listening to their suggestions is incredibly exciting, as first and foremost I remain a consumer. It is crucial to keep in mind that my readers can just as easily approach their close friends for travel advice, so I endeavour to maintain a genuine  dialogue with them.
What advice would you give to someone who wants to start a blog? The story you tell has to be your own. Often people's perception of me is that I spend all my time travelling the world. What people might not realise is that I also have a successful career in marketing, an MBA and my own company – diverse experiences that have all inspired my blog in their own way. Don't set up a blog as an excuse to get freebies – it must always remain a platform for sharing your unique story. I would also emphasise that working with brands can be extremely rewarding, particularly when it is a brand you are passionate about, whose products you're already using!
How do you work with PRs? Over the past 4 years I have developed a strong relationship with some PRs. In fact, those who take the time to familiarise themselves with what I do have a better chance of guaranteeing a long and fruitful relationship. My media kit details how I work with brands, and which rates apply, if at all. I am currently enjoying working with leading communications agency Bell Pottinger – its dedicated influencer team advise me on commercial partnerships and growth. Watch this space!
Do you feel bloggers need to be compensated for the work they do? If a blogger's work has the power to raise the profile of a brand, it has value. I can't speak on behalf of other bloggers, but when a brand works with me, they are not only working with a respected blogger, but also benefitting from 15 years of marketing experience. I offer a variety of services with different reach and pricing options, as I regard my blogging life as another strand of my professional career.
What do you feel about sponsorship disclosure? It's essential to be transparent with your readers. I have disclosed sponsorship from Day 1, so if a product or service has been provided free of charge, my readers know about it. My blog is renowned for its direct style and although I will admit that I'm picky, there is a knack to being honest without being rude. I have always been careful not to become an 'over-promoter' as not to let my readers down – I select my brands carefully. My honesty has been a key player in establishing my voice in this crowded arena.
List three best practices PRs need to follow for better blogger outreach? Firstly, read the blog and gain an understanding of how the blogger works. Also, if there's a media kit available, make sure you take a look. Finally, I can't speak for everyone, but I can say that taking me for a cocktail (or a Gin & Tonic) is usually a sure-fire winner! Ultimately it's crucial to remember that there's a person behind the website – so treat them like one.
What will be big in your blogosphere in the coming months? I can reveal that Mrs. O will be travelling a little closer to home! I am also looking forward to rediscovering Brazil, Seville and Ireland.
Editorial information on Ana Silva O'Reilly, Mrs O Around the World and thousands of other media contacts and outlets, can be found in the Media Database.
https://www.vuelio.com/uk/wp-content/uploads/2015/10/Mrs-O-Around-the-World.jpg
350
526
Priyanka Dayal and Julie Hermans
https://www.vuelio.com/uk/wp-content/uploads/2019/09/vuelio-logo.png
Priyanka Dayal and Julie Hermans
2015-10-06 10:18:58
2015-10-06 10:20:55
Blogger Spotlight: Ana Silva O'Reilly, Mrs. O Around the World