Blogger Spotlight: Dane Cobain, SocialBookshelves.com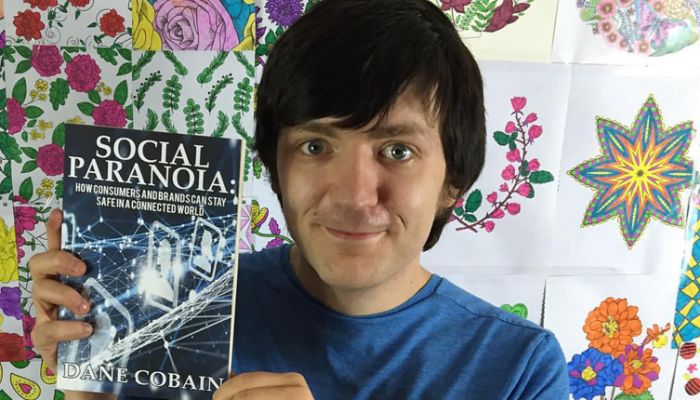 Dane Cobain is the author behind SocialBookshelves.com a Top 10 UK Literature Blog. With a catalogue-style review site, Dane also constricts his review word counts to the number of pages the book has. Here we spoke to Dane about his favourite novel, the rise of audiobooks and his preferred way to work with PRs.  
How would you describe your blog?
SocialBookshelves.com is a book blog with a difference. I don't specialise in particular genres, I just keep a running list of reviews for every book that I read – over 1,000 so far. My reviews also have a particular quirk – their word count is the same as the number of pages in the book, so a 350 page book has a 350 word review.
Why did you start your blog?
I've always liked writing reviews. I remember in secondary school we were asked to write reviews for every book that we read. For the other kids, it put them off reading because they didn't want to write the reports. For me, it meant I was writing 3-5 reports per week. The teacher eventually told me I could stop doing them.
I started blogging because when I left university, I got a full-time job in social media marketing. I thought that starting a blog would give me a great excuse to get some hands-on experience with a blog of my own. Once I started, it was hard to stop!
What's your favourite book, and why?
Northern Lights by Philip Pullman because it's a masterpiece. He's got a new book coming out that's a companion novel and it's great to see a new generation of readers picking up his books because of all of the publicity.
What makes a good book?
It's a combination of a whole heap of things, from pacing and plot to aesthetics and the cover. For a book to get a 5* rating on my blog, it has to leave me feeling like a slightly different person after reading it and it has to be pleasurable (as opposed to a chore) from start to finish.
Digital books disrupted an age-old industry, what do you think will be the next big disruptor?
They have, although I personally don't read them. That's because I like to collect my books, so I only ever read paperbacks and then I keep them in my rapidly expanding library. I keep needing to move to slightly bigger houses to accommodate them all.
As for the next big disruptor, that's hard to say. I think audio books will continue to pick up steam and it'll be more commonplace for people to listen to them, and I think the standard of them will continue to pick up. Over the next ten years or so, there will also be a lot of indie writers breaking through to the mainstream thanks to word of mouth – the market will decide whether their work is good or not , not a literary agent or a junior editor at a publishing house. On top of that, I think we'll see more and more books coming out from YouTubers, Instagrammers and other social media celebrities who see it as a way to monetise their audience.
How many books do you own (roughly)?
Well I've reviewed every book I own and I have 1,129 reviews, so somewhere around that. The true number is probably closer to 1,250 counting the books I haven't read yet – 1,300 if you count the copies I have of the books I've released myself.
What makes your blog successful?
I think consistency and longevity have played a big part. I update it regularly and work with plenty of authors and PRs to add other content such as interviews, and I also run competitions and use social networking sites. I think a big part of it has been the fact that I'm an author myself and so it's pretty linked to my daily life. It's just part of who I am.
How do you like to work with PRs?
I like them to email me with a little bit of information about the books and then I get back to them if I'm interested. I don't get time to respond to every enquiry unfortunately because there are so many of them.
What's the one thing PRs should know about you?
I only accept physical copies.
What other blogs do you like to read?
I'm going to be honest here – I don't actually get much chance to read blogs because I'm so busy with other stuff. I do, however, watch a bunch of different 'BookTubers' – i.e. YouTubers who talk about books. They mostly talk about YA and middle grade, but I find their passion for books inspiring. Some of my favourites are Jean from Bookish Thoughts, Katytastic and Brock from Let's Read. It's great to see how creative people are.
That said, I do follow friends' blogs as they post – but they're mostly authors rather than other book bloggers.
Dane Cobain features on the Vuelio Media Database along with thousands of other bloggers, influencers and journalists.
https://www.vuelio.com/uk/wp-content/uploads/2017/08/Dane-Cobain.jpg
430
760
Merryn Williams
https://www.vuelio.com/uk/wp-content/uploads/2019/09/vuelio-logo.png
Merryn Williams
2017-08-31 10:01:55
2017-09-05 14:29:54
Blogger Spotlight: Dane Cobain, SocialBookshelves.com