Blogger Spotlight: Daniel Green, CineVue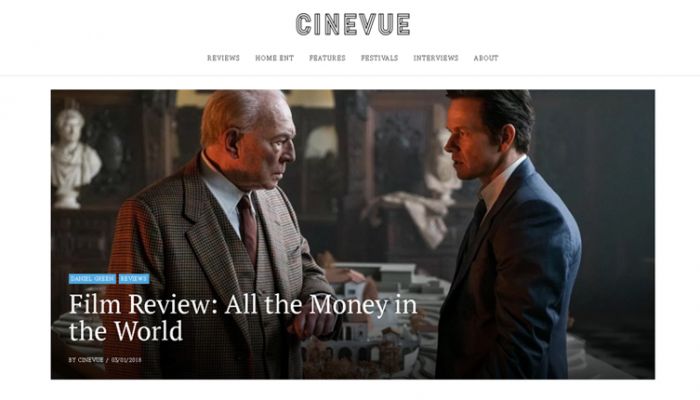 CineVue is an independent film blog founded by Daniel Green. Recently ranked in the Top 10 UK Film Blogs, CineVue is maintained by editor-at-large Ben Nicholson and a team of writers. We caught up with Daniel to talk about world and arthouse cinema, the team's favourite film of 2017 and working collaboratively with PR professionals.
How would you describe your blog? 
We are a team of passionate, UK-based cinéastes dedicated to bringing our readers the best possible quality of film criticism, from reviews of the latest theatrical and DVD/Blu-ray releases to special features and international film festival coverage.
What makes your blog successful? 
I think it would be our devotion to world cinema and arthouse filmmaking over the latest offering from the Disney/DC/Marvel stables. Our festival coverage is very comprehensive.
How many films do you see in an average week? 
Typically, 5-10 new releases a week – more if we also have writers covering festivals abroad.
What's your favourite film of all time? 
A very tricky question, although our favourite film of the last 12 months – as voted by our writers – was Sean Baker's The Florida Project.
Least favourite film of all time? 
Anything that purely exists as Oscar bait – Forrest Gump, perhaps? Or The Blind Side. Both awful.
Film that's yet to be released that you're most excited about seeing? 
We have just done a rundown of our 20 most anticipated films of 2018. New films from Pablo Larrain (The True American) and Nuri Bilge Ceylan (The Wild Pear Tree) will always entice.
What will win the Best Picture Oscar 2018? 
The pessimist in me says Dunkirk but you never know. A bold(er) choice by the Academy would be for Get Out or the excellent Mudbound.
How do you like to work with PRs? 
We maintain good working relationships with all the necessary PRs in order to maintain wide coverage of new releases. Just don't badger them!
Can you tell us about your favourite brand collaboration or screening experience? 
Anything from The Badlands Collective; they put on a double bill of David Fincher's The Game and Jonathan Glazer's Birth (both on 35mm) that was unbelievably good.
What do you call yourselves? Bloggers/influencers/content creators?
We're writers, nice and simple.
What other blogs do you read? 
I would highly recommend the likes of Sight & Sound and Film Comment – both originated and continue in print form. But for a pure film blog my tip would be Notebook, courtesy of the folk behind the platform MUBI.
CineVue and its writers are listed on the Vuelio Influencer Database, the leading blogger database available to the PR and communications industries.
https://www.vuelio.com/uk/wp-content/uploads/2018/01/CineVue.jpg
430
760
Holly Hodges
https://www.vuelio.com/uk/wp-content/uploads/2019/09/vuelio-logo.png
Holly Hodges
2018-01-04 14:06:03
2019-09-10 15:26:45
Blogger Spotlight: Daniel Green, CineVue