Blogger Spotlight: Sean Evans, Back to the Movies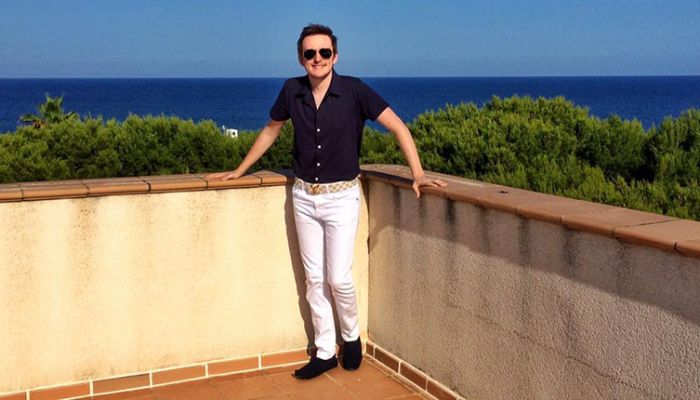 Sean Evans is the author of Back to the Movies, a movie blog which recently ranked in the Top 10 UK Film Blogs. Covering news, reviews and film trivia, Back to the Movies also has a YouTube channel where Sean produces interviews with top stars. We spoke to Sean about his favourite film of all time (no prizes for guessing), working with PRs and his favourite collaborations.
How would you describe your blog?
I would describe Back to the Movies as the inner workings of my film-loving mind. Every thought, opinion and collaboration is tailored to my passions and an industry I love, and have the pleasure of working in now and again.
What makes your blog successful?
I can only go by what others tell me and they all say the same thing. I write as a fan, not a critic. I absolutely hate the word critic. I love movies and I write about what I love, and I talk about films the way I would talk about them with my friends. My own crazy thoughts, feelings and opinions out there for the world to see.
How many films do you see in an average week?
On average, I watch around two films a day, so 14 a week in total.
What's your favourite film of all time?
It has to be Back to the Future doesn't it? I wouldn't have a blog name without it and it's a film that I can watch over and over again and still be blown away by absolutely everything on screen. It's in a rare and elite group of near-perfect movies.
Least favourite film of all time?
I would have a whole list for you had it not been for a screening of The Room that I watched the other week. That movie made me want to tear my eyes out, but the beauty of it is that it's so bad yet I'm still quoting it in passing communication. Goddamn you Tommy Wiseau!
Film that's yet to be released that you're most excited about seeing?
I'm a bit of a Marvel nut so I'm looking forward to seeing Infinity War next year. Thor: Ragnarok was a revelation and stands alongside the high-quality epic picture with beautiful comedic delivery that Guardians of the Galaxy 1 and 2 delivered before it.
What will win the Best Picture Oscar 2018?
I wasn't a huge fan of Dunkirk, so I hope it's not that. It would be nice to see Get Out be thrown into the mix but my most likely candidate would be Darkest Hour. But we'll see!
How do you like to work with PRs?
When considering content, I'm so picky nowadays. It has to match what my audience responds to but it also has to be something that I personally would want to watch or consider. I'm certainly looking for more sponsored content in 2018 as I feel many PRs ask for a variety of things and expect it done and posted for free. Some posts can take hours to put together so it would be nice if bloggers were more fairly compensated. I'm easy though, give me Doritos and I'll love you forever.
Can you tell us about your favourite brand collaboration or screening experience?
My favourite brand collaboration was with Acer doing a TV advert for their Revo One product. I had a film crew hired, we made a cool advert and it was played all over the place. That was so much fun.
In regards to a screening, I'm torn! It's a tossup between a screening of Split at Universal Pictures in London watching it with Director M. Night Shyamalan, and The Hobbit: Battle of the Five Armies screening at Warner Bros where me and a friend met all the cast the next day.
What do you call yourself (blogger, influencer, content creator)?
I call myself a movie fan. No more, no less.
What other blogs do you read?
I don't tend to read to many blogs although I do support my friend Karen Woodham and her awesome film blog Blazing Minds. We both run sites on our own so we understand the struggles and I always feel as though we support one another really well against other sites who have numerous employees and/or contributors.
I've been watching a lot of Vlogs lately. I'm addicted to a blogger out in Dubai called Mo Vlogs. I watch his stuff everyday as Dubai is a place I've wanted to visit for many years now and he's highly entertaining.
Sean Evans and Back to the Movies are both listed on the Vuelio Influencer Database, the leading blogger database available to the PR and communications industries.
https://www.vuelio.com/uk/wp-content/uploads/2018/01/Sean-Evans-Back-to-the-Movies.jpg
430
760
Holly Hodges
https://www.vuelio.com/uk/wp-content/uploads/2023/09/vuelio-logo-200px.png
Holly Hodges
2018-01-04 10:51:03
2019-09-10 15:27:10
Blogger Spotlight: Sean Evans, Back to the Movies