Blogger Spotlight: Halima Khatun, HalimaBobs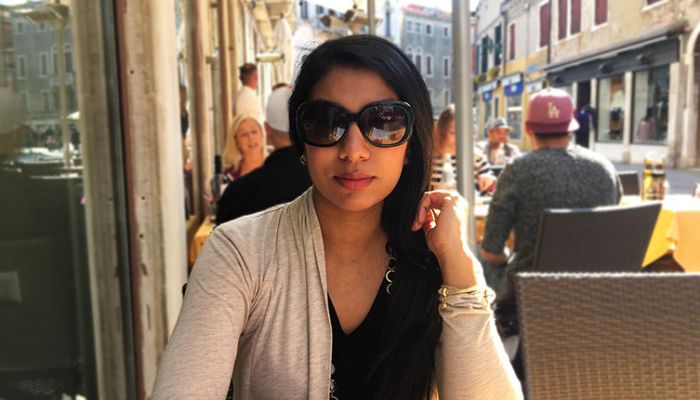 Halima Khatun is author of HalimaBobs, the beauty and lifestyle blog, which is all about positivity, not perfection. A former broadcast journalist, Halima is now the owner of PR agency HK Communications. We spoke to Halima about blogging as a PR pro, being real, working in partnership with PRs and blogging since the birth of her child.
Why did you start your blog?
I started my blog for three reasons: firstly, to satisfy my creative juices and write some light-hearted, frivolous content that was far removed from my day job of a PR consultant. Secondly, I didn't see a blog out there that offered unfiltered, detailed, beauty-based content; a lot of blogs are quite aspirational and advertorial. Finally, I wanted to read something that was aimed at the everyday beauty novice that doesn't have hours to create the perfect no-makeup-makeup look!
What makes your blog successful?
I write as I speak, so my content is often a dry, witty stream of consciousness! I believe that in a world of filter, real un-airbrushed content is a refreshing novelty!
Is there a difference in how PRs approach you as a blogger compared to how you were approached as a broadcast journalist?
Most PRs are fantastic. But there has been the odd PR who would treat me differently than they would a journalist. Occasionally, I have been on the receiving end of a PR fail, from the failure to follow through on a collaboration, to trying to overtly control editorial content. But thankfully, the bad PRs experiences are greatly outweighed by the good, with most practitioners really valuing the brand recognition bloggers can bring.
As a blogger, how do you like to work with PRs?
I see my work with PRs as more of a partnership, as bloggers and PRs can't function without one another. So, whether it's collaborating on a giveaway, a product/service review or a sponsored post, I always work closely with the PR I'm dealing with to ensure we're both happy. I also aim to offer a critique of most of the products I'm sent for review, not just the good stuff. Lastly, I'll always keep the PR in question in the loop with the progress of my articles and send a link once live, rather than expect them to look out for their client mention themselves.
Have you noticed a change in what you write about since having a baby?
Absolutely! As my blog is a small window into my life, inevitably I include articles about my biggest life event! So, as well as blogging about baby and mum-to-be products, I've written more in-depth articles about life as a working mum, dealing with mother's guilt etc. These topics have really struck a chord and have also featured on the Huffington Post, where I also blog.
How did you get from your first PR role to your current position?
With some smart choices and a sprinkle of luck! My career grew very organically as I started as a broadcast journalist with ITV and the BBC, and then joined the dark side – PR(!). From there, I made the transition from agency to in-house. I've worked with some of the UK's largest corporates, and after a decade in the industry, I decided to set up my own consultancy, HK Communications. It's something I've always wanted to do, and in 2015, I felt I had the right amount of experience to make it happen.
Having worked as a journalist, do you believe you have a different take on PR and communications to other agencies?
Definitely. I believe in the old school PR of finding a great story and telling it. So, having a nose for a story really helps. Plus being a former journalist adds real credibility and a reassurance for clients. After all, it's easier to write and pitch a story knowing what would interest the journalist, given that I used to be one. Also, I offer PR training as well as consulting, so a big part of this is helping small business owners think like a journalist. Again, having been one myself helps, as I've walked the walk.
As a PR professional, do you work with bloggers? If so, are there differences in how you work with bloggers compared with traditional media journalists?
As my consultancy offers more B2B PR, I haven't had much scope to work with bloggers, but I would certainly be open to it if the opportunity arose!
What changes are you looking to make to your PR strategy in 2018?
Well I'm expanding my team, having brought on associates in the run up to my maternity leave. I'm also focusing more on my PR training arm which is ideal for micro-businesses that don't have the budget for a PR agency. 2018 is looking to be very exciting indeed!
Do you have a career mantra or a piece of advice that you follow?
Not a mantra per se, but I always advise networking and nurturing contacts. I'm always of the view that every connection you make can add value in some way. You might generate a business lead, learn something new or simply meet a great person. In fact, this interview came about after networking at the Vuelio Blog Awards!
Halima Khatun and HalimaBobs are both listings on the Vuelio Influencer Database along with thousands of other leading bloggers, journalists and editors. 
https://www.vuelio.com/uk/wp-content/uploads/2018/02/HalimaBobs.jpg
430
760
Merryn Williams
https://www.vuelio.com/uk/wp-content/uploads/2019/09/vuelio-logo.png
Merryn Williams
2018-02-05 10:00:36
2018-02-07 13:09:03
Blogger Spotlight: Halima Khatun, HalimaBobs