Blogger Spotlight: Lucy Edwards, Paddle Pedal Pace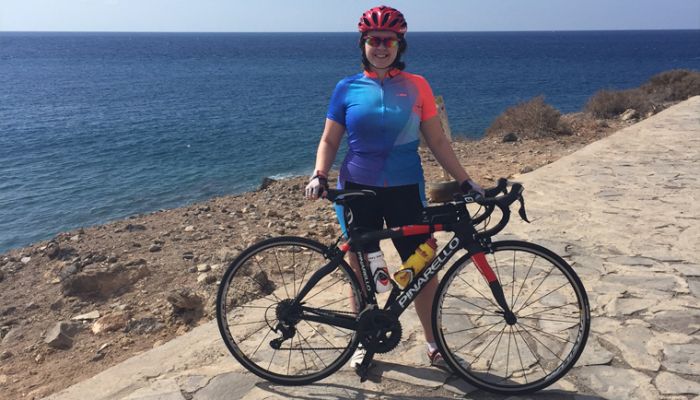 Paddle Pedal Pace was previously called Lucy Lunges before it was rebranded by author Lucy Edwards to reflect her love of triathlon. With her blog recently ranking in the Top 10 UK Fitness and Exercise Blogs, Lucy chats to us about female-specific training, her favourite piece of kit and working with PRs.
How would you describe your blog?
Paddle Pedal Pace is all about living an active lifestyle, with a particular focus on triathlon. I aim to share an honest account of my experiences in sport and fitness, with the hope of inspiring other people to try triathlon. I went from being someone who was very inactive to someone who races every weekend, so I hope to show what is possible if you try. I share tips, advice, race recaps, injury prevention and training diaries.
Why did you start your blog?
I started my blog in 2013 as I had some time off between jobs and wanted a project to work on. I'd been following several other fitness blogs and decided I wanted to share my own thoughts and experiences.
What makes your blog different from other fitness blogs?
Whilst triathlon is growing as a sport, there aren't many UK-based, female-written triathlon blogs. Several pro-athletes and coaches write triathlon blogs, but I'm very much an amateur and honest about that!
What's the next big fitness trend going to be?
I think there is a shift towards more female-specific training techniques. People are starting to understand that women need to train in a way that takes into account their physiological and biomechanical differences.
What piece of equipment or tech is your go-to workout companion?
My Garmin 920xt which records and tracks data from my training sessions, including pace, distance and heart-rate zones. It links up to the programme which my coach uses to schedule my training, so he can see my results.
What was your favourite blog post to create and why?
My recap of my half-ironman last summer as it was a huge challenge. Writing out the day from start to finish helped celebrate the achievement and cement the memories in my mind. I try to write up race reports as soon as possible, as there are so many little details which I'd otherwise forget.
How do you see your blog developing in the future?
I'd like to develop the active travel side of my blog further. I'm fortunate enough to have been on blogger trips to Tenerife, Nice and Edinburgh to run, cycle and hike. I'd love to explore more opportunities for combining fitness and travel.
What makes your blog successful?
Success for me comes from inspiring other women to try a new sport or activity. I love receiving emails, comments or messages from readers telling me that they've decided to start swimming lessons or sign up for their first triathlon. It makes it all worthwhile!
How do you like to work with PRs?
I've worked with PRs on product reviews, sponsored content and blogger trips. I'm happy to work on campaigns as long as they are relevant to my readership.
What one thing should PRs know about you?
I don't tend to review or cover nutrition products on my blog. I think nutrition is a personal choice which takes some trial-and-error, so it's not something I like to give advice on. I'm regularly contacted to review protein shakes, energy bars and gels, but they aren't something I personally use.
What are your favourite blogs to read (outside of your own!)?
The Runner Beans was one of the first blogs I discovered and I still enjoy reading every post up to this day. I also love to read Keep It SimpElle, Hels Bels, Miss Wheezy, FitBits and How Many Miles.
What's your favourite workout class or routine?
My favourite training session is track running, such as 400m or 800m intervals. I love the feeling of pushing myself hard over a short distance then recovering and going again!
Paddle Pedal Pace features on the Vuelio Media Database along with thousands of other bloggers, influencers and journalists.
https://www.vuelio.com/uk/wp-content/uploads/2017/07/Lucy-Edwards-Paddle-Pedal-Pace.jpg
435
760
Merryn Williams
https://www.vuelio.com/uk/wp-content/uploads/2023/09/vuelio-logo-200px.png
Merryn Williams
2017-07-31 12:58:57
2017-07-31 12:58:57
Blogger Spotlight: Lucy Edwards, Paddle Pedal Pace