Blogger Spotlight: Niall Julian, Take to the Road
Award-winning motoring blog, Take to the Road was launched in January 2015 by Niall Julian to focus on classic cars by filming them to attract 'the attention they deserve'. Each car featured on the blog is hand-picked by Niall to guarantee that the most interesting cars and stories are showcased. As a classic car enthusiast since childhood, it's no surprise that Niall runs and maintains the blog and his YouTube account himself, featuring the cars that he would one day want to own (or at least drive). In this spotlight, Niall who appears in our top automotive ranking chats to us about why he started blogging, the influence that motoring bloggers have on audiences, and the exciting projects he will be working on this year.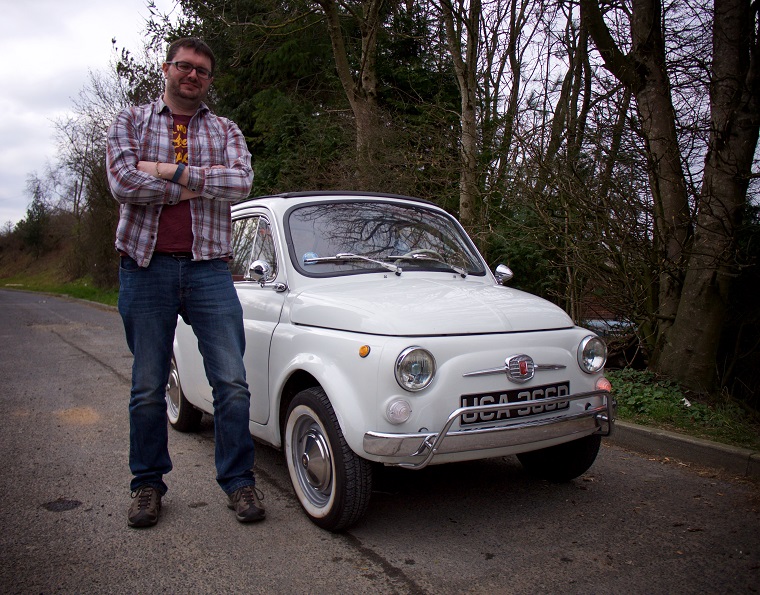 How did you get into blogging? I got into blogging after setting up my blog and YouTube Channel "Take to the Road" in January 2015. I felt using a blog was the most effective way to run my website alongside my YouTube Channel.
What is the most challenging part of being a motoring blogger? It is a lot of work keeping on top of everything. Writing new content for the blog, filming for my channel and managing all the social media feeds and marketing. It is a lot to cover. But filming my classic car features films is the most labour intensive due to the amount of production and editing that's involved.
How would you describe the content on your blog? Mine is a mix of classic car feature films and documentaries, feature articles, car reviews, classic car market picks and news articles. It's all about the passion for classics and the stories attached to them.
Do you think that motoring bloggers have a big impact on their audiences' decision making when considering buying a new car? And if so, why? My blog is aimed at the classic car enthusiast so they wouldn't be looking at a new car purchase through my blog. All the classic cars I feature on my site are ones that most of us car fans would love to own someday, cars we'd aspire to owning. So the cars I feature, especially the ones on my channel would have an impact on my audience's decision-making process. I do like to feature interesting cars for sale, which I call my "Market Picks". These are all cars that are either rare or have a cool history. And they are basically cars I would love to buy myself, if I could afford to.
Are there any shows that you're looking forward to this year? Yes, I'm actually attending the London Classic Car Show at the ExCel in February. It's great and there are so many rare and wonderful classics on display. There's loads more shows on throughout the year as well especially in Kent which is where I'm based. St Christopher's Hospice Classic Car Show is a nice one as it's for a good cause and usually the last one of the year in September.
Aside from motoring, what else are you interested in? I'm into a mix of things like archaeology, history, sci-fi, computers (especially Macs) movies and music. But it usually comes full circle back to cars!
If you could own any car in the world, what would it be? And why? That is a tough question as they are so many to choose from. If I had to choose it would be an Alfa Romeo Tipo 33 Stradale. It is one of the most striking and beautiful cars that Alfa Romeo has ever designed. It was a real super car in the 1960s and was basically an F1 car for the road. It's very rare too.
How did you build up a relationship with your audience? Just by being genuine, honest and passionate about what I do. They are very important to build trust with your audience. And good quality content as well. If your content is not good, then you won't have an audience.
Do you feel pressured to stay on top of trends? There is pressure to stay on top of all things trending in the world of social media. There's always something new to test and try and experiment with, which can take up a lot of time.
What advice would you give to PRs who would like to work with you? If your campaign is to do with classic cars you've got my attention.
Will you be working on any exciting projects this year? Yes, I've got lots of exciting projects lined up this year. Plenty of interesting classic cars to film and hopefully some very rare and significant ones as well. I can't wait to start working on them.
https://www.vuelio.com/uk/wp-content/uploads/2017/02/Niall-Julian_Take-to-the-Road_BloggerSpotlight.jpg
506
760
Merryn Williams
https://www.vuelio.com/uk/wp-content/uploads/2023/09/vuelio-logo-200px.png
Merryn Williams
2017-02-22 14:44:24
2017-02-22 14:44:24
Blogger Spotlight: Niall Julian, Take to the Road