Automotive Blogs UK Top 10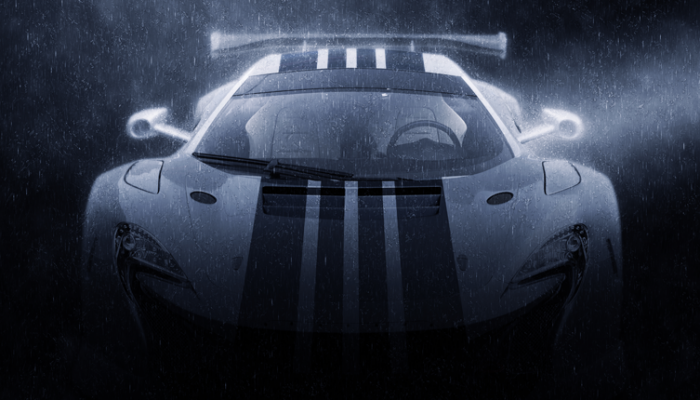 The Top 10 Automotive Blog ranking was last updated 26/02/2020.
1. Car Throttle
Still in pole position in our top 10 is 'the internet's largest community for car enthusiasts', Car Throttle. After looking for an online platform for young millennial car enthusiasts like him and finding only empty spaces, Adnan Ebrahim created what is now known as 'BuzzFeed for cars'. Millions of 'CTzens' (that's Car Throttle fans) now regularly park on the blog to catch up with the mix of video, discussion and automobile news provided by the team of 20 employees working on content across London and New York (proving that whichever side of the road you're driving on, Car Throttle is a perfect destination for those who know their VW Touaregs from their Ford Mustang Mach 1s).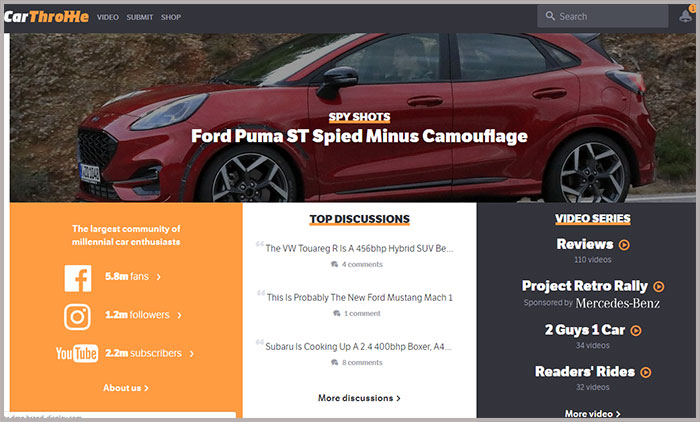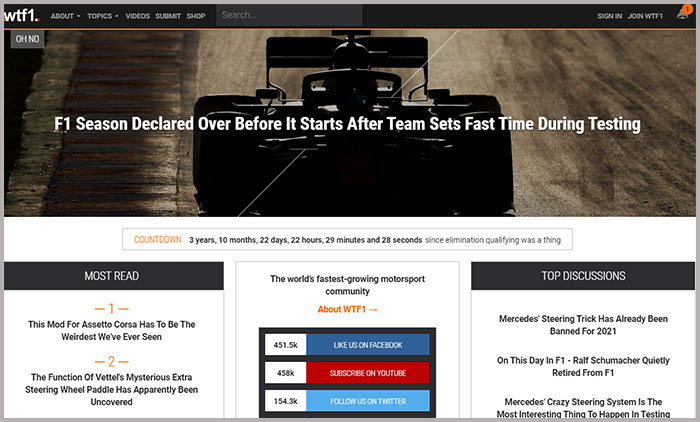 2. WTF1
If Formula 1 is what drives you, WTF1 is where you'll want to race to. Motorsport enthusiast Tom Bellingham originally created the blog in 2010 to connect with fellow social media savvy fans online. Now counting over 12 million visitors every month, and with fans including Formula 1 veterans Damon Hill and Pastor Maldonado, the blog covers everything motorsport including Formula E, GT, IndyCar, Endurance racing, MotoGP, Rally, Touring, Juniors and Kart. It's not all serious business, though – there are also quizzes, memes and its WTF section, which recently shared news of a kangaroo having a go at being a safety car at Bathurst. WTF, indeed.
3. Motor Verso
For those looking to purchase their own motor for roads in the real world instead of watching racers make their way around the F1 circuit, Motor Verso is here to help with big consumer decisions. The latest cars and car-related products are tested by the team, who then present their professional opinion in car reviews and articles alongside some super sharp imagery. Can't get to a showroom to try out the cars you fancy for yourself? The Motor Verso team hope to show you exactly how they'll look in your garage/drive and handle on the highways.
Want to learn more about this blog? Read our blogger spotlight with editor Paul.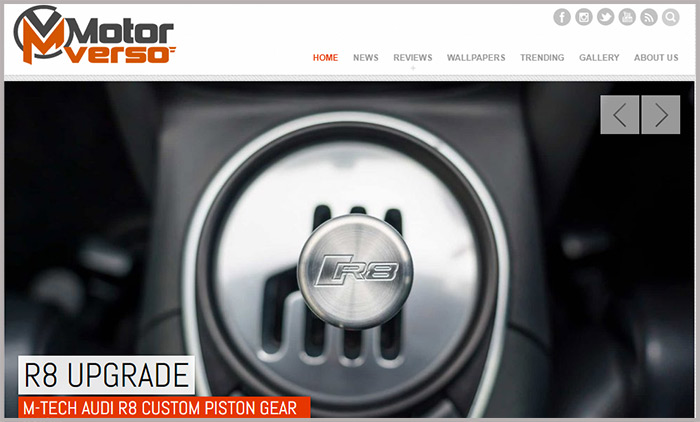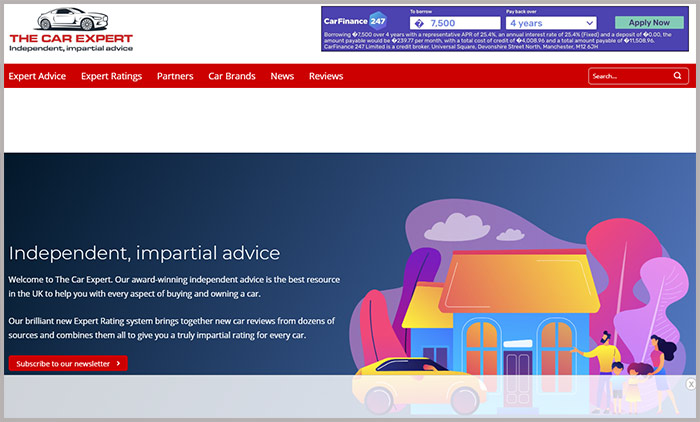 'Independent, impartial advice' is what you'll get from the team at The Car Expert in their Expert Advice, Expert Ratings, Expert News and Expert Partners sections. Over 150,000 people visit the website each month for buying and car finance advice – it welcomed its seven millionth visitor (who is now likely cruising around in something shiny and very reasonably financed) back in August 2018. You'll find editorial director Stuart Masson regularly popping up on the BBC to share car buying advice, and the rest of the engine working underneath The Car Expert hood includes Vice-President of the Guild of Motoring Writers John Blauth and Top Car, Carbuyer and Super Touring alum Andrew Charman.
Find out more about Stuart Masson, author of The Car Expert, in our blogger spotlight.
5. PETROLBLOG
PETROLBLOG is here to celebrate 'the cars you loved (and the ones you didn't)' as well as a decade of quality car blogging – this February marks its tenth anniversary online. Starting life as 'Major Gav's Petrol Blog' with a post on the 'Top 10 Signs of Obsessive Motoring' by Gavin Big-Surname (not the blogger's real name, we're thinking) in 2010, the website now splits its content up into channels including Major Waffle, General Bunk and Reviews. Setting the Satnav with no specific direction in mind, the team covers all areas and eras of motoring – 'with one foot in the 80s and the other in the 90s, we'll occasionally wander off piste, in search of gems from the 60s and 70s, and identifying the news cars that might be PB heroes of the future'.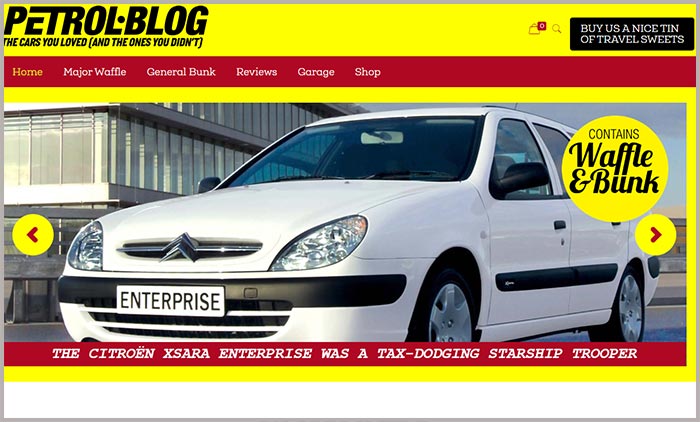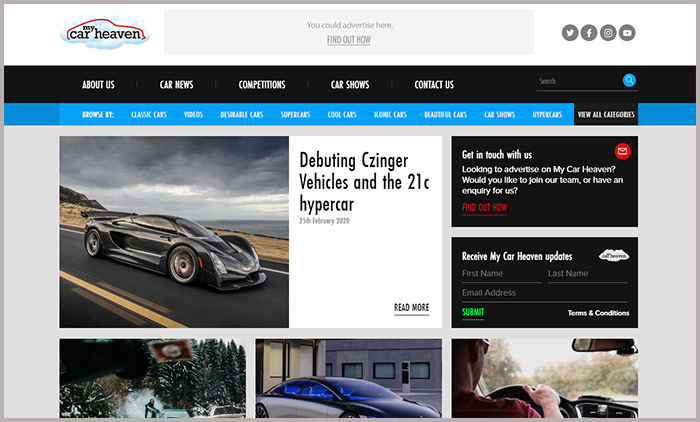 'Committed to reviewing some of the world's most beautiful, cool, iconic, desirable, classic, supercars and hypercars', My Car Heaven works from the premise that if you've sought them out, you 'either own or dream of owning your own classic motor'. The team share their passion for the classics as well as 'very cool car stuff that really matters' in news, articles, videos and competitions. If you have something very specific in mind when it comes to what you want to be driving around in, you can find what you need quickly. Like a fancy online showroom, the blog showcases its 'cool', 'iconic', 'super', 'hyper' and 'desirable' car choices in separate sections. It'll even help you track down the cars in their physical form with its listings of car shows happening across the country.
For everything automotive, there's the Automotive Blog, featuring the latest news, car reviews and information. Giving its readers the heads-up on what's realistic for their car journeys (going electric), it also covers what is… less so (Schumacher's first Ferrari F1 car being available for purchase/driving).  Big brands from the past and present feature, as well as the more futuristic – Ford's new emoji mood jacket to keep cyclists safe looks like something from Back to the Future II and the latest boat/tow combo vehicles like Transformers. Though, if you're looking for something less bright and sparky, the team will find that for you, too – one of the recent news stories being the UK's favourite car colour (it's grey).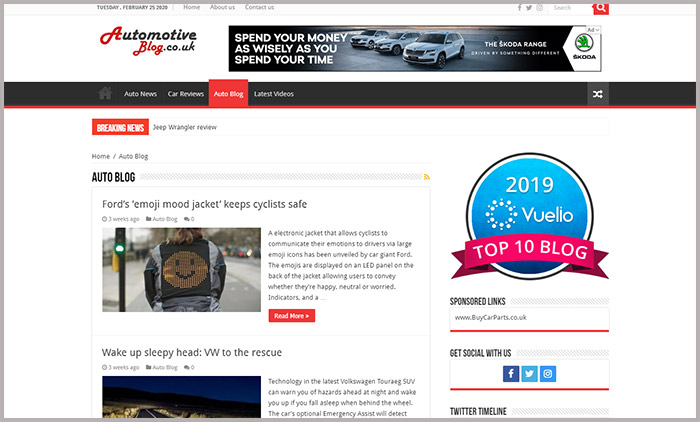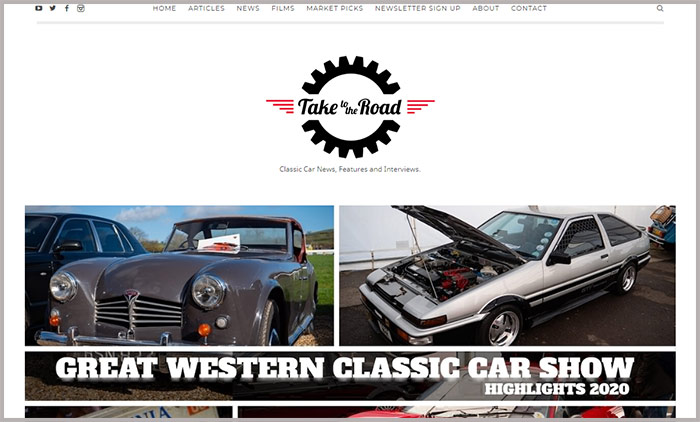 Enthusiastic about classic cars, Niall Julian launched Take the Road back in January 2015. This one-man-blog features posts written and images shot by Niall and its affiliated YouTube channel has videos directed, produced and edited by him, too. The blogger's first taste of classic motors came with the purchase of a 1967 Daimler V8 250 – now his passion continues with articles on other cars he'd like to own and drive one day. Recent models featured on the blog include a 1951 Ferrari 212 Inter Cabriolet, 1964 Porsche 904 GTS and 1953 Fiat 8V – basically, Niall is going to need a bigger garage. In the meantime, they're parked in his posts online – go check them out.  
Geoff Maxted, the writer behind DriveWrite Automotive, regularly produces content for regional magazines, national online car sales companies, an international auto shipper, a supercar service, garage chains, US clients and more. If you don't have time to track down everything Geoff writes across print and online, you can find his top tips right here on his blog – check out his advice for terrific tyres, EV dilemmas, whether it is worth hiring a party bus and which Smartphone applications are best for long car journeys. Smartphone shortcuts aren't what drives Geoff, however – 'I don't think – especially in these days of text-speak – that there can be any harm in trying to write to a decent standard'. Neither do we – if you want driving writing done right, Geoff's blog is worth a visit.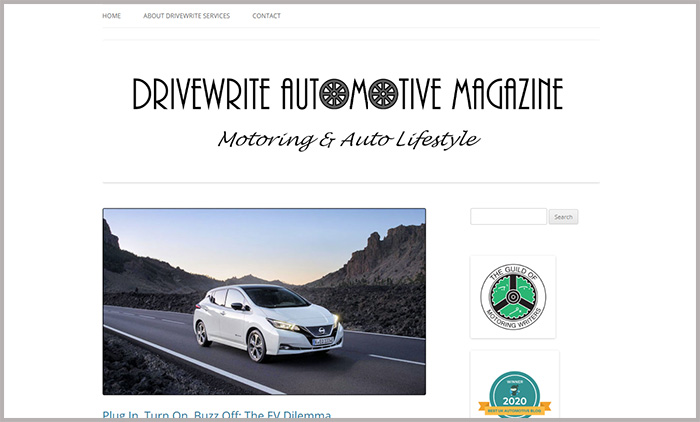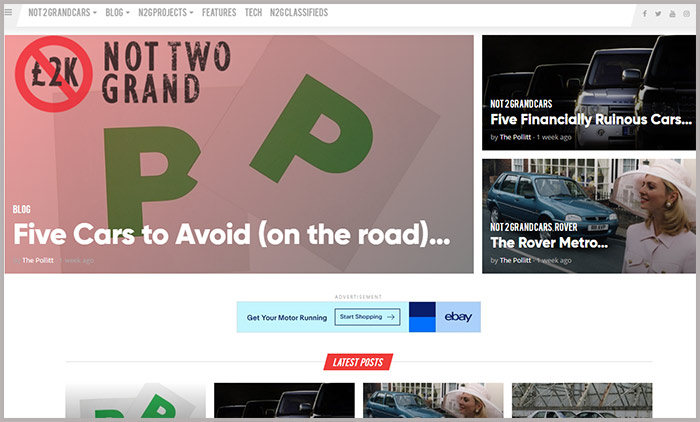 10. Not Two Grand
'M&S motoring, Aldi money' – cannier car shopping seems to be increasingly popular among automotive fans, as Not Two Grand enters our UK Top 10 of automotive blogs for the very first time. Those who aren't looking to splash the cash on something painfully expensive and are instead in the market for a manageably-priced motor can join the Not Two Grands chat – 'Want to tell us about your Not £2 Grand find? Or about the worst car you bought for under £2 Grand? Type away!' If you're feeling shy about sharing Robin Reliant regrets from the past, however, you can voyeuristically enjoy other car owners low – or high – points, as well as advice on cars to avoid. The Reliant doesn't feature in its recent list of five most-avoidable automotives… but the Honda Jazz does. If you're driving in one right now, why share your thoughts with the Not Two Grand team (find a safe parking space first, of course).
The fundamentals of working with bloggers are the same as with journalists: respect their schedules; take time to read their material to learn their interests; and only contact them if/when they want to be contacted.
Vuelio's blog ranking methodology takes into consideration social sharing, topic-related content and post frequency. Full profiles and preferred ways of working for these car blogs and their authors can be found in the Vuelio Media Database.
https://www.vuelio.com/uk/wp-content/uploads/2019/02/Automotive.png
430
760
Holly Hodges
https://www.vuelio.com/uk/wp-content/uploads/2023/09/vuelio-logo-200px.png
Holly Hodges
2020-02-26 08:00:09
2020-02-26 10:21:18
Automotive Blogs UK Top 10