Blogger Spotlight: Rachel Spencer, The Paw Post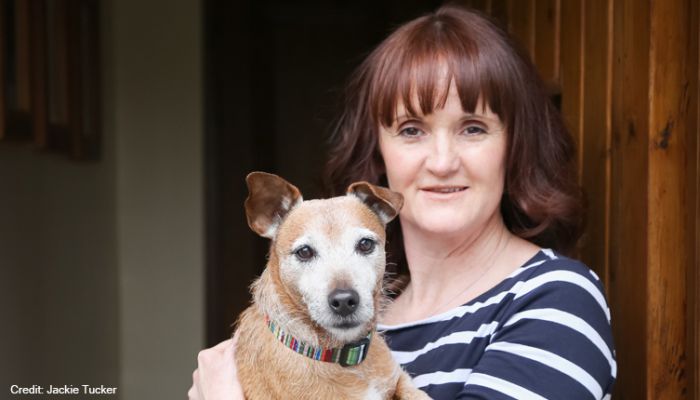 Rachel Spencer is the author of The Paw Post, which recently ranked in the Top 10 UK Pet Blogs. Rachel is a freelance journalist and content writer who started The Paw Post in 2017 after taking her friend's dog Daisy in. In this Spotlight, we speak to Rachel about her lovely dog Daisy, working on charitable campaigns and her favourite pet tech.
How would you describe your blog?
It's a mix of news, human interest stories about animals and people making a difference in the pet world, travel and reviews. My dog Daisy and her adventures feature lots, and I try to create content that's helpful, interesting and informative.
Why did you start your blog?
I work as a freelance journalist writing pet stories for newspapers and magazines, but there would always be stories I wanted to tell in my own way and that's where the idea for the blog came from.
I've worked with pet businesses writing content and thought a blog would be a way to showcase my writing too.
The more I wrote about pets, the more people approached me with stories and interesting pet brands, and I thought it would be a good idea to create my own platform to share them.
What's it like having a famous pet?
Oh my gosh, I still don't see Daisy as famous, she's a little scruff from Manchester Dog's Home but she has featured in lots of articles now so I guess she is! It's lovely.
She has a fun life and still is like a regular dog who loves chasing her ball and rolling in fox poo, but she also has some lovely opportunities come her way too.
How does your pet cope with the pressure?
It doesn't faze her. She's very good when it comes to having her photo taken and has done shoots from when she first came to live with me and my photographer friends used to take photos of her.
I think she's oblivious to it. No one day is the same for her and she relishes her adventures.
What's your favourite pet product?
I think it would be the PitPatPet activity tracker. It was the first 'techy' item we reviewed, and it's a UK based product that has been picked up worldwide.
We're thrilled to have been able to review it at the start of their journey back in January 2016.
They went on to appear on Dragon's Den and now work with insurance companies helping dogs stay healthy.
What's your favourite post?
I did a post for a contact of mine, Liz Haslam of Beds For Bullies rescue. I've known her for many years and she was going through a tough time, struggling with bills and was worried she might have to close her rescue.
I set up a JustGiving page and told the story of all 16 of her dogs, many of which I had written about individually, but when I put them all together, I realised just how remarkable she was and readers did too.
The response was overwhelming, it was shared worldwide and people donated £2,000. It was amazing to be able to help her and her dogs. I spent most of that weekend crying happy tears!
How do you like to work with PRs?
Ideally send a pitch via e mail first, then I'm always happy to chat on the phone if I feel it suits the blog.
I look for human interest stories, usually case study led, and I'm interested in trends, products and technology.
The blog is an extension of my work as a journalist and I try to ensure each post either makes people laugh or cry, think 'Aw that's cute', 'Ooh that's interesting/helpful' or 'Wow, that's someone doing something really out of the ordinary.'
What one thing should PRs know about you?
I've always worked with PRs as a journalist so I'm completely new to doing it as a blogger. One thing that has come up is people saying: 'can you just put something up on your blog for me?' and I'd like people to realise that it takes a lot of time for me to do a post and I have bills to pay!
I'm very open to ideas and I like people to be clear about what is expected of me, treat me fairly and understand that I try to make my posts newsworthy because of my background.
What's a memorable campaign you've worked on?
This week I worked with Jade Statt of StreetVet who launched her new website on #worldhomelessday and she approached me as a blogger rather than as a journalist.
I was totally thrilled and spent a day shadowing her as she helped homeless dogs and their owners.
She is such an inspiration and being able to tell stories like hers without having a word limit and having my work edited is what my blog is all about.
What other blogs do you read?
I love Rocky the Traveller, he's an English Bull Terrier who has travelled the world, and Philleas Dogg, as Atlee is a rescue dog like Daisy and it's lovely seeing them both on their adventures and having fantastic lives.
I enjoy Twilight Bark UK too, her Instagram photos of her lovely Sausage dogs Ted and Millie are brilliant!
Rachel and The Paw post are just two entries on the Vuelio Influencer Database, which is the UK's leading influencer database available to the PR and communications industries.
https://www.vuelio.com/uk/wp-content/uploads/2017/11/The-Paw-Post.jpg
430
760
Jake O'Neill
https://www.vuelio.com/uk/wp-content/uploads/2019/09/vuelio-logo.png
Jake O'Neill
2017-11-03 12:59:41
2018-01-08 12:49:19
Blogger Spotlight: Rachel Spencer, The Paw Post