Last updated 20/04/2022
Vuelio uses a proprietary algorithm to create these rankings, based on topic-related content in blogs on its system – you can read more about the process here. Our research team actively seeks out new blogs and bloggers for inclusion, but if you think we've missed someone, please get in touch to let us know.   
1. Katzenworld
For another year, cat people come out on top in our ranking of top UK pet blogs with Katzenworld retaining the number 1 spot. Good friends to felines everywhere Marc-Andre and Iain Runcie-Unger put their pet-related portal together as a 'one stop source on all things cats for our friends and fellow cat lovers' and they now have a dedicated following of cat fans. Recently covered on the blog – new research finding that a quarter of Brits want their pets to be 'Petfluencers' and the fabulously-titled Tummy Rub Tuesday.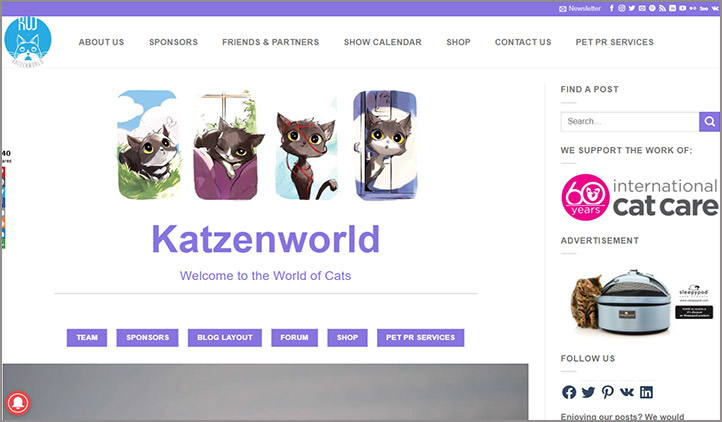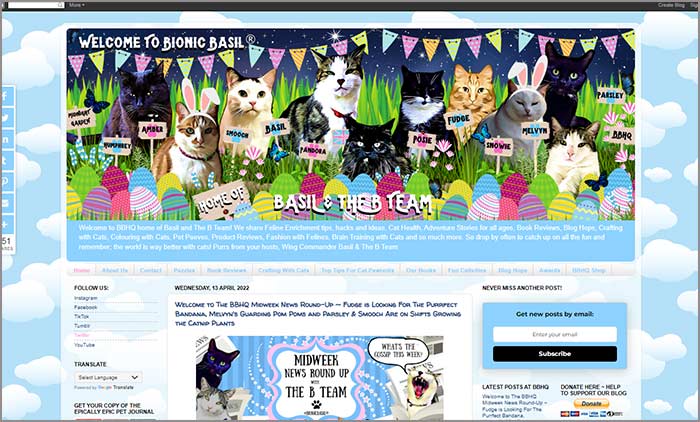 2. Bionic Basil
Top blogger – and P.A./'Purrsonal Assistant' to a team of creative cats – Cathrine Garnell stays in the same spot for another year. Continuing to blog in honour of cat Basil, Cathrine and her 'B-team' of moggies check out products for pets including fashion, crafts and books. Find feline enrichment tips, hacks and ideas, cat health, adventure stories for all ages, colouring and crafting with cats, pet peeves and brain training. Also highly recommended – all the extra-fluffy pics of the B-Team being posted.
3. The Dogvine
Another non-mover is The Dogvine – the 'Timeout for London Dogs' living in the capital or planning a visit soon with their humans. Your pup can paw through the Blog, Dog Events Calendar and Dog-Friendly Directory channels to find fun things to do – current recommendations you and your pet may want to check out include a plant-based hub in Hackney Wick, dog-friendly vegan restaurants, hotel afternoon teas and a townhouse dedicated to dogs in Chelsea.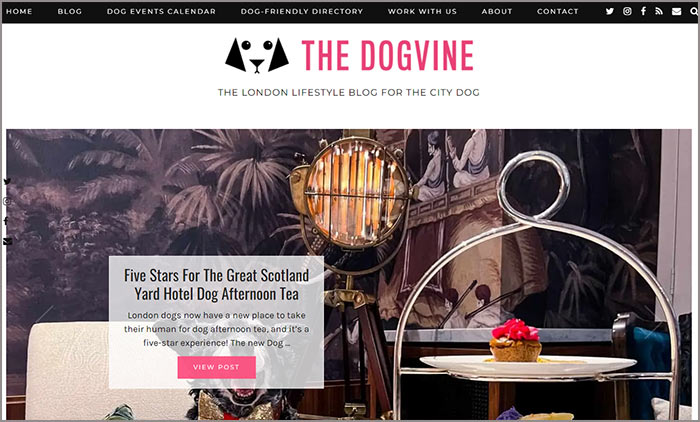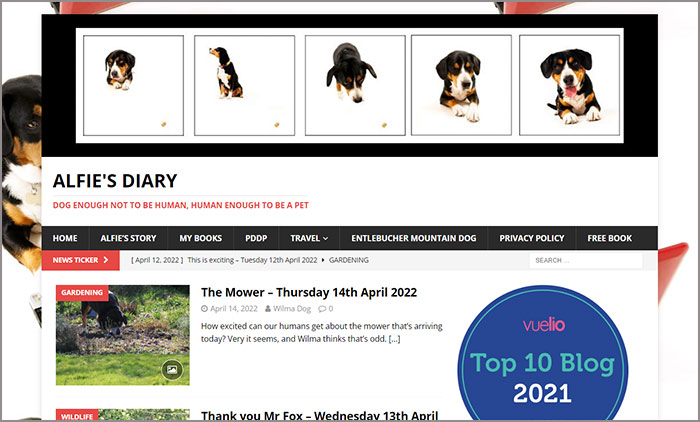 Moving up several places this year is Alfie's Diary, which started with the fantastic dog Alfie, and now continues with wisdom from pups including Wilma, who took over the Diary in March 2020. The journeys of Wilma, an incredibly busy dog, and her buds are regularly shared on the blog – in April so far, it's included trips to Burton Dassett Country Park, Lickey Hills and her own garden. Looking for ideas for places to visit with your pets, or just want to flick through cute pics of Wilma – make a note in your diary to visit this blog.
Also moving up the ranking is Miss Darcy's Adventures, where 'the extraordinary life of a London dog' – that's cockapoo Miss Darcy, and her brother George – are dutifully chronicled in sections including the Dining Directory and Travel Directory by their human mum May. 'My paws are not very adept on the keyboard,' shares Miss Darcy, 'I am dictating my stories to Mum as she types my posts'. Miss Darcy and May have hot tips for date nights and can recommend wining and dining in dog-friendly restaurants across London, just for a start.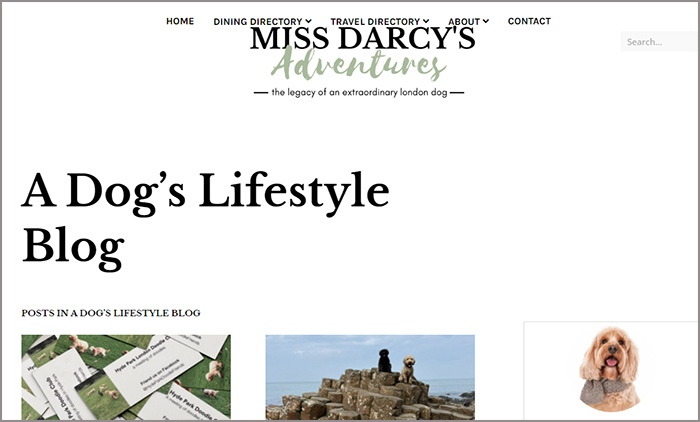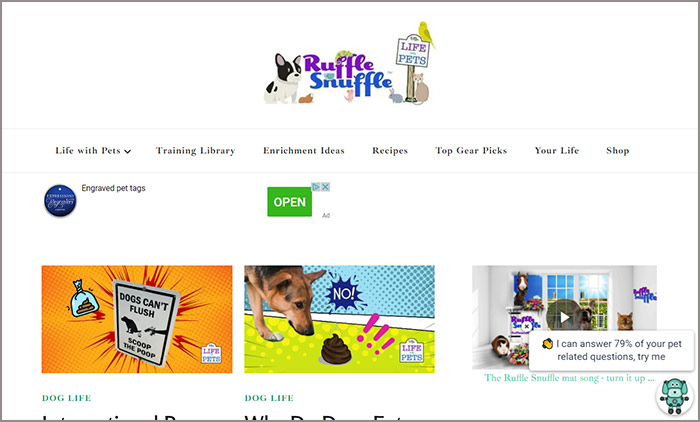 6. Ruffle Snuffle's Life With Pets
Pets can take many forms, of course, and if you don't particularly get on with cats or dogs, this is the blog for you. Animals covered alongside the felines and canines include amphibians, guinea pigs, rabbits, reptiles as well as many more possible pets. All ways to ensure your animal companions are happy and healthy can be found in the Training Library, Enrichment Ideas section, Recipes channel, the Top Gear Picks reviews and Your Life features.
7. Athena Cat Goddess Wise Kitty
Wandering her way into our ranking of top pet bloggers is the marvelously-monikered Athena Cat Goddess Wise Kitty, who offers her readers 'some kitty goddess wisdom and life with a creative mum' on her eponymous blog. Athena was adopted by her human mum Marie and now helps to get the good word out about pet adoption and raises awareness for animals in need across the world. Just as important, however – the blog's Caturday Art, where Athena is rendered in a variety of filters and art styles befitting a goddess.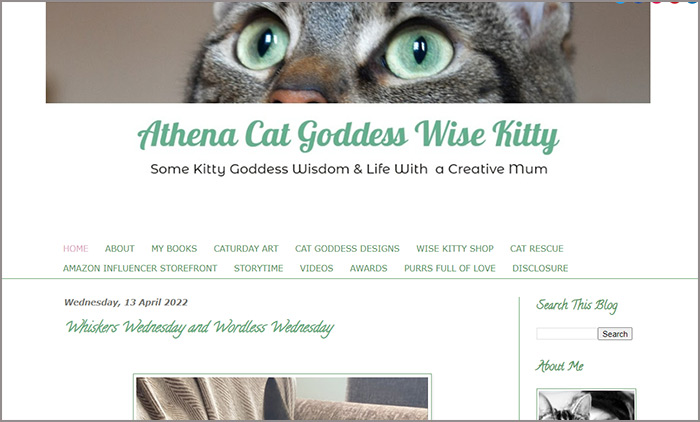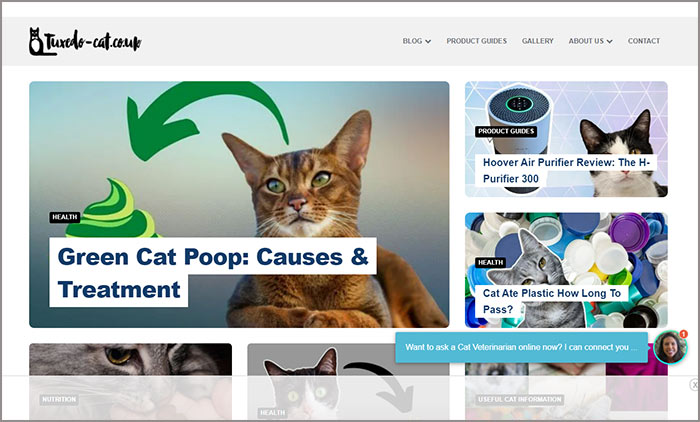 8. Tuxedo Cat
Another new cat in town here – if you aren't already acquainted, meet Whisky (cat) and Dan (person). Originally a self-confessed 'dog man', Dan realised the error of his ways and is now here, with a team of contributors, to 'educate and inform people about how great Tuxedo Cats are while also seeking to answer all your cat-related questions'. Cat-focused Categories on the blog include Behaviour, Breeds, Care, Health, Nutrition, Predators, Product Guides, Senior Cats, Training and all-round Useful Cat Info.
9. The Paw Post
Freelance journalist and pet industry expert Rachel Spencer originally launched The Paw Post back in 2017 after finding herself with many stories to tell. Alongside writing for national press outlets, magazines and websites, Rachel tells the tales of 'people making a difference in the lives of our pets' on her blog. To get ready for the hotter months (if, indeed, we'll be experiencing any of those in the UK this year) read her advice for keeping pets cool and even how dogs could be the key to finding your perfect partner…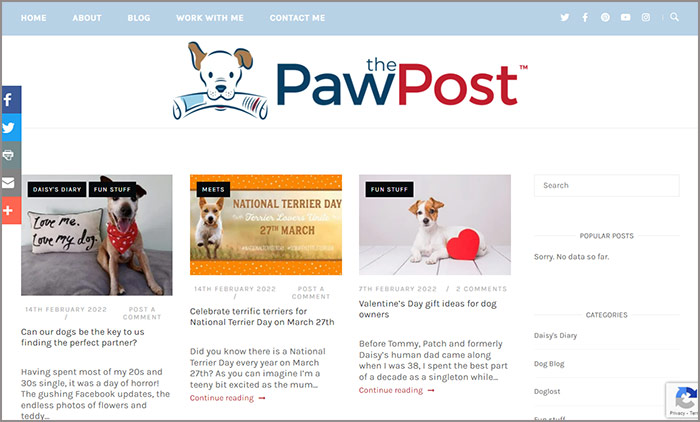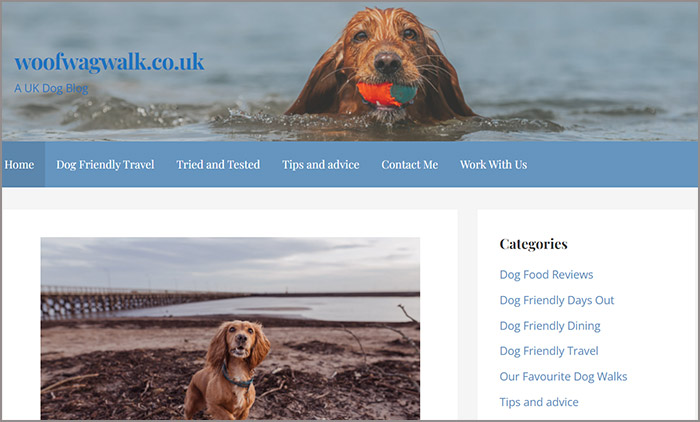 10. WOOFWAGWALK
And we complete our pet blog ranking for another year with WOOFWAGWALK, featuring the 'photogenic cocker spaniels' Maya and Lucia doing all manner of woofing, wagging and walking as well as many other fun and fluffy things. Fellow dog lovers can find the best of the best for their furry friends in sections including Dog Food Reviews, Dog Friendly Days Out, Dining, Travel, Our Favourite Dog Walks, Tips and Advice as well as Tried and Tested (Maya and Lucia have done all the dog-work so you don't have to).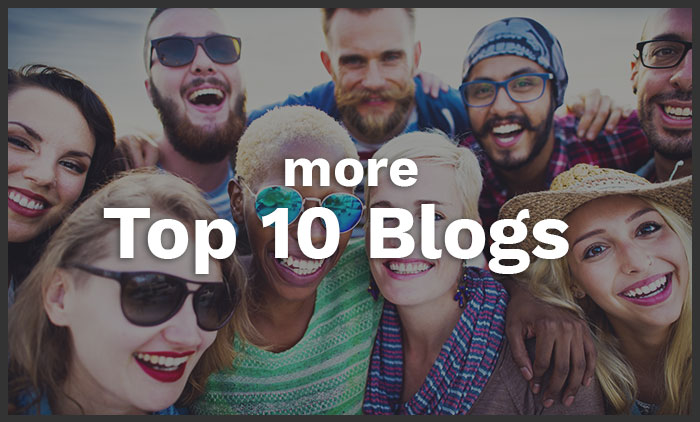 Collaborating with bloggers requires mutual respect and understanding: respect their schedules; take time to read their content to learn their interests; and only contact them if/when they want to be contacted. You can see more advice in our blogger spotlights. 
Profiles of these  blogs and their authors can be found in the Vuelio  Media Database.
https://www.vuelio.com/uk/wp-content/uploads/2022/04/Pet-blog-ranking-feature-image.jpg
430
760
Paul Burvill
https://www.vuelio.com/uk/wp-content/uploads/2023/09/vuelio-logo-200px.png
Paul Burvill
2022-04-20 09:20:49
2022-04-21 14:20:51
Pet Blogs UK Top 10