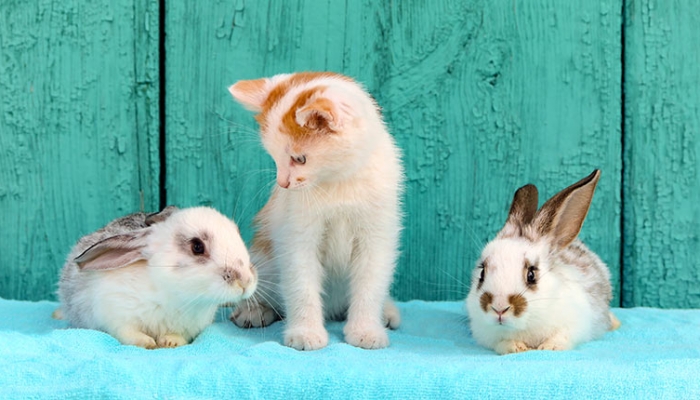 Last updated 21/04/2021
Vuelio uses a proprietary algorithm to create these rankings, based on topic-related content in blogs on its system – you can read more about the process here. Our research team actively seeks out new blogs and bloggers for inclusion, but if you think we've missed someone, please get in touch to let us know.   
1. Katzenworld
Whether you're on the side of cats or dogs when it comes to the battle of the best pets (though rabbits, hamsters and goldfish are underrated, by the way), cats are still very much the centre of bloggers Marc-Andre and Iain Runcie-Unger's world. Katzenworld tops our UK Top 10 for pet blogs for another year, catering to readers united by a love of felines. 'Because we loved reading about cats on the internet we were really keen on putting together a portal not just for our own cats but also as a one stop source on all things cats for our friends and fellow cat lovers,' say Marc-Andre and Iain. Fellow cat lovers who are curious – go investigate.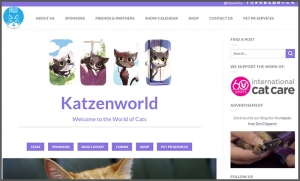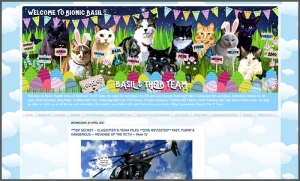 2. Bionic Basil
Continuing the good work of original inspiration (and cat) Basil, his siblings the 'B-team' head up this cat-focused blog with their P.A. (that's 'Purrsonal Assistant') Cathrine Garnell. Kitty-contributors to meet here include Humphrey, Amber, Smooch, Parsley, Pandora, Fudge and Melvyn, who give their verdicts on new pet products, books, crafts, fashion and more. Recently recommended by the B-team – garnets (Melvyn loves them), breathing exercises (Smooch's speciality), and the blog's colouring pages. Something we can recommend – the Sunday Selfies of the team (very fluffy, very handsome).
3. The Dogvine
Sticking at number three is The Dogvine, which – as you may have heard on the grapevine – is the 'Timeout for London Dogs' in search of interesting things to do. Curated by Teresa Keohane, The Dogvine's lifestyle recs for the city dog are split into Blog, Dog Events Calendar and Dog-Friendly Directory sections. Living in the capital, like Italian food and not sure what to check out with your pup now that lockdown is easing? Check out the 19 great dog-friendly pizza restaurants to try in London and then catch up on why London is Europe's top city for pets.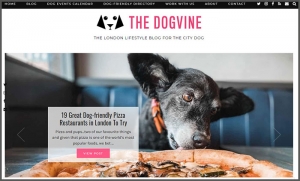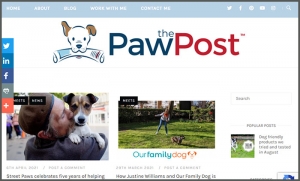 Freelance journalist Rachel Spencer shares insight from the pet industry for national newspapers, mags and websites including The Sun, the Daily Mail and Closer, but to get her knowledge straight from the source, there's The Paw Post Pet Blog. Having launched in May 2017, the blog is for animal lovers in search of inspiring and heartwarming stories, which include a celebration of five years of Street Paws helping homeless pet owners, National Terrier Day and advice on how to help your dog cope with life after lockdown (and less access to human friends who provide treats/belly rubs) .
5. WOOFWAGWALK
For all the things that make dogs woof, wag and walk with happiness, there's WOOFWAGWALK. Maya and Lucia – two 'gregarious, friendly and well-behaved photogenic cocker spaniels who are happy to participate in most activities' – are very much into walking, exploring the UK, taking breaks away and sharing the best bits with their readers. Read up on what they think of holidaying in Yorkshire, insect-based cold pressed dog food, luxury leather dog collars and leads and much more in the sections Dog Friendly Travel, Tried and Tested and Tips and Advice.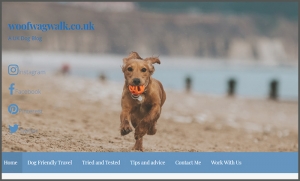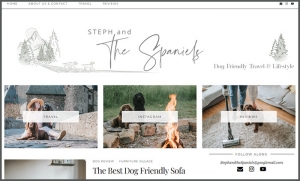 Blogger Steph and her spaniels Sev and Lily are busy sharing dog-friendly travel and lifestyle, posting reviews of products, brand and places, covering dog-friendly events, putting together social media content and takeovers, and even finding time for the occasional dog modelling gig. Steph describes the website as 'a passion I love to create' as well as a 'dog friendly resource for others to be inspired by' – so get inspiration from posts on the best dog-friendly sofas, how to be the best dog mum around and how to manage joint custody of dogs so your furry friends get all the love they deserve in life.
Continuing on in memory of the marvellous Alfie are blogging dogs Wilma and Aristotle, who are 'dog enough not to be human, human enough to be a pet' and post about their day-to-day lives. Looks at lovely local walks and kennels are covered as well as the tougher parts of living with a pet, including the rise of dog theft during the pandemic. It's been a tough year for pet owners as well as our animal friends – if you're looking for a cheer up, flick through the flashback photos and take a look at some of the great charity work happening across the country that's highlighted here.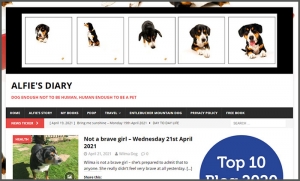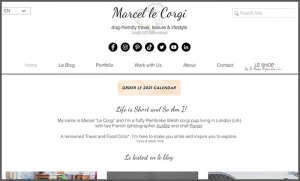 8. Le Corgi
We say 'bone-jour' once more to Marcel 'Le Corgi', 'fluffy extraordinaire' and star of the Le Corgi blog, which rises up a place in the ranking this year. A hello also goes to Aurélie Four who just happens to be the blogger behind the Purebred Pembroke Welsh corgi, as well as a social media manager and photographer. The 'renowned travel and food critic' Marcel is 'here to make you smile and inspire you to explore' – recent posts aiming to help with this focus on foods to avoid feeding your dogs, the benefits of raw feeding and dog-friendly UK cottages. Also guaranteed to make you smile – all the pictures of Marcel himself (extraordinarily floofy).
Carefully typed by her human friend, as 'my paws are not very adept on the keyboard,' Miss Darcy the cockapoo dog dictates her stories to share with readers of this popular blog, now also featuring the thoughts of brother pup George. This 'extraordinary life of a London dog' (and her bro) includes Happy Trails, which take in UK, European and North American Travel (all hopefully starting up again very soon), as well as a Dining Directory and Wine & Dine Articles. Want more about Miss Darcy & co's extraordinary adventures? You can also sign up to her newsletter.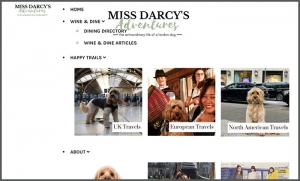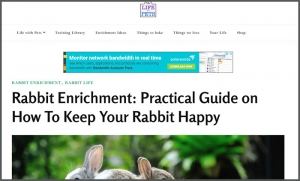 10. Ruffle Snuffle's Life With Pets
And new to the pet ranking this year is Ruffle Snuffle, which focuses on life with pets including puppies, dogs, cats, guinea pigs, rabbits, reptiles and amphibians as well as exotic pets. There's lots of information, for almost every issue imaginable for a pet owner/pet pal – take a look through the Training Library as well as the Enrichment Ideas section for ways to make the life of your pet even better. For example, did you know a great way to entertain your budgerigar is to add toys, climbing structures and hiding places to their cage and to make sure they've got quality tunes to listen to? Just make sure you pick the right ones for your budgie – they'll be sure to let you know if you don't, apparently…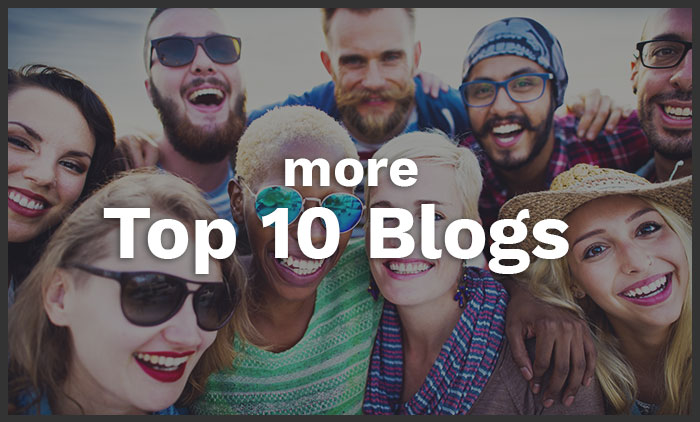 Collaborating with bloggers requires mutual respect and understanding: respect their schedules; take time to read their content to learn their interests; and only contact them if/when they want to be contacted. You can see more advice in our blogger spotlights. 
Profiles of these  blogs and their authors can be found in the Vuelio  Media Database.
https://www.vuelio.com/uk/wp-content/uploads/2021/04/Pet-Blogs-UK-Top-10.jpg
430
760
Holly Hodges
https://www.vuelio.com/uk/wp-content/uploads/2019/09/vuelio-logo.png
Holly Hodges
2021-04-21 09:35:49
2021-04-21 10:05:04
Pet Blogs UK Top 10