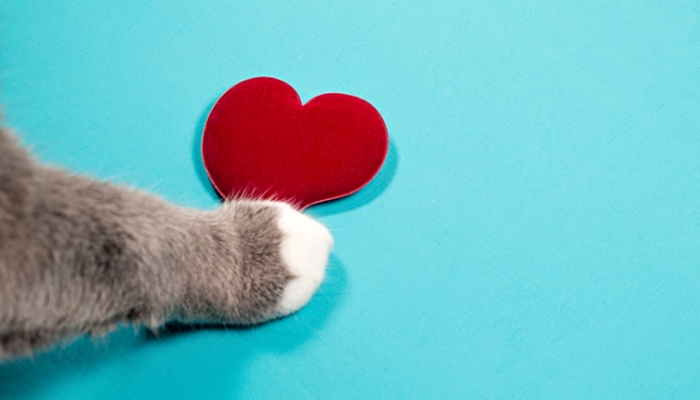 Last Updated 15/04/2020
1. Katzenworld
Still at the top of the pet blogs in the UK is cat-focused Katzenworld, which comes from feline-fans Marc-Andre Runcie-Unger and Iain Runcie-Unger. Featuring posts on our be-pawed pals from across the world, the blog splits content into Mews (that's cat-speak for 'news'), International Mews, Advice & Tips Mews, Tummy Rub Tuesday (the best day of the week) and The Friday Art Cat (…maybe also the best day of the week). For all you crazy cat and kitten owners, Katzenworld is here to help with pets who're getting confused with all the extra time you're spending at home these days. Find ideas for lockdown fun, help with virtual veterinary care benefits and learn how to distract your kitten-kids from your keyboard when working from home – purrfect.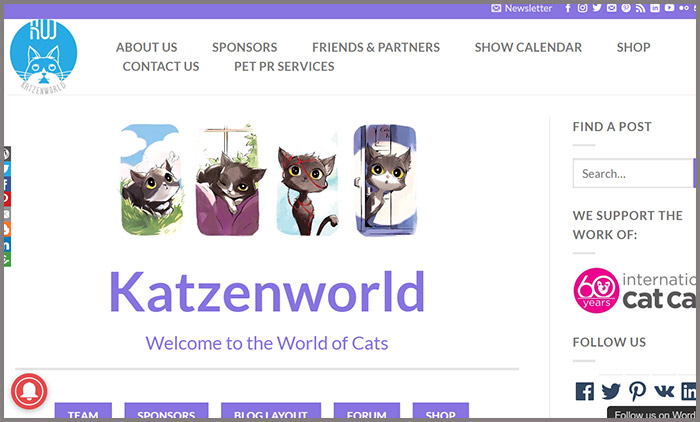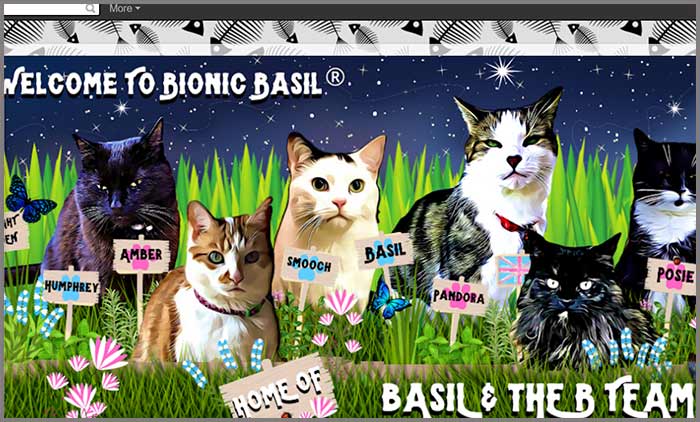 2. Bionic Basil
Though Basil, the original inspiration for this blog, has since walked over the Rainbow Bridge, him and his siblings on the 'B-team' (and their assistant blogger Cathrine Garnell) continue to share their thoughts on the latest book releases, cat crafts, pet peeves and more on Bionic Basil. Get introduced to the full team of cat-contributors – that's Humphrey, Amber, Smooch, Pandora, Posie, Fudge, Snowie and Melvin – on the home page, and then dig into recent content like breathing exercises with Smoochie, 'getting your OM on' with colouring books, and the dedicated puzzles page featuring Melvyn's Really Relaxed Selfie jigsaw puzzle. The B-Team are all working hard to keep their fans busy (along with fluffy pics of their fam).
3. The Dogvine
You may have heard it on the Dogvine, but this blog from Teresa Keohane is a good place to start digging if you need all the info London dogs need to know. This 'Timeout for London Dogs' – or rather, at the moment, the 'Timein for London Dogs' – is tried and tested for London-local dog-friendly restaurants, parks and other activities to get out and about with your pooch. While pet-owners are in need of something more socially-distant right now, Teresa is helping out with posts on virtual dog events you can join online and free resources for keeping your dog entertained at home. And if your canine flat mates aren't providing all the support you need right now, check out The Dogvine's list of London groups for dog owners struggling during self-isolation.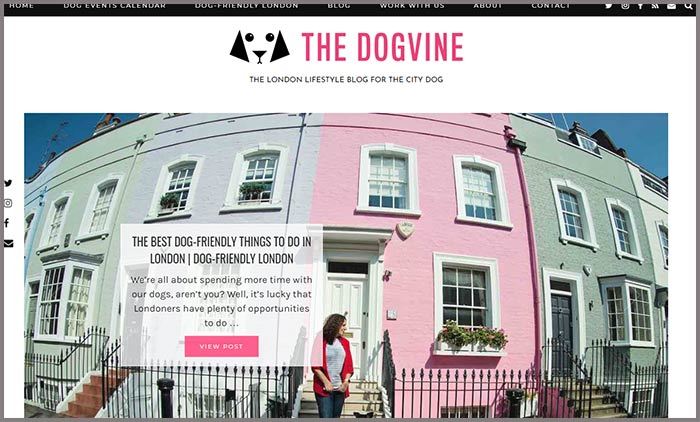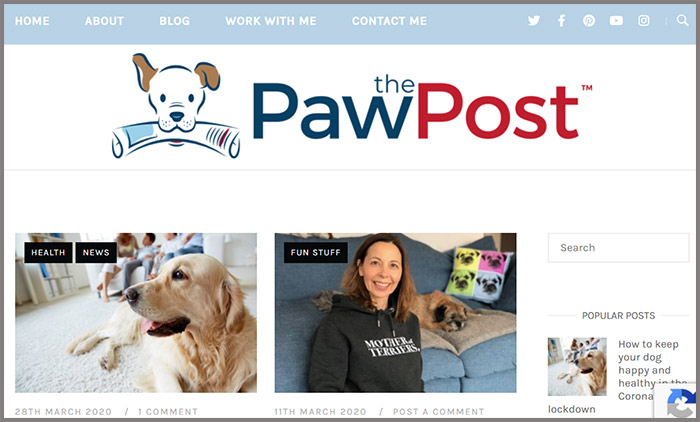 Patch the terrier and his 'Crazy Dog Lady' co-worker Rachel Spencer are the human-dog duo sharing their pet-related wisdom on The Paw Post Pet Blog. Both love trying out new gadgets and treats (Patch especially being a big fan of the treats) and highlighting the work of people making a difference with charities including Street Paws and StreetVet, Medical Detection Dogs, DogLost.co.uk and Canine Hope. It isn't just dogs who get all the attention and affection here, though – cats and rabbits also get the occasional look-in, as well as squirrels. Mainly in posts like, 'how to stop dogs chasing squirrels' though. But with squirrel-chasing down to a minimum now, Rachel and Patch are also sharing ways to keep dogs happy and healthy at home.
Steph and spaniels Sev and Lily endeavor to find everything dog-friendly out there with their unique brand of 'Human & Hound Style & Adventure'. The blog features product and place reviews and even some stylish (and trendy) dog modelling. Going beyond blogging, their social media presence now extends to brand collabs on TikTok, where you can find what dogs would bring back when tasked with the shopping and how they can keep fit with dancing for dinner.  Also useful for dog owners over on the main blog – top cleaning tips for when you have to hoover around your hounds, dust without disturbing your dachshunds and spritz up spaniel living-quarters (Important note: other breeds are available and also just as snuggly).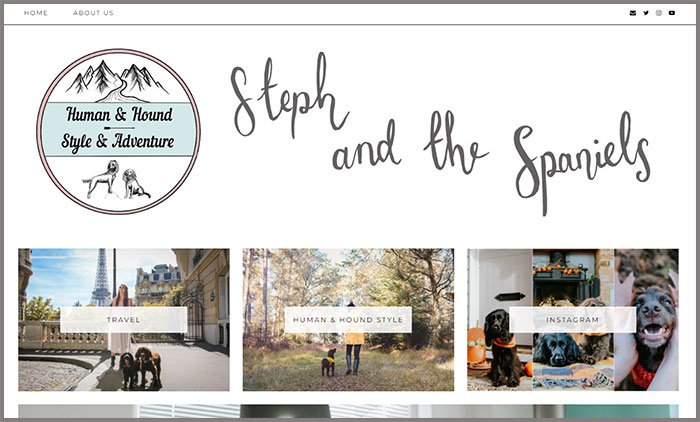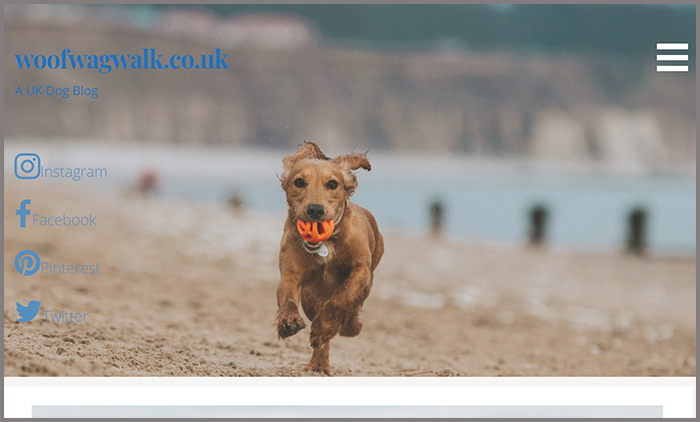 6. WOOFWAGWALK
Run, don't walk, over to the online home of cocker spaniels Maya and Lucia (and their human) for a vicarious look at the top dog hotels, luxury dog fashion and fancy trips outside. Sections include Dog Food Reviews, Dog Friendly Days Out, Dog Friendly Dining, Dog Friendly Travel, Our Favourite Dog Walks, Tips and Advice and Tried and Tested, and content goes back as far as November 2016, so there's lots to check out in between dog walks. 'Maya and Lucia are gregarious, friendly and well-behaved photogenic cocker spaniels who are happy to participate in most activities' according to their human co-blogger, and love collaborating with brands. Check this one out if your pets also enjoy the finer things in life.
Alfie is a very busy dog. As well as holding down his responsibilities as a blogger, Alfie runs his local Pet Dogs Democratic Party and serves as Head of Pets for his Mistress and Master and fam Shadow, Megan and Aristotle. Alfie is also an author, but writes most regularly for his blog, where he shares what it's like to be 'dog enough not to be human, human enough to be a pet'. Recent events Alfie has reported on – 'this lockdown thing', what he made of his Easter treat hunt over the weekend and helping his Mum and Dad to fix a gate. He also has words of advice for pet owners, so take note: 'I've heard from friends all over the world who are happily spending their time staring at their humans. I do realise the intensity of our devotion may be freaking out one or two of you, but that can't be helped'.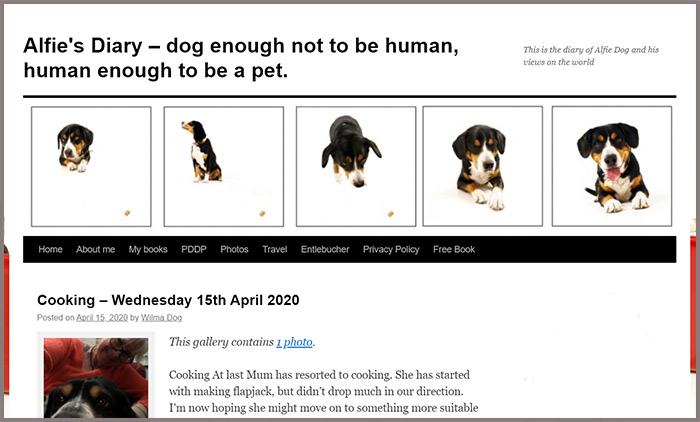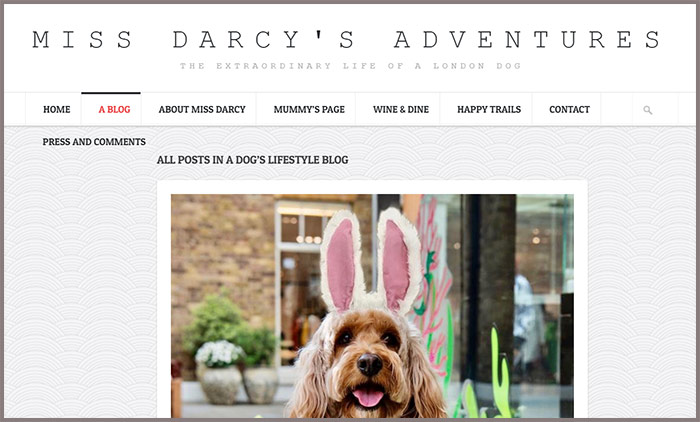 Focusing on 'The extraordinary life of a London dog', the chronicles of cockapoo Miss Darcy launched in February 2013, with help – as Miss Darcy herself explains 'my paws are not very adept on the keyboard, I am dictating my stories to Mummy as she types my posts'. Now joined by little brother George, Miss Darcy's has been busy posting about well-being and training, keeping social, grooming/spa retreats, apparel and more. This dog-blogger is also a big fan of travel, having previously visited six countries in the span of 24 hours. While things are a little quieter though, she's taking the time to enjoy full moons, celebrate Easter and show support for the essentials. You can also check out mum May Wong's take on things over on the 'Mummy's Page' (Miss Darcy isn't hogging the blogging spotlight).
9. Le Corgi
'Bone-jour! Je suis Marcel "Le Corgi", fluffy extraordinaire' – get to know Marcel and his photographer/social media manager/handler/blogger friend Aurélie Four. Purebred Pembroke Welsh corgi Marcel lives in London and has amassed a following of 160k across Instagram, Facebook, Twitter, Tumblr, Pinterest and the blog (by the way, he's also a sought-after model, having worked with Helena Bonham-Carter for a Harper's Bazaar photoshoot late last year). Marcel and Aurélie's focus on the blog spans across travel and eating out – they've also reported on dog-accommodating hotels and restaurants across London for the Evening Standard's GoLondon. All the adventures shared on the blog come with marvelously modelled Marcel pics – go see what he's up to next.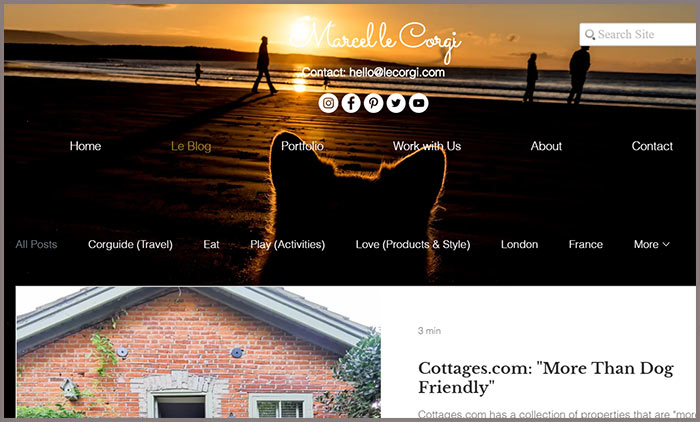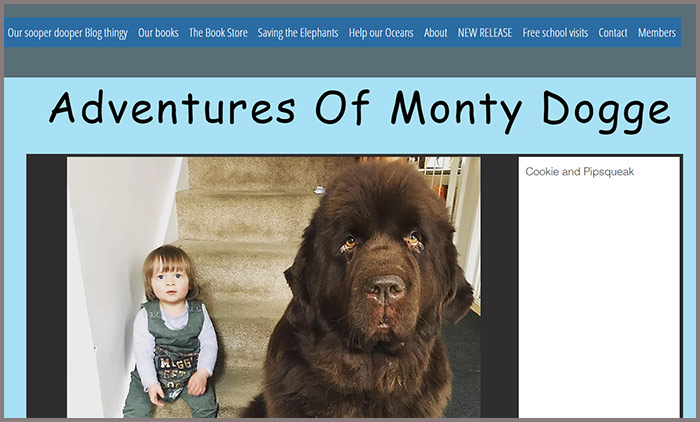 Mark Sanders is the 'hooman' behind the blogging of Monty Dogge's adventures, and Monty is the white and black Newfoundland volunteering in schools and nursery homes and fundraising for charities across the country. Having written children's books including I'm Not a Pandacow and Monty and Friends African Adventure: The Mission to Save Kaluwa, more of Monty/Mark's words can be found on their 'sooper dooper Blog thingy'. Find details of their past journeys, what they're all reading and even birthday poems (happy late-birthday for January, Monty!). What started as Facebook page 'Life according to Monty Dogge' back when the pre-eminent pup was still small, is now a popular blog where Mark can share 'the things that are really helpful to other pet owners'. Plus, lots of pictures of Monty working, which are just lovely to look at, really.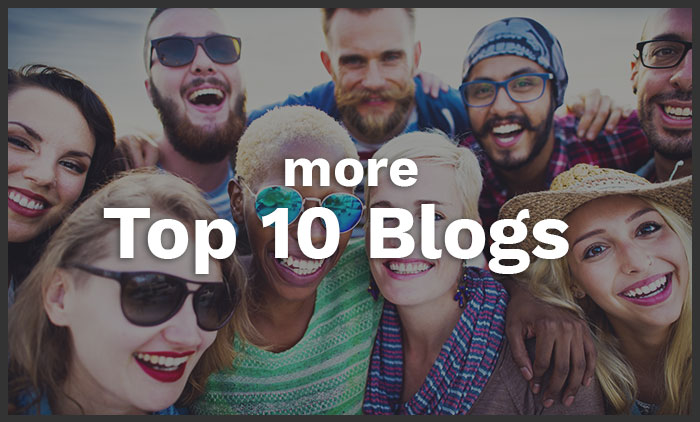 The fundamentals of working with bloggers are the same as with traditional journalists at traditional media outlets: respect their schedules; take time to read their material to learn their interests; and only contact them if/when they want to be contacted.
Vuelio's blog ranking methodology takes into consideration social sharing, topic-related content and post frequency. Profiles of these pet blogs and their authors can be found in the Vuelio Media Database.
https://www.vuelio.com/uk/wp-content/uploads/2019/10/Top-10-Pet-Blogs-Featured.jpg
430
760
Holly Hodges
https://www.vuelio.com/uk/wp-content/uploads/2019/09/vuelio-logo.png
Holly Hodges
2020-04-15 10:04:49
2020-04-15 10:35:46
Pet Blogs UK Top 10