Blogger Spotlight: Steph Savill, FOXY Lady Drivers Club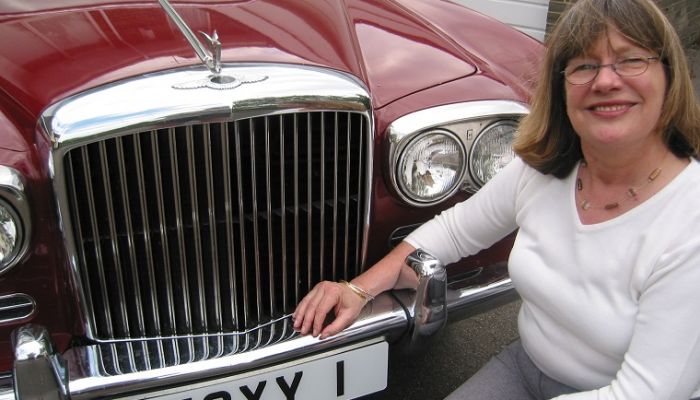 Steph Savill set up FOXY Lady Drivers Club to help improve the information and service female drivers receive after her step-daughter had a 'bad garage experience'. The FOXY Lady blog provides female drivers with advice and guidance to help them when researching the market for a new car, garage, or instructor, and also provides tips on leasing, car reviews, safety and more. In this spotlight, Steph, who recently appeared on our top ten automotive ranking, chats to us about the challenges of creating fresh content, providing a counter-narrative in a male-orientated industry, handling the pressures of staying on top of trends, and building a relationship with her audience.
How did you get into blogging? I have always liked writing and have strong views about motoring services for women. Blogging was an affordable way for a not for profit organisation to tackle two objectives at the time. One was to tell women about their motoring choices and the second was to tell the automotive industry what women want and why our gender matters to their bottom line.
What is the most challenging part of being a motoring blogger? I'd say it's a combination of producing fresh and topical content, maintaining a consistent attitude/style and posting regularly. On balance, for me it's finding the time –  sometimes ideas for posts come rapidly then I'll have other work priorities and there'll be a gap. Then there's the need for Twitter, Facebook and LinkedIn promotions afterwards. The channel tools might be free but my time certainly isn't! I wouldn't do it if I didn't enjoy it so I see opportunities more than challenges! But FOXY opinions don't always sit happily for an audience that includes petrolheads, qualified mechanics, racing drivers, bargain hunters and the rest of us that are too busy to know it all about motoring. I have to realise that I can't get it right for everyone every time but that's not to say I shouldn't try harder!
How would you describe the content on your blog? FOXY is a female motoring brand meaning shrewd and discerning. Our blog reflects the fact that women need to be both to enjoy value deals in such a masculine-oriented industry. Less about fast cars because that's covered elsewhere and more about everyday motoring choices in a largely unregulated industry. We post about garage services, accident repairs, car showrooms, motoring safety and everyday stories with women to the fore. And whilst our readership is primarily female, including FOXY Lady Drivers Club member families, we court a significant male following as well because our quality standards work for men as well as women.
Do you think that motoring bloggers have a big impact on their audiences' decision making when considering buying a new car? And if so, why? Yes, I do think motoring bloggers influence buying decisions. FOXY carries female car reviews of course but the major impact we have on women's car buying decisions is more often to do with the club's fantastic affinity car buying schemes so women don't have to haggle. Few females enjoy haggling, we find, and I think it's unfair that she who knows how and when to do this could end up with a better deal than an overly trusting female doing this on her own. Increasingly women join us to enjoy hassle free new car deals knowing that if anything were to go wrong (which is most unlikely), they'd have us to help.
Are there any shows that you're looking forward to this year? We're actively involved in the new Brighton and Hove Motor Show on 10 and 11 June 2017. It's the first of its kind for ages and as well as the latest cars of course, there's lots going on for families. I'm really excited about this and we'll be blogging about the programme as it develops. Other than that, we're close to Goodwood and always enjoy the Festival Of Speed, especially when the sun shines.
Aside from motoring, what else are you interested in? I support Newcastle United and Brighton and Hove Albion so my dream is for both of them to make it into the Premiership next season. Other than that I'm a book, film and theatre buff.
If you could own any car in the world, what would it be? And why? A little Lotus, if I could still fit in one. But with my practical hat on, I'd just as much own a really stylish Airstream camper van. And have the time to drive either of them round the UK. Dream on Steph…
How did you build up a relationship with your audience? We're luckier than most bloggers in that we have a club of some 15,000 member families to feed. We publish a monthly newsletter and we usually include links to blogs that members might be interested in or have missed. Most importantly I hope our relationship is one of trust. We don't sell at women, instead we provide insider advice and information, share feedback and are here to support them when motoring gets stressful.
Do you feel pressured to stay on top of trends? This is my job and motoring is my topic so I don't feel this as pressure. I can't be an expert in every automotive field of course but I'd like to think I'm probably ahead of the curve when it comes to measurable signs of quality (and what the rogues get up to) in the motor industry. If you're interested in a subject you pick up on trends as you go – it'd be odd not to.
What have been your favourite PR and affiliate campaigns that you have worked on? And why?
Undoubtedly this is our tyre safety campaign that we organised during Tyre Safety Month last October. Too few females know enough about tyre care so we organise free tyre safety checks across the UK, working with garages we can trust and which sign the FOXY Promise to 'never sell women anything they don't need.' We won the 2016 Tyresafe charity 'Online and Social Media' Award for our work here and we partner with tyre businesses that share our vision for improved fast fit services here.
What advice would you give to PRs who would like to work with you? Please understand our not for profit motives and try to add value for our female readers. We need content with female appeal and we only work with businesses that meet our high standards. Speaking personally, I am always wary of surveys quoting high percentages (from undeclared low samples) intended to advance a particular perspective. And we're unlikely to carry anything that either makes fun of, or is unfairly critical of, women drivers.
Will you be working on any exciting projects this year? Yes, we're excited about a new Register of Female Friendly Driving instructors that meet our standards for women. We're keen to promote a range of driver training options to women, regardless of age. We talk to so many who suffer confidence issues – many are frightened of driving at night or on motorways and we want to help them overcome this helped by Instructors who understand these concerns. We'd also like to encourage more women to become Driving Instructors in future (there are too few as yet), so you can expect to read more about this in future FOXY Lady blog postings.
https://www.vuelio.com/uk/wp-content/uploads/2017/03/Steph_savill_LadyDriversClub.jpg
570
760
Merryn Williams
https://www.vuelio.com/uk/wp-content/uploads/2015/10/vuelio-logo-transparent.png
Merryn Williams
2017-03-16 10:10:17
2017-03-16 10:20:47
Blogger Spotlight: Steph Savill, FOXY Lady Drivers Club