Blogger Spotlight: Turning blogs into big bucks with Vicki Psarias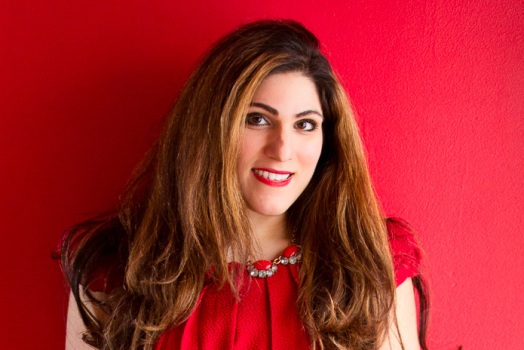 'Blogging really is brilliant,' says Vicki Psarias, a mum-of-two who has turned her two blogs, Honest Mum and Mummy's Got Style, into successful businesses. How? From taking on many roles head on – a mum, blogger, writer, model, filmmaker, brand ambassador, YouTuber, lecturer and more. In this interview she spoke to us about how she does it all and the best practices bloggers should follow for effective outreach. 
Why should people read your blog? What makes it different? My readers tell me they enjoy how diverse honestmum.com is, I blog there about my family life, food, pro-blogging tips, film, beauty and more. My other blog, Mummysgotstyle.com is solely based on mine and my family's style.
I run my blogs as magazines and write about my passions.
I think the best blogs give away something of themselves. It's about having an emotional connection with your readers.
How do you measure the success of your website? Firstly, I think I'm my biggest critic so I judge my own success on whether I'm happy with the content and quality of my blog posts but of course being a public blog, it's important to me that not just my Big Fat Greek Family read it (although thanks guys, you rock) and it's reaching as wide an audience as possible.
I love receiving blog comments, and connecting with my readers and followers on social media…Having a background as a lecturer means I take great pleasure in helping others too. It really makes me happy when others say my posts have inspired them or comforted them in some way.
Readers often inform me too that my blog has encouraged them to become a pro-blogger or change direction career wise. I hope it's a fun, stimulating and inspiring read.
..Stats matter to me too. I'm a creative but also enjoy the analytical side of things and running my blogs as businesses means needing to know the figures.
I also like to be as up to date as possible when it comes to technology. I work with a designer to keep my blogs looking their best and I rely on Google analytics to offer me insight into what works and what doesn't so I can constantly improve.
I often ask my readers on social media what they want to see more of too.
What's your favourite blog and why? I have to return to the first parenting blog I ever read-a US blog The Mama Bird Diaries. Kelcey's voice is honest, engaging and hilariously funny, it's an unmissable read.
What advice would you give to someone who wants to start a blog? Go for it! I would recommend opting for self hosted wordpress especially if you want to monetise your blog and that could happen quickly too.
Write about what you'd want to read yourself, what matters to you.
Funnily enough, the more you write, the more you write!
Read widely and that includes blogs outside of your community too, for inspiration.
Creatives are naturally riddled with self-doubt, it's part of the process but feigning confidence leads to truly feeling it.
Get active on social media, comment on lots of blogs to get your blog out there and most importantly, be kind to yourself, don't compare, the internet is a big place, there's room for everyone.
How do you work with marketers and PRs?
I've been a full time professional blogger for 2 1/2 years (my blog was conceived in November 2010), going from being a TV director to running my blogs as businesses.
 I didn't originally set out to monetise my blogs but as pro-blogging exploded over the last few years, it fitted perfectly with my need to find a job that worked around my young family and I absolutely love it. I can't imagine my life without blogging.
I have agencies who give me lots of regular work but I receive new business daily too. Most discover my blogs and email me via my Contact Me Page or work has come via Twitter a lot too.
I'm a brand ambassador for Nova Harley so I model and endorse their beautiful bags across global campaigns and I'm also paid by brands for social media packages along with advertising, paid posts, paid competitions and display ads. Mode Media looks after the latter. 

Who do you work with in brand marketing? PRs? SEOs? Anyone else?
I also offer consultancy work to both big and small brands and give lectures and talks at blogger events or on behalf of brands, and I'm often paid to attend events too.
My modelling and film work, on camera and behind is also part of my business.
I have been hired to appear in films for Yahoo, Selfridges and bareMinerals among others and I intend to do a lot more of my own YouTube videos too this year!
I'm represented as a model and presenter by the prestigious Nemesis agency too. I was one of their first blogger signings!
Can you list five best practices for blogger outreach?
1. Make your blog slick. It doesn't have to cost a lot to make your blog look professional and you can hire a designer if you don't feel confident to design it yourself. Ensure your social media details are easy to find and you have a Contact Me Page too.You want paid work, make it easy to be commissioned.
2. Be professional however small you deem your blog to be. Big or small, your audience is targeted and matters to the PR. Create a media kit (I omit prices on mine as I like to negotiate one on one) but include it on your Work With Me Page (don't have one, get one) and email it out to enquiries too. A clear document listing your stats, a bit about yourself and any notable press is a good place to start. There's lots of inspiration on Pinterest too.
3. Be polite. Even when PR's are requesting freebies, be polite but firm in your response, explain that you are a pro-blogger (say it and believe it) and that you always charge for PR.
Many will surprisingly and magically find a budget and even if they don't on this particular campaign, they will keep you in mind for future paid ones. Also it's not all about the money too, if you feel unpaid collaborations will work in your favour and will enrich your life in some way then go for it.
4. Remind PR's of your work. Don't bother them of course but once or twice a month, drop PR's you've worked with a quick email that you're available for future campaigns and to please consider you is all it takes. Marketeers work with so many bloggers that it is in your interest to stay in touch.
5. Be prompt. Campaigns have deadlines and although life can sometimes uncontrollably get in the way, 99.9% of the time, do meet those deadlines and if you really think you'll miss one, be honest with the PR.
Well written, personal, natural advertorials will mean lots of future work for you. Hard work pays. Literally.
What has been your blogging highlight so far?
There have been many of which I'm so grateful for but featuring in British Vogue, modelling for Nova Harley, appearing in the campaign film for bareMinerals, being invited to the world premieres of Paddington and Get Santa and writing weekly, sharing mine and my family's lives for Grazia Daily are a few that really stand out.
What will be big in your blogosphere in the coming months/2015?
It's hard to predict as it's such a fast-growing industry but much more native advertising on behalf of brands, lots of natural fitting marriages between companies and bloggers and seeing a lot more bloggers in the mainstream media too. I love how democratic blogging is-you have a voice, you can use it and the opportunities are literally endless from creating e-shops to YouTube channels and ambassadorial work.  For working parents such as myself, it's levelled out the playing field and really brought equality to the workplace. Blogging really is brilliant.
Editorial information on Honest Mum, Vicki Psarias and thousands of other media outlets and contacts can be found in the 

Cision

 

Media Database

.

https://www.vuelio.com/uk/wp-content/uploads/2015/01/Vicki-P.jpg
350
524
Priyanka Dayal and Julie Hermans
https://www.vuelio.com/uk/wp-content/uploads/2019/09/vuelio-logo.png
Priyanka Dayal and Julie Hermans
2015-01-09 11:31:47
2015-01-09 11:31:47
Blogger Spotlight: Turning blogs into big bucks with Vicki Psarias