Blogger Spotlight: Sarah Anguish, Boo Roo and Tigger Too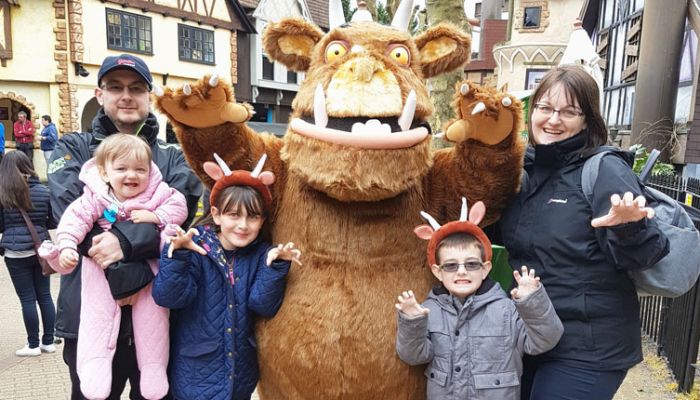 Sarah Anguish is the author of Boo Roo and Tigger Too, which recently appeared in the Top 10 UK Mummy Blogs. Sarah is Boo, the mother of the family and features the life and adventures of her family including Roo, 10, Tigger, 6, and Piglet, 1.
We spoke to Sarah about the dad blogs, the mummy blogger community and working with PRs (and a big tip of what NOT to ask!).
What makes your blog successful?
Success is all relative to the individual. Some will say it is landing a major campaign or receiving a high paying collaboration, but to me, a successful blog is one that people want to read, although I'm sure my friends and family make up a large proportion of my visitor stats! It is for the mum who stumbles across my blog at 2am searching for advice on how to deal with night terrors for her child; the mum who is returning to work following maternity leave and wants to know how to manage family life and a career. They are what I quantify as success, I have assisted them in some small part and hopefully managed to let them know that they have this and that others have gone through the same thing.
Why did you start your blog?
While on maternity leave with my second child I read lots of parenting blogs. With no friends who were also at the baby stage, I found comfort in their tales of teething, sleepless nights etc. However, the majority of blogs that I read were all about stay at home mums. As I was due to return to work following maternity leave, I decided to start a blog to showcase what family life is like when you have to juggle children, childcare and working life. Spoiler alert – it was difficult, very difficult at times, especially when my son was ill.
How are mummy blogs different from dad blogs?
Dads tend to get the rough end of the stick when it comes to parenting, with it often said that dad is babysitting the children while mum is out. That is not the case, with dads being just as much a parent as the mum. The rise of dad blogs has helped showcase that dads aren't the stereotypical breadwinner there to kiss little ones goodnight like we see in Mary Poppins. Times have changed, dads are very much part of family life and dad bloggers are challenging 'traditional' perceptions.
What's it like to be part of the mummy blogging community?
The mummy blogging community is very much like having an extended family, affectionately referred to as the friends in my computer. Over the years I have gained some wonderful blogging friends who have been on the other end of a tweet, a Facebook message or an email whenever I have needed them. There is always someone ready to answer a question, advise you about plugins and what Instagram hashtags you need to use.
How do you plan content with the kids?
There are aspects of my blog which the children are very much part of, reviewing items that we have been sent to try out for example. The older two children are now at the age where I leave them with a new toy or game to unpack, assemble and play with before I get involved and ask them questions. I find that they are much more honest in what they think of something if they have been part of the process.
When it comes to days out, I usually tell them ahead of time that there will be parts of the day where Mummy needs to get some photographs. Explaining that once this is completed the rest of the day is all about fun. My eldest will often take photos while we are out and will point out 'Mummy, do you think you should get a photo of that?'.
How do you feel about your kids growing up and reading the blog? (Are there any posts you DON'T want them reading?)
My eldest daughter is very much aware of my blog! She is very proud of the 'work' that I do and is happy to tell anyone who asks her (including her school teachers). There isn't any content on my site that I would be unhappy with her reading. This was something I was always conscious of when I started blogging. That being said, posts regarding having post natal depression may stir up further questions from her that I might be uncomfortable with.
What's your favourite collaboration with a brand or PR?
Over the past year I have been working with AVIVA alongside the AVIVA Community Fund, having the opportunity to witness first-hand what the funding will do for community projects and causes within in my local area. Budget cuts and lack of available grants mean that a large number of much needed community services are struggling. The community fund offers these groups the opportunity to submit a bid for funding, which if successful will enable them to provide a bereavement room in the local hospital linked to the delivery suite. This is a place to offer families in need of a quiet space required to start their grieving process.
What should PRs know when contacting you?
Please don't ask me to tell you what makes me unique. If there is one question that makes me shudder it is that one. I am me, a wife, a mum, a friend – nothing that I would say is special and certainly not unique. Like most people, I am just taking each day as it comes and fantasising about the days when I got more sleep.
What do you call yourself (blogger/content creator/influencer)?
I would class myself as a blogger, someone who is journaling life online. I'm sharing the mix of family life, home, travel and everything in between.
What other blogs do you read?
In the good old days of Google Reader I would often scroll through my feed while I was up for night feeds or one of the children was sick; reading new posts from all the blogs I had subscribed to and waiting for the latest installment of family life. Thankfully my Bloglovin feed still allows me the same service, so whenever I get five minutes down time I really love flicking through the mixture of content published.
I like to think of blog reading like my eclectic music collection – it depends on what mood I am in as to which blogs I turn to. So I'll share three different ones from various genres:
A Beautiful Space
Becky inspires me to make the most of my home. Whether I am looking for a complete overhaul or just looking to freshen up a room or two. With some great tips and ideas on how this can be achieved on a budget, A Beautiful Space is always a winner.
An Organised Mess
Debbie shares life on the south coast of Wales with her three children. Her amazing party planning ideas make me want to hire her as my own personal party planner!  Alongside this, she shares the highs and lows of family life with the juggling act of working away in London.
Mum in the Madhouse
Jen offers the perfect mix of crafts that I can actually achieve with the children, a dose of family life and some beautiful recipes – everyone needs to make her carrot cake, it is truly amazing!
Sarah and Boo Roo and Tigger Too are listed on the Vuelio Influencer Database along with thousands of other leading bloggers, journalists and editors. 
https://www.vuelio.com/uk/wp-content/uploads/2018/03/Boo-Roo-and-Tigger-Too.jpg
430
760
Merryn Williams
https://www.vuelio.com/uk/wp-content/uploads/2023/09/vuelio-logo-200px.png
Merryn Williams
2018-03-13 11:19:57
2018-03-13 11:23:05
Blogger Spotlight: Sarah Anguish, Boo Roo and Tigger Too