CIPR AGM hears from Reuters Institute's Meera Selva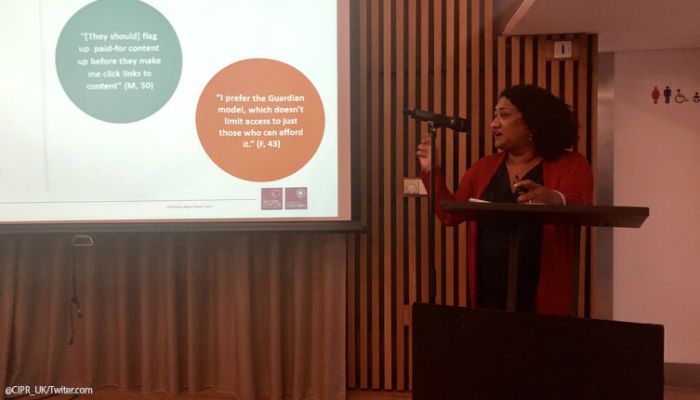 The CIPR held its AGM last night, reflecting on last year's results, the Institute's accounts and presenting this year's Sir Stephen Tallents Medal to Laura Sutherland (congratulations from all at Vuelio!). Following official business, the audience heard from Reuters Institute for the Study of Journalism's Meera Selva, who talked through the current state of digital journalism around the world.
Selva discussed the Digital News Report, which is based on 75,000 respondents in 38 countries.
The general theme of the report is one of concern for digital media, which is still struggling to keep up with audience requirements and societal pressure. While some mediums are doing better than others – the popularity of podcasting in particularly is rapidly increasing – there's still issues of trust, payment and competition.
Selva pointed out that people seem to be putting more trust in news brands, but it is in established brands while others are seen as suspicious. And while more individuals in the US, UK and Nordic countries are willing to pay for quality news, the technology is currently creating a barrier, as readers too often come up against paywall login screens.
A demand for a 'Spotify for news', where one login gives you permanent access to all paywalled brands, is very unlikely to materialise according to Selva, as there will always be publishers that believe readers will come directly to them who don't want to subsidise lesser brands.
There's also an issue of competition, which is increasingly likely to come from outside traditional news organisations. In the US, most people have one online subscription, but that isn't just for news. For example, a US citizen might make a choice between the Wall Street Journal or Netflix. Again, funding models have not found a way to compete with slick entertainment services and are therefore falling behind.
Selva also discussed the impact social media has had on news, where people are increasingly likely to access their news via social platforms rather than go directly to news sites. As such, algorithms and tech companies are the de facto news editors while publishers are having to become SEO wizards.
This is a problem for PR and communications because it allows fake news and misinformation to spread unchecked and makes the 'official line' of communication harder to determine.
The PR industry should be taking the decline of trust in the media and its reduced ability to hold those in power to account very seriously – without a robust, trusted, independent media, the PR industry cannot survive to serve its current function.
https://www.vuelio.com/uk/wp-content/uploads/2019/06/Meera-Selva-CIPR.jpg
430
760
Jake O'Neill
https://www.vuelio.com/uk/wp-content/uploads/2019/09/vuelio-logo.png
Jake O'Neill
2019-06-21 10:52:32
2019-06-21 10:52:32
CIPR AGM hears from Reuters Institute's Meera Selva