CIPR #AIinPR report urges preparation for 'the fourth industrial revolution' of artificial intelligence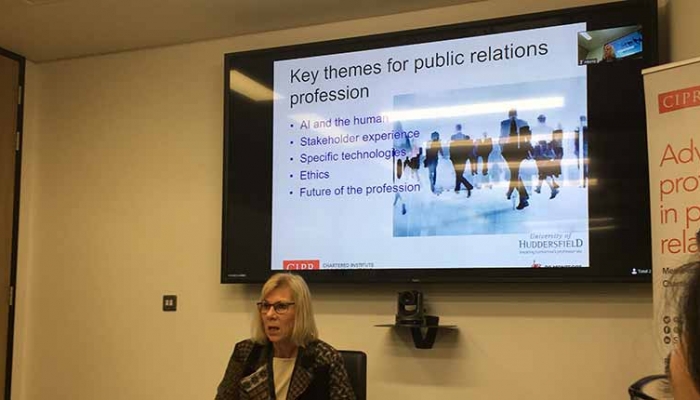 Robo-PRs aren't on their way to take over public relations agencies across the globe, according to the speakers at the launch of the CIPR's #AIinPR Panel report at The Alan Turing Institute this morning. That our industry should still prepare for other possibilities of machine learning and AI (beyond cyborg comms experts) was urged by Chair Kerry Sheehan, co-author Professor Anne Gregory and Drs David Leslie and Bertie Vidgen.
The nature of our work will change over the next five years as the technology we use gets smarter – so how can PRs prepare for the unavoidable impact of AI?
One main takeaway of 'The Effects of AI on the Professions: A Literature Repository' for PRs is the increasing importance of ethics. How will we use all the new data we'll soon have at our disposal, and where should we draw the line?
'A positive – AI is free from bias,' said Professor Anne Gregory on the automated data gathering and content generation that will soon be possible. 'We have to govern ourselves, however. We call ourselves "ethical guardians" – we need to keep asking ourselves those tough questions. Just because we can, should we?'
Anne highlighted a future of people 'AI-empowered' and those who'll be lacking, with PRs – reassuringly – being in a 'privileged position'. Alongside the bonus of its access to new tech, PR is made up of people with skills that AI can't duplicate. YetShe said: 'Social and emotional skills – crucial in our profession – are going to be more important'.
For Anne, communication is what will put PRs 'at the heart of strategy' – translators of context and experts in meaning-making when it comes to reams of meaning-free numbers and statistics. This is encouraging for anyone who has picked PR as a career, certainly, but drastic changes are still on their way.
A big topic of discussion was that a whole rung of the PR career ladder – entry-level positions – will likely be taken away by machine learning. How we as an industry will look after and continue to nurture young PR talent needs to be prepared for within agencies, now. 'The jury is out on whether AI will replace all our jobs,' said Anne. 'That it is going to change the nature of work is indisputable'.
Perhaps the most important key point from the launch of the #AIinPR report is that PR needs to start practicing what it preaches. 'PR talks a good game, but doesn't listen to itself', said Kerry Sheehan of PR's tendency to promote, publicise and then ignore useful reports and studies… such as the one being launched. AI will change the nature of work, across all industries. It will bring in new questions around ethics not yet covered by GDPR regulations, and spark new discussions around regulations and equality (can AI really be completely unbiased? We'll find out)
PR is in a position of privilege as technology will continue to change how the world of work looks, but also a position of great responsibility.
'This report doesn't advise how to navigate the use of AI,' admitted Anne, 'But it is designed to enable direct access to a suite of resources for readers to inform themselves.'
'PR has a vital societal and organisational role to play in the debate on AI but it needs to better prepare itself with practitioners upskilling to work smarter and faster in their roles but also becoming equipped to advise on AI adoption and deployment within organisations and business, and to its stakeholders and society,' said Kerry. 'It is our role to no longer debate on our own swim lanes – we must help drive business and organisations forward. This report is the first step in that preparation and I am delighted our partners such as CBI, The Alan Turing Institute and the UK Government Office for AI are supportive of our work.'
Prepare for the upcoming impact of AI on your work: read more about 'The Effects of AI on the Professions: A Literature Repository' here. Want more about the future of PR? Check out our write up on the incoming rise of VIs (virtual influencers) and lessons from last year's CIPR National Conference on 'Preparing for the Digital Future'.
https://www.vuelio.com/uk/wp-content/uploads/2020/01/Anne-Gregory-AIinPR.jpg
430
760
Phoebe-Jane Boyd
https://www.vuelio.com/uk/wp-content/uploads/2023/09/vuelio-logo-200px.png
Phoebe-Jane Boyd
2020-01-16 16:53:01
2020-01-16 16:55:15
CIPR #AIinPR report urges preparation for 'the fourth industrial revolution' of artificial intelligence