Content Marketing Webinar Q&A
This morning I hosted a webinar on content marketing, the recording of which will be available later this week. During the webinar we received a number of questions, which I have done my best to answer. If you have any further questions about creating content or content marketing, let us know in the comments below, or tweet me @MediaJake.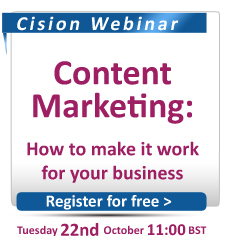 The two links I spoke about during the webinar were:
The latter includes some stats on visitor numbers and top referrers, as well as an interesting story about becoming a 'millionaire blogger'. The other questions we were asked are:
What happens if people don't click on the content?
We have a dedicated team that works with both our content marketing partners and you to ensure that your content is getting the best possible chance of an audience. By editing headlines and images and continuously A/B testing, we can monitor the performance of content and advise you on how best to proceed to ensure you reach the most people. We would not just create one option, cross our fingers and hope for the best; it's a very hands-on approach.
Can you do content marketing on an ad hoc basis?
While most of Cision's products and services require a full year's subscription, the Content Marketing Suite needs only a three-month subscription. Once you have signed-up you can use content marketing as and when you please, for as many campaigns you want depending on your budget.
Do you pick up articles that are written about us and then push that out via your channels?
We wouldn't do that without consulting you first. If you have one of our monitoring products, you'll be able to find articles written about you and we'd be happy to help you promote them via the Content Marketing Suite. Of course, if you're interested in sharing some PR or communications news for us to publish on this blog, then you can get in touch with Priyanka Dayal.  
What's the best type of content to promote?
It doesn't seem like any one type of content will work better than others, though the quality and subject of the content obviously plays a big part in its success. Initially what an audience will see is the headline, and in some cases an image too. It's good to have a variety of headlines and pictures which can be A/B tested. Our team can help you choose the best images and work out some alternative headlines – lists, numbers and statistics are all considered to perform well.
Depending on what your goal is with the content, you may wish to design the landing page of the content so that an audience can easily navigate to another part of your website i.e. 'more information', or 'sign-up'.
Are their guidelines or restrictions for content?
You should avoid blatant self-promotion, contests, giveaways and any inappropriate content – profanity, nudity, etc. All of the content should be valuable to a reader.
Find out more about the Content Marketing Suite, or ask a question in the comments below.
Priyanka Dayal
https://www.vuelio.com/uk/wp-content/uploads/2023/09/vuelio-logo-200px.png
Priyanka Dayal
2013-10-22 13:08:35
2013-10-22 13:08:35
Content Marketing Webinar Q&A