COVID-19: Weekly Economy Summary – 25 March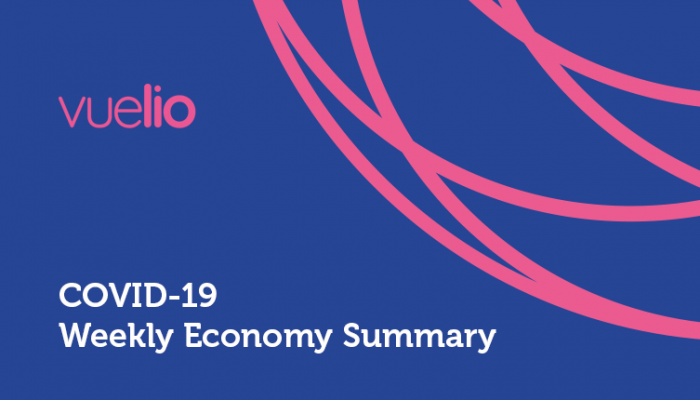 The Economy Summary is part of our Weekly COVID-19 Bulletin, sent every Thursday. You can sign up to receive your copy here.
The UK's debt has reached a new high as Government borrowing hit £19.1bn last month as it continues to battle the coronavirus pandemic and the economic fallout of lockdown. The Office for National Statistics (ONS) said the public sector had borrowed more last month than during any other February since records began in 1993.
The debt owed by public bodies has increased by £333bn since the start of April, the first month of full lockdown in the UK. It brings the total debt to £2,131.3bn or around 97.5% of GDP, the ONS said.
Central Government bodies are believed to have spent around £72.6bn running their day-to-day activities in February, a rise of £14.2bn compared with February 2020. This came as the Bank of England's (BOE) Monetary Policy Committee voted unanimously to maintain the Bank Rate at 0.1%.
The BOE expects inflation to return quickly to its 2% target but has played down concerns about rising borrowing costs and fears of rapid inflation. The strong vaccine rollout, coupled with a lower fall to GDP in January than expected, have led to cautious optimism from the BOE regarding the overall economic outlook.
The BOE has also indicated it will likely revise its forecast for unemployment down to match the 6.5% peak figure forecast by the Office for Budget Responsibility.
The UK unemployment rate, in the three months to January 2021, was estimated at 5.0%, 1.1% higher than a year earlier and 0.1% higher than the previous quarter. However, the bigger picture is one of stability in the last few months, after the labour market deteriorated through the autumn.
The furlough scheme has stopped the effects of lockdown feeding into falling employment in the latest months. In fact, the number of payrolled employees has now increased for three months in a row, although since February 2020, the number of payroll employees has fallen by 693,000.
While the headlines are encouraging, data again underlines the impact of the crisis on young workers. Payrolled employment in February was down 11% on pre-crisis among under 25s, compared to being down 1% among other age groups.
The Centre for Economic and Business Research released analysis of the cost of coronavirus to the UK economy. The report suggests that COVID-19 has been the predominant cause behind a £251bn reduction in the UK's gross value added over the past year, a fall roughly equivalent in size to the entire annual output of the South East of England in pre-pandemic circumstances and nearly twice the output of Scotland.
Business confidence has returned to its highest level since 2018, with 65% of firms confident about their growth prospects over the next three years, according to the Santander Trade Barometer.
https://www.vuelio.com/uk/wp-content/uploads/2021/01/Weekly-Economy-Summary.png
430
760
Ingrid Marin
https://www.vuelio.com/uk/wp-content/uploads/2023/09/vuelio-logo-200px.png
Ingrid Marin
2021-03-25 14:39:33
2021-03-25 14:39:33
COVID-19: Weekly Economy Summary – 25 March