Cycling blog spotlight: Brian Palmer, thewashingmachinepost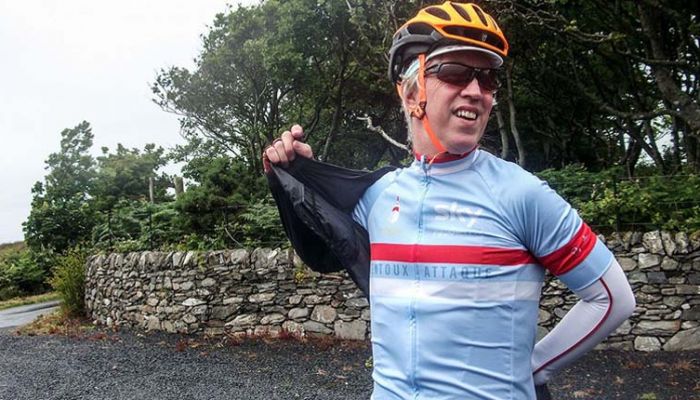 Brian Palmer is the author of thewashingmachinepost, a top 10 cycling blog. Covering reviews of cycling gear and equipment, as well as ride routes in Scotland and the Hebrides, Brian's blog has a loyal following of cycling enthusiasts. We caught up with Brian to find out about the best bicycles, his favourite collaborations and the fear that stops him reading other blogs.
How do you describe what you do to other people?
I write incessantly about road bike culture, hopefully with a soupçon of humour along the way.
How did you discover your love of cycling?
I don't like driving, so I've always ridden my bike to get about, even in atrocious Scottish weather, and it keeps me fit.
What's the best bike you've ever ridden?
It almost seems unfair to single one out, so I'll mention my Specialized CruX cross bike and my Campagnolo equipped Ritchey Logic. Mind you, the Basso Diamante I'm reviewing at present looks very promising.
What's the best cycle route in the world?
Anywhere on Islay, but I did enjoy Hot Chillee's annual 'London-Paris' ride.
What will be the next big thing in cycling?
Honestly I dread to think as a confirmed luddite. I'd be quite content if they simply left things alone.
What's the cycling blogging community like to be a part of?
To be honest I really don't know. I'm too scared to read other blogs in case they're much better than mine!
Do you accept press releases?
Yes. Always. But they're only the starting point. I always rewrite everything in what little style I might have. I never just publish the original.
What are the best campaigns you've collaborated on?
I did some work with Daniel Pasley in Portland in the very early days of the North American 'Rapha Continental'. That was fun.
What advice would you give to PRs/brands reaching out to you?
Please don't offer me pre-written content. I write thewashingmachinepost because I enjoy writing, so I'm never going to use somebody else's work.
https://www.vuelio.com/uk/wp-content/uploads/2019/07/Brian-Palmer-2019.jpg
430
760
Christina Pirilla
https://www.vuelio.com/uk/wp-content/uploads/2019/09/vuelio-logo.png
Christina Pirilla
2019-07-30 14:15:15
2019-07-30 14:15:15
Cycling blog spotlight: Brian Palmer, thewashingmachinepost