Dacre's MURDERERS headline due to personal relationship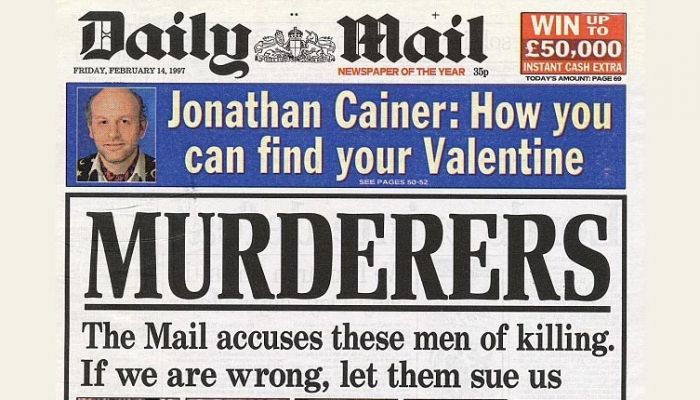 Following the murder of Stephen Lawrence, the Daily Mail ran a story under the headline 'MURDERERS – the Mail accuses these men of killing. If we are wrong, let them sue us', with pictures of five people the paper accused of the crime.
The front page is famous for driving the campaign to bring Stephen Lawrence's murderers to justice. In an interview for a BBC documentary, marking the 25th anniversary of the murder, Paul Dacre, editor and editor-in-chief of the Daily Mail, has revealed he would not have backed the family's campaign without his own personal connection to the Lawrence family.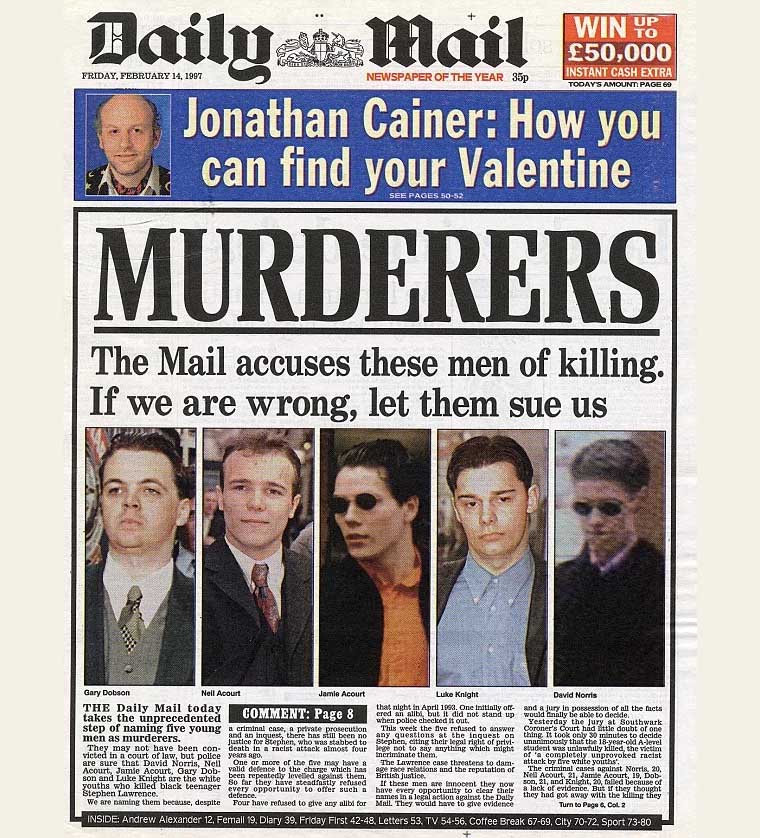 As reported by the i, Stephen's father Neville Lawrence was recommended to Dacre as a 'very good plasterer' when the editor needed 'lots of working doing' at his home. Dacre said: 'He did a lot of plastering work. He was clearly a very decent, hard-working man. Would the Mail have done it without that knowledge? Probably not.'
This unusual revelation highlights how important relationships are to the running of the national press. Dacre carries on to explain that he decided to run the front page after meeting Paul Condon, then Met Police commissioner: 'Paul said he would bet his life these men were the killers but they couldn't get the evidence. These guys were taking the piss out of British justice.'
He apparently sketched out the 'MURDERERS' headline just 45 minutes before the paper went to press, and then forced the 'cataclysmic' front page through 'nervous libel lawyers'.
This is a rare interview from Dacre who usually prefers to shine the spotlight rather than be in it. But it is also a revealing insight in to the power of personal relationships in the British media, and, in light of Condon's assurances to Dacre, the power a conversation has over the news agenda.
The BBC One documentary Stephen: The Murder that Changed a Nation begins on Tuesday, 17 April at 9pm and continues on 18 and 19 April.
https://www.vuelio.com/uk/wp-content/uploads/2018/04/Murderers-daily-mail.jpg
430
760
Jake O'Neill
https://www.vuelio.com/uk/wp-content/uploads/2019/09/vuelio-logo.png
Jake O'Neill
2018-04-10 09:42:53
2018-04-10 09:43:06
Dacre's MURDERERS headline due to personal relationship