Daisy Cooper MP: Pubs need Government action now to avoid mass closures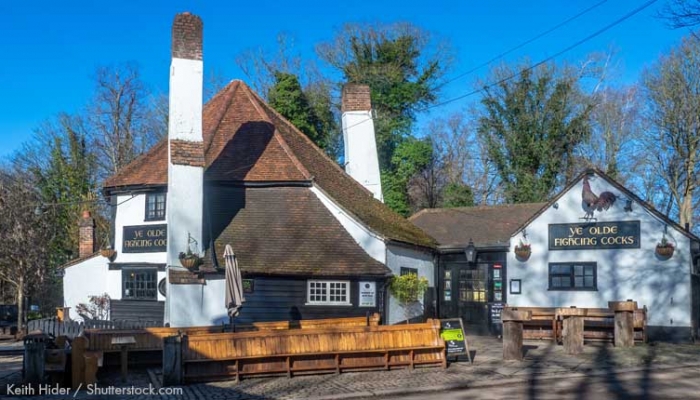 Liberal Democrat Deputy Leader Daisy Cooper writes about the plight of the pub trade in the UK and calls for action to prevent thousands of pubs from closing for good as a result of the pandemic and the response to it.
Our pubs were already facing crisis point before the pandemic struck. Rising business rates were crippling businesses across the country but were especially damaging in my constituency of St Albans. Like in so many towns and cities across the country, pubs here are the bedrock of the local community. The War of the Roses started on the doorstep of The Boot, and Britain's oldest pub Ye Olde Fighting Cocks saw off the Black Death. But both of these historic pubs and many more are warning that they may not survive the Covid pandemic without further support. 
Since the first lockdown, I've been calling for urgent and – crucially – adequate support for hospitality businesses and pubs. Don't get me wrong, the furlough scheme protected jobs for a while, but that's only a small part of the massive problem pubs face. If we are to stop a total collapse of the sector, we need some key support measures to be put in place without further delay.
The grants offered to pubs don't cover their basic fixed costs in most cases. The average grant offer is for just £1,334 a month – this doesn't even touch the sides for rent let alone utility bills. Once you factor in the huge stock liabilities from short notice closures (aka – pouring beer down the drain), and the contributions that landlords have to make to the furlough schemes for National Insurance and pension schemes, you begin to get an idea of the scale of the financial challenge.
All that aside, these landlords still need to be able to survive themselves, and often feed their families too. We've all heard about the three million 'Excluded' – those who can't get access to the self-employment grants because they might be a limited company director, or just newly self-employed. Pub landlords are affected by this too. That means not only have they not got enough cash to pay the bills – some simply can't afford to live either.
What we need is a grant scheme that is commensurate to the fixed costs of the businesses. One that includes compensation for wasted stock – such as short dated food, and barrels of beer, and then looks to make sure there is enough for these landlords to live on.
I've written to the Business Secretary three times since September, specifically asking for:
Realistic grant schemes
Reduction in VAT for all hospitality sales to 5%
A fair beer duty system that allows a profit margin for pub operators
Extended furlough for the duration of any restrictions
Business rates holidays to be extended beyond the current deadline of April next year to let pubs plan for a recovery without this added burden
I haven't had a single reply, so last Friday I took this directly to the Prime Minister. The Save St Albans Pubs group in my constituency has written too, to the Chancellor. I've tabled countless written questions to press for action. I've highlighted their plight in the Commons, even raising an Urgent Question to the Government on the support needed following the dubiously imposed 10pm 'curfew'.
When will Government start to listen? Without action, tens of thousands of these pubs could go to the wall, leaving a gaping hole in communities and high streets all around the UK.
Daisy Cooper is the Liberal Democrat deputy leader, education spokesperson and the MP for St Albans.
This blog post is part of a cross-party series on Vuelio's political blog Point of Order which publishes insight and opinion to help public affairs, policy and comms professionals stay ahead of political change and connect with those who campaign on the issues they care about. To find out more or contribute, get in touch with Vuelio Politics.
https://www.vuelio.com/uk/wp-content/uploads/2020/12/St-albans-pub.jpg
430
760
Jake O'Neill
https://www.vuelio.com/uk/wp-content/uploads/2023/09/vuelio-logo-200px.png
Jake O'Neill
2020-12-22 13:11:19
2021-01-04 13:31:33
Daisy Cooper MP: Pubs need Government action now to avoid mass closures