Owen Thompson MP: The Internal Market Bill sets up Britain to build back worse, but Scotland can choose differently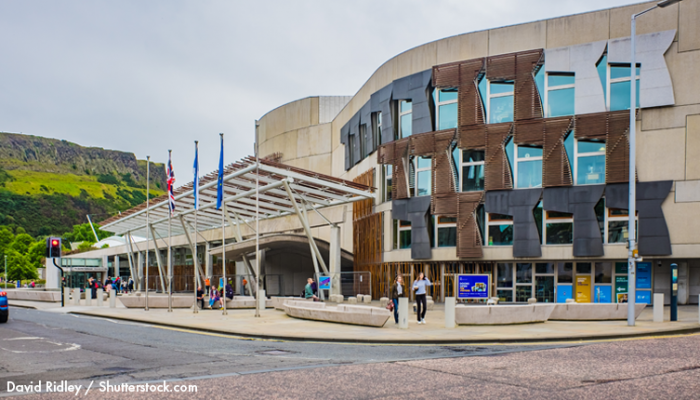 The SNP Deputy Chief Whip and MP for Midlothian Owen Thompson explains why he believes the Internal Markets Bill is bad news for Scotland and the devolved nations and could see a lowering of standards.
Devolution may be easy to take for granted, but it's hard to overstate how much of a difference it has made for people's lives. It has allowed Scotland to forge its own distinct path, with unique policy approaches guided by principles of equality and opportunity.
This fact has been inescapable during the pandemic, where the Scottish Government under Nicola Sturgeon's leadership has garnered huge public trust through its transparent, accountable and science-driven approach to public health. However, the life-changing potential of devolution extends far beyond Covid.
Devolution has allowed the Scottish people to elect Governments which have used their limited powers to create a country where nobody is made to pay for education, where prescriptions and period products are free for all, where new parents are met with baby boxes and flexible childcare, and where the climate crisis is taken seriously.
We are all better off for having devolution.
It is no surprise then that it's not just supporters of Scottish independence who celebrate devolution. Most supporters of the Union are keen to see it either strengthened or carry on as it is. However, the UK Government's Internal Market Bill means that this is simply no longer possible.
The Prime Minister may claim that the Bill is an attempt to create a level playing field amongst the UK nations, but it is in fact a Trojan Horse for recentralising power into Westminster's hands.
For instance, by giving the UK Government new spending powers in devolved areas, it allows Whitehall to bypass the Scottish Government and use Scottish taxpayers' money to fund projects and organisations which align with their own Brexit agenda.
The Bill also creates an unelected body of bureaucrats, the 'Office of the Internal Market', tasked with monitoring and ruling on every decision taken by the Scottish Parliament. I have made clear in my contribution to the House's consideration of the Bill that it strips power from Scotland's transparent, democratic decision-making processes and puts it in the hands of an unaccountable panel appointed by UK Ministers.
Especially troubling is the Market Access Commitment, the effect of which is that goods and services that meet regulatory standards in one part of the UK will be entitled to enter any other part without having to meet local regulations.
This could mean that Scotland is forced to accept lower standards for our environment, animal welfare and world-leading food and drink sector if they are accepted at Westminster in a grubby trade deal. This is especially dangerous to public health, as the Market Access Commitment could feasibly allow for devolved governments' actions to protect public health – such as minimum pricing or warnings on the packaging of tobacco or junk foods – to be undermined by allowing the import of products from other UK nations not subject to those protections.
The UK Government may promise to maintain high standards, but it refuses to put it in legislation, and we've seen how determined this Government is to create a low-standard, low-quality Bargain Bin Britain.
These concerns are far from being partisan point-scoring. They have been echoed in the Welsh Senedd, the Northern Irish Assembly and in the House of Lords, where the Lords Constitution Committee branded some elements of the bill 'constitutionally unacceptable'.
Nor is this an abstract constitutional quibble. The Internal Market Bill will hamper the ability of Scotland's parliament to continue acting to improve people's lives. And this has never been as crucial as it is now, with imminent decisions to be made about the shape of our post-pandemic recovery.
'Build Back Better' has become a slogan for governments around the world, capturing the need to use the pandemic as an opportunity to reshape our countries to work better for all of us.
This Government's eagerness to undermine devolution and lower our standards shows us the kind of 'building back' in store for the UK, and the Internal Market Bill will be the tool it uses to ensure Scotland follows down the same path whether it likes it or not.
Scotland stands at a crossroads between two different kinds of post-pandemic future. It is only through independence that we can forge our own post-pandemic recovery and continue along the path we have begun under devolution, to truly build back better.
This blog post is part of a cross-party series on Vuelio's political blog Point of Order which publishes insight and opinion to help public affairs, policy and comms professionals stay ahead of political change and connect with those who campaign on the issues they care about. To find out more or contribute, get in touch with Vuelio Politics.
https://www.vuelio.com/uk/wp-content/uploads/2020/12/Holyrood.png
430
760
Sam Webber
https://www.vuelio.com/uk/wp-content/uploads/2019/09/vuelio-logo.png
Sam Webber
2020-12-18 13:17:00
2020-12-18 13:17:00
Owen Thompson MP: The Internal Market Bill sets up Britain to build back worse, but Scotland can choose differently