Dr Lisa Cameron MP: We must ban import of puppies for sale under six months old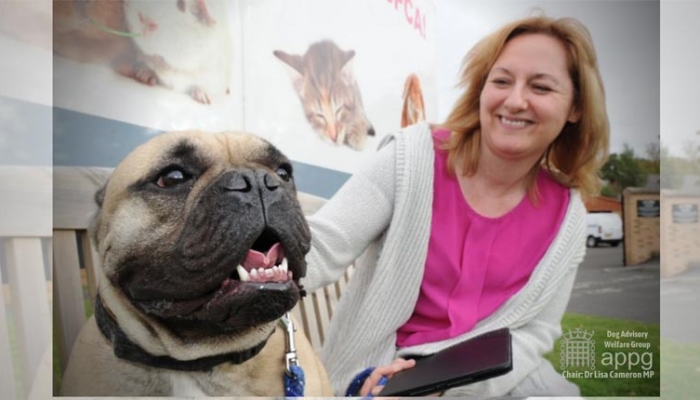 The SNP's Dr Lisa Cameron MP, Chair of the All-Party Parliamentary Groups for Dog Welfare and Disability, as well as owner of rescue dog Rossi, writes that protecting puppy welfare doesn't just affect dogs' lives, it also helps human lives too. 
As well as 'Lockdown', 'Covid-19', and 'unprecedented', another word in severe danger of pandemic overuse, in both conversations and internet searches, is 'puppies'. Every day my parliamentary inbox is full of concerned constituents highlighting animal welfare issues, most recently the worrying mass demand for dogs. Fuelled by a desire for companionship, improving mental health, maybe a project to train, or just to keep the kids happy; whichever street you walk down, you'll most likely see one or more recently purchased, cute fluffy puppies. But where on earth are they all coming from?
Back in April, 'Lucy's Law' came into effect in England, a brilliant campaign and new legislation banning third party puppy dealers that I proudly championed in Westminster. Named after an ex-breeding Cavalier King Charles Spaniel rescued from a Welsh puppy farm, it meant pups could now only be sold seen interacting with their mum in the place they were born or adopted from rescue instead. Unfortunately, timing couldn't have been worse. In April as a result of the pandemic these restrictions were almost immediately lifted, when Government decided it was fine, in the course of a business, for puppies to be delivered away from their place of birth, without mum.
Of course many breeders produced pups responsibly, but with motherless puppy delivery normalised, in spite of the Government's own advice for buyers to always physically seeing pup interacting with mum, this year's seen an extraordinary increase in availability of poorly bred pups, often advertised online, purchased by unsuspecting owners, and mostly sold without mum, often very sick or dying. Here in Scotland, my constituency of East Kilbride, Strathaven and Lesmahagow is located just 80 miles from Stranraer Port, where thousands of young pups without mums are legally imported from Irish puppy farms. Sadly, the detrimental effects of receiving these sick pups on already fragile, human lockdown minds is unquestionable. This makes Lucy's Law in Scotland all the more urgent.
Temporarily lifting the protections provided by Lucy's Law meant that without seeing mum, breeder accountability and puppy provenance was often questionable, and as predicted, fully exploited by unscrupulous puppy sellers. Furthermore, this summer's tragic passing of Love Island celeb couple's imported Pomeranian pup 'Mr Chai', exposed yet another legal route to market for pups bred in unsuitable conditions, and transported thousands of miles, such as from puppy farms in Russia and other countries where rabies is endemic, sparking the #BanPuppyImports campaign that I'm also proudly backing as Chair of the Dog Welfare Group in parliament.
The solution is simple. By increasing the minimum age of pups imported for profit sale (non-rescue) from 15 weeks to six months, we help ease age detection at ports like Stranraer, as the puppies' secondary (permanent) teeth are clearly visible for new post-Brexit Border Control checks. This reduces the risk of rabies and other zoonoses (diseases spreading from animals to humans) entering the UK, hinders illegal puppy smuggling, plus makes sure pups are robust enough to travel long distances, ultimately making them healthier, more viable pets.
Finally, last month there was some encouraging progress made in Westminster with the #BanPuppyImports campaign. During EFRA's Select Committee Inquiry, DEFRA Minister Lord Goldsmith agreed that the arguments put forward for raising the minimum age of imported pups to six months were 'very compelling', and something the Government were looking at 'very, very seriously'. So, I am joining the majority of UK dog-lovers in looking forward to this being put into practice ASAP after 1 January 2021, and to prevent anymore unnecessary animal and human suffering.  In the meantime, I'm encouraging everyone to sign and share the petition.
I'd also like to take this opportunity to wish you and your pets a very happy, safe Christmas and New Year.
For updates on the #BanPuppyImports campaign, and info on Lisa's APPG for Dog Welfare (APDAWG) you can sign up to APDAWG's free monthly newsletter and follow @APDAWG1 on Twitter.
https://www.vuelio.com/uk/wp-content/uploads/2020/12/APDAWG.jpg
430
760
Guest Contributor
https://www.vuelio.com/uk/wp-content/uploads/2019/09/vuelio-logo.png
Guest Contributor
2020-12-11 11:30:55
2020-12-11 13:38:00
Dr Lisa Cameron MP: We must ban import of puppies for sale under six months old