'Don't talk to me! (email me instead)': How to work with Gen Z journalists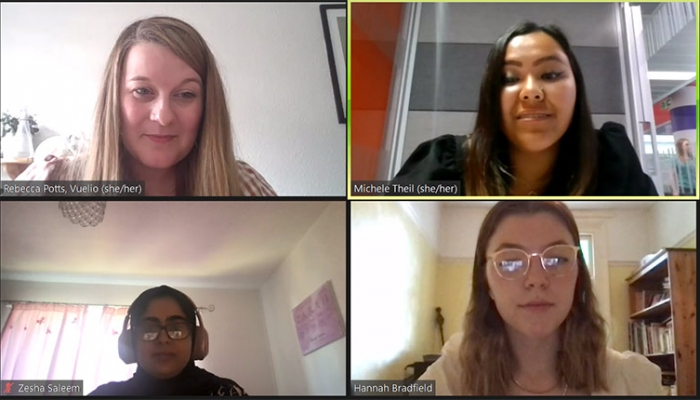 It is a frequent ask from writers to PRs: don't phone to pitch, don't call to follow up on an email you have just sent. Unsurprisingly, it is no different for up-and-coming Generation Z journalists, the 25-year-olds (and younger) making their way in the media now.
That doesn't mean young journalists are unapproachable. In fact, the three Gen Z freelance writers on the panel of our Vuelio webinar 'What's Next? The new generation of journalists' love to work with PRs, fully appreciating what those in the comms sector can bring to their content. Provided it is not pitched in an 'awkward' way, of course…
Watch the full 'What's Next? The new generation of journalists' webinar.
Here are just some of the insights shared by freelancers Zesha Saleem, Michele Theil and Hannah Bradfield on the internal workings of the modern media industry and how they like to work with comms pros.
1) Gen Z journos LOVE working with PRs (these writers do, anyway)
Freelance journalist Zesha Saleem – who has racked up commissions from Metro, British Vogue and The Guardian so far – considers PRs really helpful for her writing:
'PRs do such an amazing and important job. I used to reply to every PR who contacted me – I try to reply to as many as I can now, but now I tend to reply to the ones I can definitely work on.
'If I don't reply, assume that I don't have the capability to work on it. I don't work five days a week; I do limited shifts. Sometimes PRs will email three or four times in a day. Journalists are told not to pitch the same thing three or four times… That's just one thing I'd say to keep in mind…'
2) Young journalists see the common ground between PRs and journos
Michele Theil – currently under contract at the BBC and a freelancer for outlets including VICE and The Independent – understands just how similar job-related pressures are for both journalists and PRs:
'I try to respond as much as possible – a PR friend told me people that take the time to reply are their favourite journalists. From my perspective, when I'm pitching to an editor, I hate not getting a response.
3) Don't take it personally if you don't get a response
'Sometimes there are so many emails and not enough time in the day,' added Michele.
'I understand that PRs have to chase, but give us some time. Sometimes I don't have the emotional energy to reply to things. I hope that no one ever takes it personally; I never ever mean it personally. It's nothing to do with you or the content; just right now, in the moment, it's not right for what I'm working on.'
4) To DM, or to not DM?
'I prefer emails to be honest,' said Zesha.
'I don't work all the time, so if it's a press release, I'll move it into a folder and get back to it later. My DMs are a mess, first of all. Things can get lost and sometimes I don't open them until months later. Sometimes it's something great that I can't really work on anymore – definitely send an email.'
Michele agrees: 'I mostly get contacted by email, which is great, especially when I've put out a call or a request. Sometimes I get a DM, and I'm not completely averse to that, but don't be annoyed if I don't reply to your DM. If I haven't responded in a few hours, drop me an email because I'm more likely to see it there.'
5) Respect their work/life dynamic
Hannah, a fellow freelance journalist alongside her duties as a Journo Resources trainee prefers email for media outreach: 'It's just easier to regulate. With Twitter, the lines can be blurred a little.'
'It offers a degree of separation,' agreed Michele, highlighting the importance of maintaining a healthy work/life balance – hard for freelance journalists, and frequently an issue for PRs, too.
'I can choose when I respond with an email – it gives everyone agency. A lot of our work blurs into our personal life as freelancers – give me the choice to reply tomorrow.
6) Media outreach: don't make it awkward
What makes email so useful for media outreach isn't just its convenience for journalists. It also skips any forced social interactions. Meeting up for coffee, offering to buy them a drink? Way too 90s/early-00s an approach.
'Building long-term relationships with PRs is great,' said Michele. 'But I have this weird thing, when PRs offer to pay for everything. That's nice; that's lovely… but it makes me feel a bit awkward? It can be really awkward for people of our generation. "Let me buy you a coffee". Like… why?'
And not to belabour the point, but before you pick up the phone to call them – rethink it.
'Gen Zs don't like phone calls – don't talk to me,' Michele joked.
Just email to start the conversation when you're doing media outreach in future – it is less awkward for everyone.
Watch the webinar here for more from these three journalists and how they work with PRs, and check out more advice on pitching to different sections of the media in our white paper How to pitch to journalists.
Want requests from UK journalists straight through to your inbox? Book a demo of the ResponseSource Journalist Enquiry Service.
https://www.vuelio.com/uk/wp-content/uploads/2022/07/Twitter-webinar.jpg
430
760
Phoebe-Jane Boyd
https://www.vuelio.com/uk/wp-content/uploads/2023/09/vuelio-logo-200px.png
Phoebe-Jane Boyd
2022-07-18 13:54:47
2022-08-09 17:10:36
'Don't talk to me! (email me instead)': How to work with Gen Z journalists