Fake News Awards: and the winner is…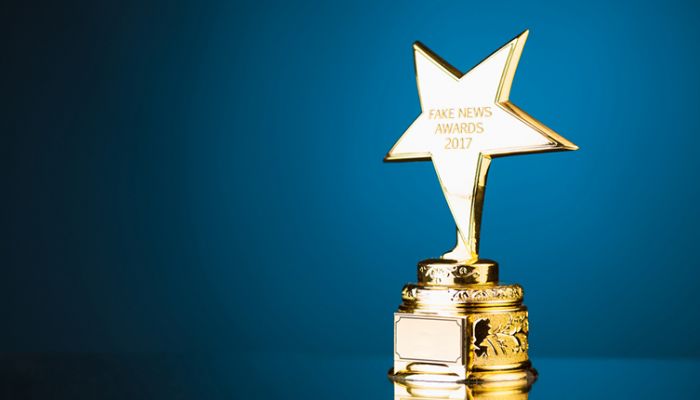 Donald Trump has been promising the 'Fake News Awards' for a couple of weeks, and after it was postponed once, excitement reached fever pitch last night as the anticipated time finally arrived.
So is the whole Fake News Awards thing itself fake news or what?

— Amol Rajan (@amolrajanBBC) January 17, 2018
Rather anticlimactically, the Fake News Awards were not revealed at a black tie gala dinner but in a blog post on the GOP's official website (yes, really). Tweeted by Donald Trump, 'The Highly-Anticipated 2017 Fake News Awards' named 11 'winners'.
Despite their campaigning, there weren't prizes for either Stephen Colbert (who campaigned with a billboard in Times Square) or Trevor Noah (who ran a full page ad in the New York Times).
Unsurprisingly, CNN were the big winners from the night, bagging four #Fakies. The New York Times managed two, while Newsweek, The Washington Post, Time and ABC took one each. The final award was aimed at the mainstream media for reporting 'Russia Collusion'.
When Trump announced the award winners, the GOP site crashed, showing the huge level of interest there is in another strange moment in a presidency of strange moments.
When the site was back up and running, readers were not only greeted with the 11 award winners, but also 10 'results' Trump has achieved, from 'recognizing Jerusalem as the capital of the State of Israel' to 'African Americans and Hispanics are enjoying the lowest unemployment rate in recorded history'.
What's most concerning about the Fake News Awards, is not that they're clearly a promotional tool for Trump's 'good' work, but that they're being widely mocked. The world has now reached a level of apathy for ethics that the President of the most powerful nation in the world can openly attack the media, and by extension the freedom of the press, and it be considered a joke.
The Fakies should concern everyone.
Trump has spent a long time undermining the validity of the press, and for the most part, the press has played along. The more this happens, the more Trump will be able to act or behave however he likes without being held accountable.
There was once a time when a front page could topple a government, but in the age of Trump, that power has gone. Everyone, from the media to the public, are now just helpless bystanders to the Trump show – and who knows what will be next.
https://www.vuelio.com/uk/wp-content/uploads/2018/01/Fake-News-Awards-2017.jpg
430
760
Jake O'Neill
https://www.vuelio.com/uk/wp-content/uploads/2023/09/vuelio-logo-200px.png
Jake O'Neill
2018-01-18 10:33:53
2018-11-09 12:40:36
Fake News Awards: and the winner is…